10 Cyber Security Solutions to Prevent and Defend Attacks
by CyberSecurity Services
Advanced Cyber Security services Consulting Compan
Your organization's network is always under a threat. Whether you've been in the industry for a long time or are just getting started, having a robust cybersecurity plan in place is highly essential. As an organization, you should be prepared to identify, prevent or defend against any sort of attack. Connecting with a network security company is the best way to ensure that.
They will create a strategy tailored to your needs and recommend the right Security Operation Center. And if you're wondering what these solutions are, here's a list.
Anti-Malware Software
Virus, adware, spyware, trojan, rootkit, internet bot, etc are forms of Malware. They spread through computers and can corrupt your network. With anti-malware software, however, you can identify harmful programs on your computer systems and stop them from spreading. They help you clear up infections and decrease network damage.
Access Control System
One of the easiest cyber security solutions that help you improves your network security. It limits user access and assigns rights to individual users rather than the entire team. While attacks can occur even via authorized access, this solution allows you to minimize the amount of damage that an attack may cause. You can make the most of this solution by using two-factor authentication every time a user tries to access information.
App Security
You need to be careful while using third-party applications. They are a vulnerable source of attack so make sure you have an app security solution for them. An application security tool develops parameters for all the applications related to your network.
DLP
Human resources are often the cause of a cyber attack. Using a DLP or Data Loss Prevention solution can prevent your employees and other users from misusing or compromising sensitive data. It is one of the finest cyber security products that allow you to protect your data from going out of the network.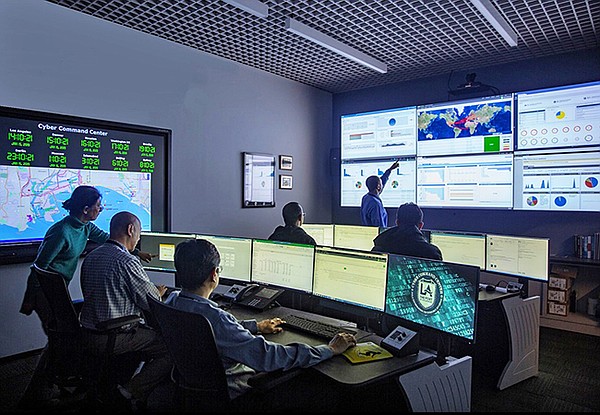 Firewalls
A firewall acts like a doorway that protects the borders of your network. It filters network traffic; blocks unauthorized access, promotes privacy and stops spyware from accessing your networks.
Email Security
Here's another solution that prevents human resource-based attacks. Attackers use emails to use phishing tactics. Through this method, hackers make your employees share sensitive information via their phones or desktops. An email security tool helps you recognize such dangerous emails. This tool lets you block suspicious-looking email addresses with only a click.
IPS
IPS (Intrusion Prevention Systems) is one of the most widely used cyber security solutions out there. It scans and examines your network traffic to recognize attacks and respond to them promptly. The reason why it's different from other solutions is that it is smart enough to save a database of known attacking methods that allows you to identify threats or risks instantly.
VPN
Virtual Private Network is something that we have all heard of. With VPN, one can validate communication between an endpoint device and secure networks. It uses different types of authentication techniques such as secure sockets layers to establish encrypted lines that block third parties from spying on your network.
Wireless Security
We're all using wireless networks to access personal and professional information. But did you know that a wireless network isn't as secure as a traditional network? Make sure you have a solid wireless security system in place if you want to ensure that your network is protected.
End Point Security
Organizations these days are encouraging employees to bring their own devices to work. Even via work from home, they encourage team members to use their devices rather than asking for company systems. However, these personal devices are an easy target for hackers. If you want to ensure fewer attacks and more security, make sure you invest in an endpoint security solution. It adds an extra layer of protection between your company network and your employee's devices.
Sponsor Ads
Report this Page
Created on Jun 22nd 2021 01:34. Viewed 199 times.
Comments
No comment, be the first to comment.