Top 5 Tourist Sites to Visit and Explore in France
by Veena World
Travel, Explore, Celebrate!
France is the dream holiday destination for just about all types of travellers. This country is characterized by its Mediterranean beaches, awe-inspiring farmland vistas, medieval cities, and world-famous cuisines. People often book comprehensive package holidays to France to explore its gorgeous destinations and visit its most prominent landmarks.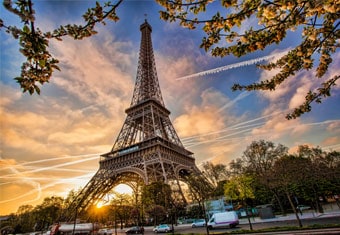 There is no dearth of tourist sites to visit in France. Here are some of the most major ones:
The Eiffel Tower: No holiday tour to France would be truly complete without a visit to the grand Eiffel Tower. This globally famous wrought-iron lattice tower is found at the Champ de Mars in Paris, France. The Eiffel Tower was completed in 1889 and is known to magnetize several thousands of tourists every day. This glorious structure is considered to be the global cultural icon of France and is amongst the most-visited paid monuments in the planet. The Eiffel Tower stands tall at 324 meters. It has three levels for visitors, the topmost one featuring an observation deck from where people can enjoy a spectacular view of the city of Paris.
Exotic Bioves Garden: Also referred to as the Jardin botanique exotique du Val Rahmeh, this is a grand botanical garden in France. At the Exotic Bioves Garden, people can find olive trees that are more than four centuries old. A fine collection of exotic plants like chorisia, datura, Aloe marlothii, Araucaria columnaris, Moreton Bay chestnut and Ficus religiosa can also be found here.
Calanques National Park: This enthralling French national park is located in the southern part of the country, in Bouches-du-Rhône. This national park was established in 2012 and is spread over 520 sq.km. of the area. The Calanques National Park is visited by tourists planning to visit the gorgeous sites of Calanque de Sugiton, Calanque de Sormiou, Calanque de Port-Miou, and the Cosquer Cave.
Arc de Triomphe: The Arc de Triomphe de l'Étoile is among the most renowned monuments of Paris and is located on the western side of the Champs-Élysées. This structure was inaugurated in 1836 by the French king, Louis-Philipp and designed by Jean Chalgrin. It boasts of a distinct neoclassical version of the ancient Roman architecture. From the top of the panoramic terrace of the Arc de Triomphe, people can enjoy a great view of the city of Paris. There is also a museum present at the attic of this structure where one can find large models of the Arc, as well as know about intriguing stories about it.
Place de la Concorde: Spread across 19 acres in area, the Place de la Concorde is one of the largest and most prominent public squares in Paris. This public square lies in the eighth arrondissement of the French capital. Several public executions had taken place here during the time of the French revolution. At the Place de la Concorde, people can find a grand Egyptian obelisk that is decorated with hieroglyphics present right at its centre.
There are many travel and tourism companies through which people can enjoy
attractive France package deals
, and subsequently get the opportunity to visit this country without putting a dent on their finances.
Report this Page
Created on Jan 17th 2020 05:25. Viewed 156 times.
Comments
No comment, be the first to comment.