Personalized Gifts Ideas for Your Mom on Her Birthday
by Raushan Gupta
Owner at DoorStep Cake
No matter how old you are, your mother's birthday calls for a celebration! The first lady in your life deserves most genuine and affectionate wisher!!
Tender hugs and heartfelt messages from your end always bring a smile on your mother's face. Her birthday is a special occasion when you can let her know how special she is for you.
Order online a designer cake
for your mom and plan for some personalized gifts for her to make this day remarkable to her for a lifetime!
Birthday Cake and Personalized Gifts for Your Mom
Your mother is a lady after all, and the universal truth is that ladies simply love surprises. On her special day, plan something out of the list of conventional gift items like flowers, chocolates, household stuff etc.
Order a Designer Cake Online: You can anytime try baking a cake at home for your mother. But since it's her birthday we are talking about – the cake should be special. Connect with the popular cake shops near you and choose the finest one for your mom. If you are planning for a party on the occasion of your mom's birthday, it is always recommended to surprise her with a designer cake with fresh smelling flowers. Across Noida and other adjoining areas, "Doorstep Cake" is a popular name in the bakery. You can visit Doorstep Cake or connect with them over the call and take a look at the wide range of cakes available – right from delicious flavors to the contemporary designs.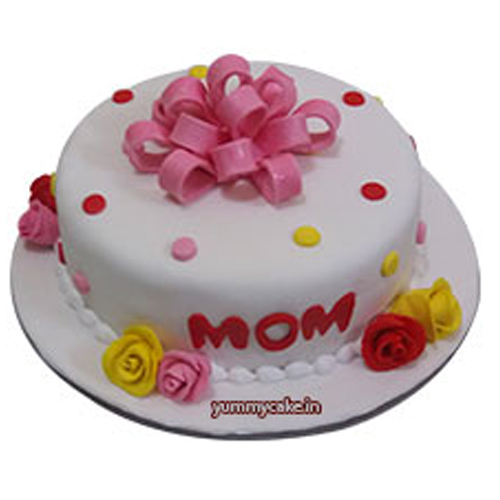 Photo cakes are very popular these days, and this unique idea would certainly melt your mom's heart. Just choose a nice picture of her and share the same with the bakery staff. Brief the bakery about the flavors and ingredients you wish to relish with the cake and consider it done! The cake would be delivered right on time at your home only. For a special birthday party, you can also order number cake, layered cake, heart-shaped cake etc. for your mom.
Engraved Mom Jewellery: Ladies fall for jewelry items any day – especially when their kids present the same to them with embedded messages or phrases. This would be a wonderful personalized gift that your mom would wear and flaunt with pride in the society. Get a picture engraved in the pendant or a short message in the bracelet, and your mother would happily accept such elegant item. Apart from the precious metals in pendants, necklace, bangles or anklets, you can also go for stones jewelry.
Relationship Icons or Willow Trees: Such showpieces are again fantastic gifts to present to your mom. These items can also be blended with your personalized messages engraved on them. Ranging from customized mugs, cushions and photo frames to the beautiful willow trees – everything is admirable. Willow trees depicting the images of a mother and her kids are always emotional and close to the heart.

Accessories: Markets are loaded with wrist watches, handbags, sunglasses, belts, wallets, footwear, and fancy dresses. You need to be very cautious while buying accessories for your mother. First of all, you should be pretty sure about the choice of your mom with respect to her professional and social life. If she is a working woman, you can gift some items with professional looks. If she is a homemaker but loves to attend social gatherings or kitty parties, you can always go for fancy items. Secondly, when it comes to accessories, you should not present it as a surprise to your mom. Ladies are very particular about the fit and styling of the accessories they wear. So, it is always recommended to accompany your mom for shopping and purchase something for her of her own choice.
Books and Magazines: No matter if your mother is a working lady or a homemaker, if she loves reading – your problem is solved. Without even giving any second thought, you can hit a bookstore and purchase a book or magazine for her. Ranging from novels to cookery books, there is a lot to gift to your mom.
DIY Photo Album/Frame or a Music Video: Mother usually are very emotionally attached to their kids. Extract old albums, grab some old beautiful pictures and convert them into a framed collage or a music video. Looking at those old memories and golden moments that she once shared with you 'exclusively' would be a remarkable thing to present on her birthday!
Other Personalized Gifts and Plans
Apart from the above-mentioned items, you can also opt for makeup kits, perfumes, music albums, electronic gadgets etc. for your mom depending upon her choice of gifts. Make sure you choose the perfect one that is of daily use for your mom so that she enjoys it every day. Personalized items like a thank you letter to your mom, a wall clock with some beautiful message, personalized fridge magnets etc. can also be appealing at times. Moreover, you can certainly plan for a surprise party for your mom right at home where you can invite her close friends and relatives (with whom she loves to spend time and hand out).
The list of gift items for your mom is endless, but you need to pick the best for her keeping her lifestyle in mind. Do whatever suits best to your pocket and circumstances, but do not forget to start the day with a birthday cake for your mom. If you wish to start her birthday with a bang right at the midnight, bakeries like https://www.doorstepcake.com/ also offer midnight cake delivery – even for the online designer cakes!
Report this Page
Created on Dec 11th 2018 02:22. Viewed 377 times.
Comments
No comment, be the first to comment.