Advantages Of Using E-Signatures In Hospitality Industry
by Sarah Minhaz
Digital Signature Solutions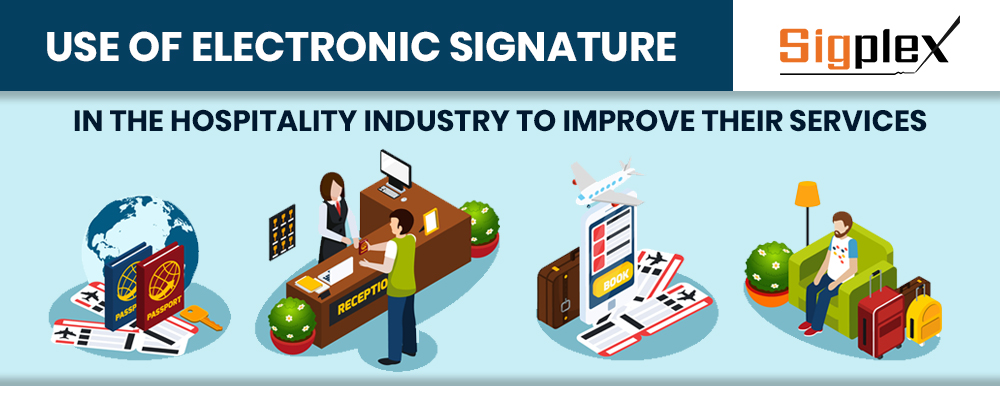 The most exciting and demanding industries need some amazing solutions to rely upon. They require some leading solutions that meet the demands of the hospitality industry and one of those is the eSignatures. Where it is essential to deliver quality services within a fixed cost. Demands vary according to each client, and so does the need for customization. These demands require the cost to be minimal while bringing in other responsibilities that can be exhausting.
Key Factors involved within the hospitality industry
Competition
The competition in the hospitality industry is ever growing and to beat it every player depends on some extensive systems to ensure efficiency. These challenges keep them always in action to strive for improvement and constant growth. Which ultimately results in enhancing customer experience and that remains the key point to their satisfaction. The digitization of services has become the keystone to smooth operation of all businesses. They offer ease and convenience to the customers while ensuring efficient business operations.
Disorder and Confusion
There are various points where the chaos happens resulting in mismanagement and a lot of discomfort for both the business and the customer. Mishandling of information, doubts take the center stage in the hospitality industry even if a single issue arises. Centralization of this information and a procedural check helps maintain the operation in sync and stay on top of the competition.
Paper and Waste
Right from a query to the check-ins, billings to check-outs, staff records to vendor management, and sales reports to cash receipts. All these documents require manual signatures, scans, emailing, a courier sent for approval and kept for records. It consumes a lot of time, inconvenience and man-hours to attend to queries, guests and their demands. Of course, you do not want your customer to go through the same paper based work.
The only solution to all these paper work and manual procedures is eSignatures that are inexpensive, convenient for workflow and helps maintain order in all that high demanding service.
Transforming the Hospitality Industry
eSignatures for hospitality industry allow digital transactions to happen without the need of the paper, no physical presence either of the customer or the business manager. It is very effective for the traveling business people who are always on the go for better business opportunities. It allows them to easily check-in and check-out through an online portal. They can choose to pay online, e-sign the documents and proceed further without any physical documentation.
Online reservations are trending allowing customers to book accommodations or the tables, pay for the required services and provide eSignatures for confirming reservations.
Opting for Additional Services
Advanced solutions in eSignature for the hospitality industry are used for customers to confirm their additional requirements during their stay, for example, dry cleaning, car rental, and more.
Benefits of Electronic Signature for Hospitality Industry
Enhanced customer experience
Improving brand image
Improving Customer Satisfaction
Reducing overheads
Centralization of database
They are safe, reliable and quick to use.
Conclusion
eSignature for the hospitality industry is an amazing tool to reduce flaws in the system, deliver customized services and also helps grow business. Improve your business efficiency by assigning an eSignature tool in your system.
We at Sigplex are constantly improving and devising tools for better efficiency and management of your business. For any query regarding how to effectively integrate eSignature in your hospitality business write to us at info@sigplex.com and we would be glad to make it happen to your business.
Source:https://www.sigplex.co.uk/blog/use-esignature-hospitality-industry-improve-services/
Now you can also watch the video here:

Now you can listen the audio here:
https://sigplex.podbean.com/mf/play/ra8ahx/50405421.mp3
Now you can also see the infographic here: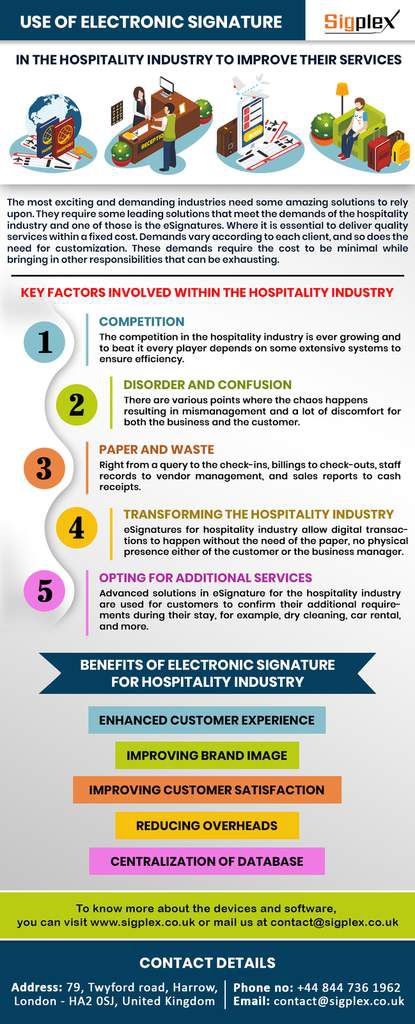 Sponsor Ads
Report this Page
Created on Sep 5th 2019 02:08. Viewed 246 times.
Comments
No comment, be the first to comment.