Your 2021 Ultimate Guide to Conversational AI with Best Practices
by Mihir Contractor
SEO Executive with 3 years of experience across mu
Introduction
9 out of 10 consumers demand an immediate response from companies. To keep up with such demands, organizations worldwide are turning to chatbots and conversational AI.
The very famous Alexa is the simplest example of a virtual chatbot. They are linear and do not carry the context of conversation from one another. This means that they cannot have full-fledged conversations like humans, but they can sound human-like when programmed for specific queries or trigger words.
On the other hand, there are much more advanced chatbots and virtual assistants like Google Assistant and WotNot that use AI and ML to enable the users to have longer and more contextual conversations.
Conversational AI is the technical brainpower that makes machines capable of understanding, processing, and responding to human language. If you have ever shopped online, the chances are that you came across a chatbot.
Conversational AI has speech-enabled applications that offer human interaction between humans and computers. It is a setup that helps the computer communicate like a human being by recognizing the context of speech and text, understanding the intent, and decoding different languages.
These AI systems require science and art to make successful applications that incorporate relevance to human and computer interaction.
Conversational AI Trends
In recent times, chatbots have gained momentum. These AI and ML systems can be offered over text or voice modalities, and hence various devices support these modalities.
For instance, it can be incorporated in SMS and webchat for text modality and over call for voice modality.
While getting your queries resolved, always think about whether you are speaking to a human or a computer. High-quality Conversational AI is a type when it gets difficult to distinguish between a human or computer. Next time when you get your query resolved, whom do you think would have delivered it better? Human or a computer?
The global AI market size is expected to grow by three times from USD 4.8 Billion in 2020 to USD 13.9 Billion by 2025. User engagement on social media is attracting advanced AI capabilities, which are expected to provide opportunities for different sectors in the market.
Impact of COVID-19 on the Technology Sector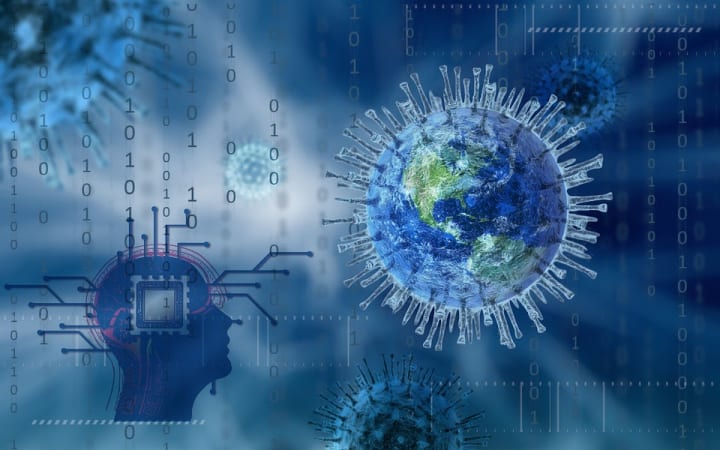 The global ITC had declined by 4% to 5% in 2020 due to the pandemic. The hardware business has been known to be affected immensely, which had the most impact on the IT Sector. The supply of Hardware has slowed down, and the manufacturing units have reduced, which resulted in the decline of IT Infrastructure.
Analytics professionals, business intelligence professionals, and other professionals who provide expertise in more advanced analytics such as AI and ML have been called for their expertise to help their executives make business decisions on responding to new business challenges caused by the Covid-19 outbreak.
According to global reports, North America has accounted for the largest market size during the forecast period. The Conversational AI market has been segregated into five regions:
North America
Europe
Asia-Pacific (APAC)
The Middle East and Africa (MEA)
Latin America
During the forecast period, APAC is expected to hold the fastest growing rate. The European market is known to be the second-largest according to the forecast period. The growing demand is to reduce enterprise workloads regarding customer engagement and retention is the key factor in adopting Conversational AI solutions in Europe.
Benefits of Conversational AI
The benefits that conversational AI offers businesses are as follows:
1. Reduces Cost
Conversational AI reduces overhead costs to the company manifold. With chatbots and voice assistants, companies can cut down on the number of people that they hire for tech support, customer care, and more.
Deloitte Digital makes an interesting case where organizations can expect an astronomical cost reduction of 15% to 70% depending upon the customer channel. A short payback period and high return on investment can be seen. Algorithms are trained in a way that makes the whole process cost-efficient.
Additionally, the cost of building and deploying chatbots is also competitive in contrast to hiring employees.
2. Minimizes Churn
The main agenda is to support customers whenever they want to resolve their issues to improve customer satisfaction. Chatbot AI also recommends the next best step to the customers.
3. Increases Revenue
Using a chatbot will help free the employee capacity to sell the products and services. Virtual agents perform the basic routines of interactions. It is important to act on the customer preferences and irritations to design the products, offerings, and promotions.
Different Types of Conversational AI
Chatbots
A chatbot can simulate a chat with almost a human language through social media applications on different websites and messaging platforms.
It is the most advanced technology for interaction between humans and computers. However, Chatbot only represents the Question Answering System leveraging Natural Language Processing. Most enterprises use the NLP format to answer their customers on the most generic questions.
The chatbot works in different ways, and the most generic way is via User Request Analysis and by Returning the Response.
User Request Analysis
This is the first task that a Chatbot performs. It analyzes the user's request to identify their problem and to give them suitable solutions.
For example, the first condition is the ability to extract data from the user and also understand the problem. If you are failing to understand the user's intent, you won't be able to provide them with suitable solutions.
Returning the Response (Feedback Loop)
After understanding the problem of the user, the chatbot needs to provide them with an appropriate response. The answer can be very generic or to the point, depending on their query.
Hence, chatbots are important, as they streamline the interaction between people and services whilst enhancing customer services. With that, it also offers companies new opportunities to improve their customer engagement process.
Chatbots and Augmented Reality (AR)
Chatbots have helped e-commerce businesses to get more profitable as they are present 24/7. With everyday engagement and machine learning, the bots understand more and do more with every iteration.
Facebook brought in the concept of the chatbot. With over 2 million monthly active users, bringing in this technology was a game-changer.
Consumers want a personalized experience in shopping that makes them feel special and important. Hence, they would want to come back to your store for the same experience over and over again. And this is precisely what Augmented Reality looks to bring out.
Augmented reality has existed for some time now, even though users don't know what it is. For example, Snapchat has generated numerous filters for its users that make them feel good and funny.
Augmented Reality and Chatbots are perhaps the two of the most promising avenues in E-commerce. Chatbots for business have become the most reliable source to ease out customers' problems.
Today, the world has adapted to Conversational AI. Every industry and every business is taking this very seriously to increase their customer satisfaction. Chatbots for business and chatbots for small businesses have become common these days.
Countries like India, the USA, Germany, UK, and Brazil are increasingly using the Chatbot AI. The top 5 industries that benefit from chatbots are:
Estate
Travel
Education
Healthcare
Finance
Global reports state that 67% of the consumers interacted with a chatbot in the last 12 months. Statistics also show that the majority of the consumers have a neutral or positive experience with chatbots.
Since 2019, businesses have used conversational marketing as their source to reach out to a larger audience and make their experience memorable.
Modern chatbots are not just for customer service but also for driving conversions and also closing sales. Chatbots are globally accepted because they save the consumers' time, and with their quick response, they satisfy the consumers.
Voice Assistants
Voice Assistant has become an asset for Google Home and Amazon Echo. Today, voice assistants are not limited to speakers but are also available in cars, household devices, smartphones, and several other apps.
Voice Assistants use AI and Voice recognition to accurately deliver the result that the user is looking for.
Voice recognition works by taking a signal from the user's voice and turning it into a digital signal. After which, the computer takes those words and phrases to recognize users' intent. For this, a database is created for the computer to search the words and phrases to match the digital signal. Checking the input signal with this database is known as pattern recognition.
Artificial Intelligence is using a machine to restore and replicate human intelligence. In the 1950s, people came up with four approaches for defining AI, thinking humanly/rationally and acting humanly/rationally. The first two deal with reasoning, and the other two deal with actions which are behavior.
Machine Learning is a subset of AI without using human coders and by manually creating the program. In a way, Machine Learning can be helpful for Voice AI by creating a database with various accents and dialects.
Benefits of Voice Assistants
Efficiency and Safety
Quick Learning Curve
Wider Device Integration
Importance of Voice Assistants
One might wonder why it is necessary to use Voice Assistants. One of the reasons could be that while you are driving, you want to send out a message or make a call. This feature will allow you to do so without wasting your time. Or, if you want to play music, you could give out a command, and the application will play it for you. This leads to a safer driving experience.
Popular Voice Assistants
Siri
Alexa
Google Assistant
Cortana
Alan
Conversational IVR
Conversational IVR uses voice to interact with the IVR system when compared to Traditional IVR that uses touch-tone. Most callers reach out to customer care, hoping to speak to an agent. It is a pushback when they have to go through IVR first.
But if the IVR is friendly and easy to use, it can create a positive customer experience for the brand.
How Conversational AI Works
Conversational AI is of two types – It depends on Artificial Intelligence or Natural Language Processing.
The simpler form uses speech for IVR. This technology allows the caller to respond and navigate through a voice command. It enables them to answer in a YES or NO instead of shuffling their phone from ear to hand to press the DTMF.
The advanced version combines AI and NLP. This version is designed to establish the intent of the call accurately. The simplest example could be, imagine a person saying "Check refund Status" and is immediately given the status. He doesn't have to go through the navigating process, which makes his work easy.
Benefits of Using Conversational AI
Boosts NPS
Reduces Cost
Provides answers faster
Delights Customer
Voice is becoming a preferred way to interact. Consumers in key geographic markets, that is, from the UK to Germany, have increased their use of voice. 75% of the organizations across the globe realized quantifiable from their voice.
Conversational AI Best Practices
1. Identifying Target Audience
Improving customer experience is the reason why most companies are deploying a chatbot Ai. You should understand who your audience is and cater to do their needs accordingly.
This will help you enable a creative flow of conversational and putting out relevant FAQs and special offers for your users.
2. Set Realistic Goals
The scope of your chatbot is crucial. For Example, Wordsmith takes in structured data to formulate the reports, and Visabot prepares immigration forms.
So, once you have made a list of where you would like to use the Chatbot, you would need to test them. One of the ways to test is to role-play a conversation, and another option would be to use actual transcribed conversations.
3. Select the Right Platform
Multiple NLP vendors provide APIs which have their strengths and weaknesses. Check the score shows for the best solutions that are based on maturity, popularity, and satisfaction.
4. Get End Users Involved in Early Testing Phase
Invite end users to try out the prototype whenever possible. There is no better way to introduce this to people. The more you get users to text, the better it is. The goal of this should be to check all technical requirements.
Doing this will keep you updated on all new technicalities and will make your work efficient.
5. Usage of Common Languages
The combination of plain English and conversational language ensures that you cover the majority of the users.
For each state and district or country, a separate set of languages can be offered to the users for better understanding. This will keep the users engaged. It will also help the business reduce the number of tickets.
7. Infinite Scalability
It allows you to improve customer efficiency. When there is a sudden rise in the volume of chats, then Chatbot AI comes to the rescue. Investing in AI helps you to increase CSAT scores with fewer resources. Deploying chatbots for small businesses is a wise decision to manage unforeseen situations.
8. Tone and Voice of Chatbot
Most Chatbots cannot accurately judge the emotion or intention of the conversation. Having a fixed tone is a good thing. Once you decide upon the purpose, choose your chatbot tone and personality accordingly.
If you plan to use a chatbot to increase your sales in the coronavirus pandemic, you need to use a persuasive tone. With immense personalization of responses and faster time-to-action, WotNot's AI-powered chatbots allow businesses to keep up with increasing consumer demands and persuade leads to convert into customers.
9. The A/B test of Chatbot
It is easy to clone the designs of the chatbot and make adjustments accordingly. You can trigger custom chatbots and connect them to your google analytics account. You can create more avatars or put in quick reply buttons and many more and see what works for your user.
Play around with the messages and images used in the chatbots. It is always best to experiment and know what type of messages connect with your website visitors.
10. Connecting to a Human Agent
It is crucial to know which problem should be dependable on a chatbot and which needs to be transferred to a human agent. For many websites, their agenda is to keep the user stalled to find out what they want.
To keep your users engaged and solve their problems, always connect them to a human agent at the end to make their experience a memorable one.
Transforming Traditional Methods Using Modern-Day Conversational AI
During the times of pandemic, Metro Rail was severely affected all over India. People are habituated to purchase the ticket right before boarding when it comes to the metro. And for a country like India, stations are always jam-packed throughout the day.
Kolkata Metro took this as a cha
Sponsor Ads
Report this Page
Created on Sep 8th 2021 02:27. Viewed 310 times.
Comments
No comment, be the first to comment.