What Are The Challenges And Features For Field Service Management?
by James Lincoln
Technology Advisor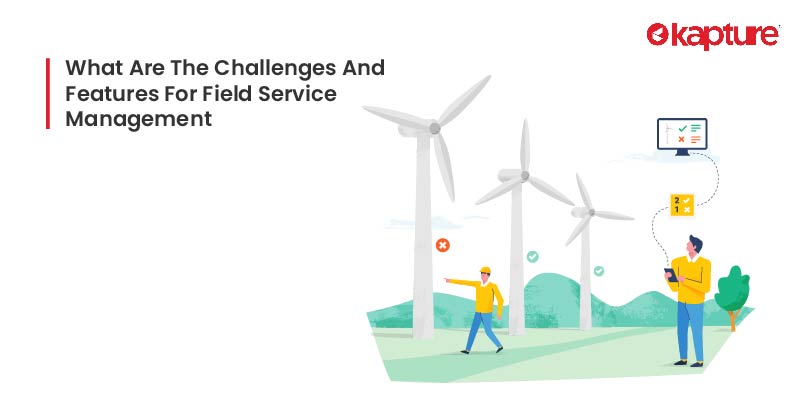 Field Service Management refers to the management of company resources for tasks that are carried out en-route to a client's property, away from the company's property. It requires quite a bit of effort and attention as the issues that arise in this scope of work require immediate attention and thorough co-ordination.
A field service management software, also known as a field force management software, is a type of central interface that allows companies to manage their field force effectively. With the help of field force software management solutions, the business can effectively create schedules, review job history, and track the company's performance on a day-to-day basis.
One of the main advantages of field service management solutions is the higher level of communication offered between management and service personnel, which goes a long way in creating a stronger business model.
Field service management features
Job scheduling
With the help of a field force automation software, businesses will be able to avail easy schedules created with field force automation services provided by the software. The field force automation solution will take into consideration details such as job availability, skill check, and geographical location in order to easily assign tasks and monitor their completion.


Mobile access
One of the best advantages of a field service tracking software is that it is easily accessible through mobile. The easy digitization process allows field technicians to receive job schedules and updates through their mobile phones, and also mark their tasks as completed once they have finished the job.
Work order management
Creating and editing work orders manually can lead to a lot of confusion, causing the business to lose precious time and effort in the process. With the help of a field force management software, work orders can easily be managed and viewed.
Managers will easily be able to see which technicians have taken up field tasks and when they have been marked as completed. A field management system also makes it available to view past job schedules, making it easy for everyone on the team to keep track of the assignments.
Field service management challenges
While there is no doubt that field service management software solutions offer peace of mind to those involved in field management jobs, it does come with its own set of challenges.
Maintaining schedules
While the field force support attained with the help of a field service management system makes it easy to create job schedules, the app cannot account for the adherence of field technicians to their agenda.
The software undertakes field force tracking of the assignment allocation and completion, but there needs to be further monitoring of technician duties to ensure that the tasks have been completed correctly.


Safety
While the field management software can account for assigning jobs, it cannot monitor whether the job site allocated to the technician is, in fact, safe and free of liabilities. The company will have to take up additional safety measures to ensure that their technician's safety comes before their delivering capabilities.


Customer relationship management
Field service management makes it easy to improve communication between managers and field technicians, but it does not incorporate communication with customers. The business will need to employ an alternate strategy that will allow customers to reach out to field technicians in the case of delays, general queries, payment issues, and more.
Conclusion
A field service management application is indeed highly beneficial for every company that deals with off-site delivery management and solutions.
Sponsor Ads
Report this Page
Created on Feb 10th 2020 04:30. Viewed 820 times.
Comments
No comment, be the first to comment.