Tractors Market: Autonomous Tractors & Farm Management System Driving Trends in the Industry
by Basant K.
Global Market Research Reports
Ever since Henry Ford mass produced the Fordson tractor almost a century ago, tractor has come a long way. In a short span of time, tractors have revolutionized farming across the globe. In this era, tractors bespeak comfort, power and reliability; however, the future of tractors will hover around automation and big data.
For a large chunk of population in a developing country, agriculture and its related sectors have been the prime source of livelihood. Tractors have a monumental role to play in augmenting the country's agricultural output. India's growth in tractor manufacturing industry has been phenomenal with the annual sales of 600,000-700,000 units.
A Retrospective View: Awe-Inspiring Growth of Tractors Manufacturing Industry in India
The cornerstone of local tractor production was laid in 1961 by five manufacturers—Mahindra and Mahindra, Eicher, Tractors and Farm Equipment Limited (TAFE), Escorts and Gujarat Tractors. Though green revolution started in the early 1960s, it was only during late 1960s when the rise in demand for tractors was witnessed. Prior to this, the agriculture industry was totally dependent on imported tractors market from other countries. Swaraj tractor, built by Punjab Tractors Limited in 1974, was the first agricultural tractor to be fully developed using indigenous technology in the country.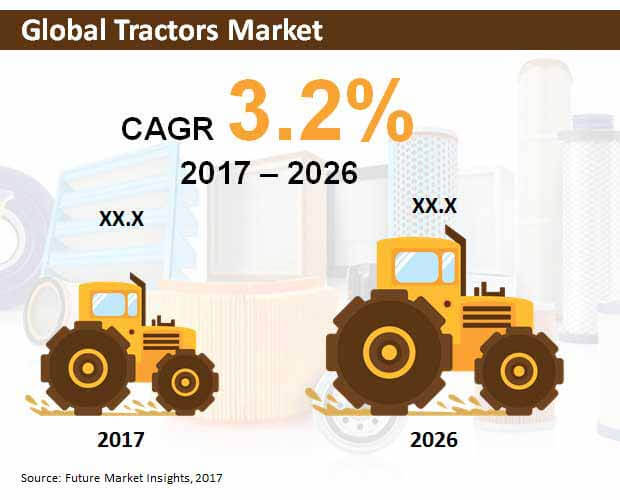 Buoyed by green revolution, Punjab, Uttar Pradesh and Haryana witnessed a surge in food grain production. Inevitably, these were the major market areas for tractors. Having said that, there was a saturation point and the tractors' production plunged, specifically in the late 1990s and early 2000s.
The Way Forward for India's Tractor Industry
There are aspects that play huge role in the dynamic growth of tractor industry, including government's sustained focus on the promotion of farmer welfare and rural development coupled with mechanization in agriculture as put forth in the interim budget 2019.
Financing availability, a surge in the usage of tractors in construction and the implementation of a system to warrant minimum support price to the farmers are the aspects which will be instrumental in the demand for tractors across India in the future.
A Global Perspective: Driverless Tractors
Farm machinery makers are innovators relentlessly envisaging of efficient machines to assist in making farming better. Next agriculture revolution appears to be a technological, and not a mechanical one. Telematics, GPS steering and variable-rate technology have given stakeholders the taste of the future.
The technology has made it such that it can be set up and functioned from a tablet or laptop and anyone can be trained to operate it. Besides, artificial intelligence has allowed tractors to think of itself and operate as a truly autonomous machine. It alludes it can decide not to work if it's pouring or it can take action to avert an obstacle.
Mining industry in Australia witnessed a huge labor turnover, leaving farmers at lurch. UK producers and big farming operations in remote parts of Eastern Europe are experiencing no different situation.
Autonomous tractor, hence, could be the panacea for this shortage-of-staff-headache. A single skilled operator will be enough to work remotely and it could also ease out the pressure of farming businesses where tractors' drivers regularly clock up long hours.
As far as safety is concerned, tractor is programmed to avert people or other obstacles by all means. At the time when world is worried about cyber security, some tractor companies have employed the best security analyst and programmers so it becomes almost impossible for someone to hack into the software.
A Glimpse of Autonomous Tractors and A look at Integrated Farm Management System
The surfacing of technology into the farm management by agricultural stakeholders and farmers has boosted the farmers to get significant yields and produce in the farm with less inputs and resource. An 80 20 Pareto rule could be applied—20 percent of input yielding 80 percent output through autonomous tractors.
The autonomous tractors employ sophisticated sensors and systems to empower it to move around without being manned by anyone. In order to eschew obstacle, tractors is embedded with obstacle detection sensors which will allow it to stop.
The use of autonomous tractors has become the future of agriculture. Autonomous tractors will embolden farmers to completely automate their operations and, thus, eradicate the disadvantages farmers face due to human labor.
Here are some of the Pros of autonomous tractors to farmers:
· Farmers can avail reliable data;
· Accuracy in Farming can be Improved;
· Long working hours can be facilitated;
· High tech systems and Sensors are meant to bolster farming;
· Land management will be facilitated.
Similar to passenger cars, electric tractors have forayed into the market, however, expecting to see lots of them would not be feasible any time soon. In peak seasons, farmers require tractors to run long duration; curbed operating time of battery may not be apt for operations. Though renewable gas powered and natural gas tractors are available, they are yet to make it to the mainstream.
The underlying problem farmers face is shorter weather windows for land access owing to unpredictable weather. Farmers have come under pressure to deliver high-quality produce in shorter periods with quicker turnarounds, hence, size and reliability of machines are paramount.
Sponsor Ads
Report this Page
Created on Mar 8th 2019 05:07. Viewed 423 times.
Comments
No comment, be the first to comment.