The Difference between Digital Marketing and Traditional Marketing
by Juan Yelle
digital marketing,seo executive
Traditional marketing includes business cards, posters, billboards, brochures, commercial ads on TV and radio, print ads in newspapers and magazines to advertise an event or a product.
However, as the technology continues to progress, the world of Digital Marketing advances. Online marketing includes websites, social media, YouTube videos, etc to advertise product or services.
Online marketing is somewhat similar to traditional marketing, as both Digital marketing and traditional marketing aims at achieving the same goal: to attract customers and to build a brand image.
Cost
There are some differences in the cost of traditional marketing and digital marketing. As commercial ads on TV and radio, print ads in newspapers and magazines and other such media ads cost a lot while internet social media ads are quite affordable. Thus, traditional marketing spends huge cost to keep the promotions running under the scheme. Online marketing can also cost, but there are many digital marketing strategies that are free.
Real-time result
In traditional marketing, we have to wait for weeks or even months to see a significant increasing result in your business. While in online marketing, we don't have to wait longer to see the significant increase in the business.
Results of traditional marketing strategy cannot easily be measured. But in digital marketing, it is easy to calculate return on investment (ROI) by using Google analytic tools.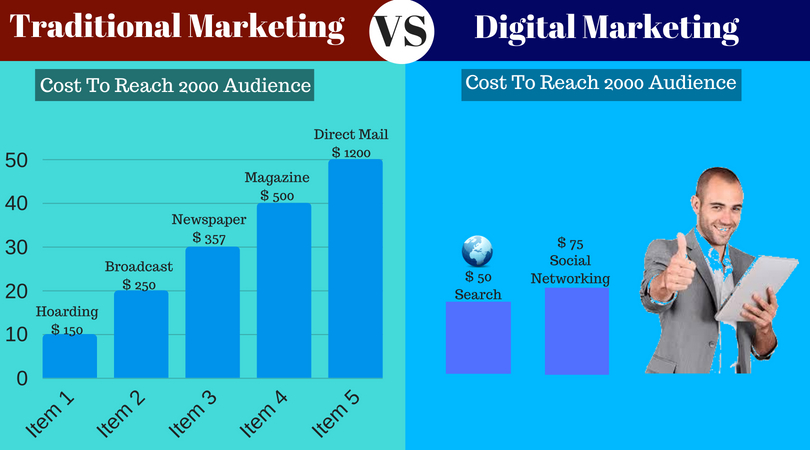 Coverage
In traditional marketing, coverage of your product will be printed on paper media or aired on television and radio. However, the visibility of your products will get is very often temporary. Such as, the newspapers where your higher-priced business advertisements appear would be thrown the next day. On the other hand, your internet coverage might be there for like always. It'll be stored online and ready to get identified quickly whenever your customers require it.
Target audience
Traditional marketing is much more adequate for a particular customer. But digital marketing campaign can reach out to an infinite audience.
Generally, traditional marketing is hitting just a local audience even if it's not limited to at least one. While digital marketing can be used for targeting local as well as a global audience.
Immediacy
Traditional marketing takes more time to come up from conceptive idea to final products. Traditional marketing goes through numerous steps, each step is time-consuming. Even, when it has been delivered to the customer, it cannot get into the customer's hand concurrently. On the other hand, digital marketing still takes time for developing concepts and creating content, Digital marketing takes almost instantaneous time. It can also reach its customers altogether.
Tracking
It is difficult to track traditional marketing strategies. To measure your audience and their interactions we need to put a lot of efforts which are time-consuming. For example; we need to conduct surveys to interpret the statistical results.
Data and results of digital marketing strategies can be easily recorded. We can easily check if the strategies are working by using Google Analytics. If not, we can take the best measures for better marketing and therefore work on better keywords to reach the audience we can also use Social media channels which are free and almost everyone uses them.
Sponsor Ads
Report this Page
Created on Jul 14th 2018 08:33. Viewed 1,182 times.
Comments
No comment, be the first to comment.