Summer Indoor Activities For Kids - Summer Camp at Home for Teens
by Yogita N.
Blogger
Summer Vacations are fun for all the kids but a challenge for many parents. It is a bit tricky to keep the hyperactive kids occupied throughout the day. Plan few summer indoor activities for kids to keep them away from the scorching heat outside.
As a kid, I remember our summer vacations were meant for a visit to our grandparents' home (Nani-house). Lots of fun with siblings and cousins, free play time and no fixed routine were the things on the bucket list of summer indoor activities for kids. Holiday homework, charts, scrapbooks, writing books were either finished in the first week or kept for the last week.
These days due to urban living, nuclear families, and working parents, kids have 24*7 access to the screen. Parents prefer to send their kids to the various summer camps or enrichment classes. The basic motive of the parents is to keep the kid busy and to bring out the hidden talent which they might not have discovered yet.
"Mom, I'm bored" is a common phrase which kids keep on saying throughout the vacations. Let's plan indoor activities for kids to get rid of this phrase.
Summer Indoor Activities for Kids
Indoor Obstacle Race
It could be easily done either from a room to room or across the floor. You can select a start and finish point for the race keeping in mind the safety of kids. Use your imagination to create the obstacles with everyday items. You can use toys, pillows, cushions, boxes or chairs but make sure they do not hurt your child. Note down the time taken by the kid to cover each round.
It is a good indoor exercise that aids overall development. It supports psychological stimulation, concentration, motor skills and creativity.
Sorting/Matching Activities
Give your kid a big bowl filled with mixed pulses of different colors and few empty small bowls or a cupcake tray to sort the grains. This activity can be done with a toddler also by using kidney beans and chickpeas.
You can give playing cards to make pairs or match the same numbers, patterns, colors or suits.
It improves hand-eye coordination and fine motor skills. It aids mental skills like sorting, shape, and color recognition.
Flour Play or Clay Modelling
It is a simple sensory activity although a messy one. Give some flour on a baking tray or a big plate along with some blunt forks, spoons and measuring spoons. Now see how your child draws or creates in flour.
Non-toxic clay can also be made by kneading it into a dough with few drops of edible food colors. Kids can make any shapes with the cookie-cutters or mold the clay to make objects.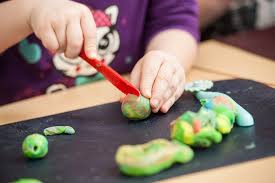 These type of indoor activities for kids inspire imagination and creativity. Kids learn to draw shapes, patterns, hand-prints, faces, etc.
Source of the article: Wonder Parenting.

Sponsor Ads
Report this Page
Created on Jul 17th 2018 04:24. Viewed 1,088 times.
Comments
No comment, be the first to comment.