Silver jewellery care FAQ
by Rajsi Jewellers
Buy Indian antique silver jewellery online at reas
How to keep silver jewellery safe? Can also silver leave stains on the skin? What's the best way to polish silver and keep it shiny on the long run? Why does silver oxidise? The pros and cons of gold plated silver jewellery. There are many questions which need to be answered. Therefore we decided to put this small guide together for all those wanting to
buy silver pendants
or other silver jewellery and take a good care of it for the future.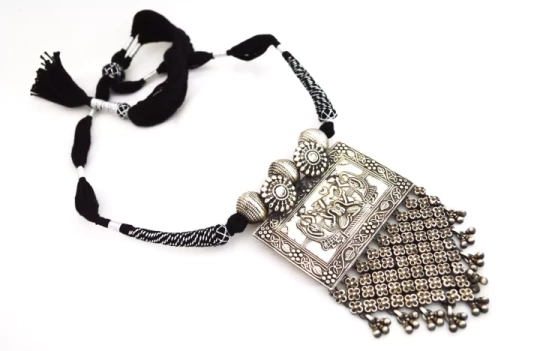 1.) How to store your silver jewellery?
Keep silver jewellery dry and separated even from each other. The right way of storing silver rings is in compartments. Keep the silica packets which always come with newly bought handbags to enable silver jewellery to stay clean for a longer time. Avoid high temperatures, light and humidity.
2.) Separate silver from other jewellery
Not many know, but oxidizing is a process that's very similar to rotting. This also means that it can get transferred quite easily too. If you store clean jewellery with oxidized pieces, the clean jewellery will eventually get oxidized too. Try to store silver separately from gold or other types of jewellery. When your silver is clean, wrap it loosely in paper or textile to avoid it to be oxidized that soon. Cotton compartments are by far the best for storing silver jewellery.
3.) Clean location is essential
Cleanness has lots of reasons: Not many people know but jewellery can easily take in bad smells and dust has bad effects on it too. That's why it's so important to store silver jewellery in clean compartments. Take time to clean and air-dust the jewellery and the compartments every now and then. Many people use vacuum to clean their jewellery boxes the most properly.
4.) Why does silver stain?
The key reason for staining is humidity and the oxidization process caused by the air. The staining can become a problem when it happens with rings and necklaces. In silver jewellery the primary allow that causes the staining is in fact the added copper, which jewellers add to silver to make it harder and more durable. This is also the best way to determine copper content in silver as well. If the stain is green, that's because of the copper. The silver itself may leave a stain that's black and it's the result of silver's oxidization.
5.) Fake silver may cause allergic reaction
A high number of people do have allergic reaction when wearing nickel. If your skin turns red and itchy you are wearing a ring or other piece of jewellery that's high in nickel.
6.) How to properly clean silver?
Use aluminium foil bath to properly clean your silver with the help of ion transfer. For this, place the aluminium foil in a deeper plate or pan, then sprinkle some salt along with baking soda and a tiny bit of dish detergent on the foil then pour hot water on it to cover the silver jewellery. Leave it like that for 10 minutes then turn all your silver jewellery upside down and leave it soak for another 10 minutes. Choose a soft brush to fine tune the cleaning and avoid scratching. You can also go for a toothbrush. Others like to use toothpaste to clean their silver jewellery which is much less laborious.
7.) How to keep your jewellery clean
Avoid direct contact with cream, lotions and other chemicals.
Buy silver pendants and all sorts of high quality Sterling silver jewellery from trusted online stores and keep them in their holders for them to remain shiny for a long time.
Sponsor Ads
Report this Page
Created on Apr 11th 2018 07:52. Viewed 303 times.
Comments
No comment, be the first to comment.