Role of Centrifugal Fans and Axial Flow Fans in Temperature Control!
by Ventech Systems
Air Pollution Control & Ventilation Systems
Air conditioning and temperature control systems are developed to generate the condition of comfort within the work and home premises. They control humidity, temperature and flow of air within Air conditioning systems are integrated with three various controls-humidistats, temperature control, and air stats. In this blog, we are discussing the importance of Centrifugal and Axial fans.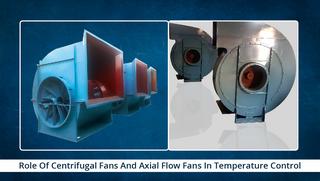 What Are Axial Flow Fans?
The name axial is given to these category fans owing to the air direction generated by creating them. The first electronically driven powered fans came in the market in the year 1880. Blades moving around axis flow air parallel to the axis and move air with force in a similar direction. The typical mode of axial fans is utilized to exhaust air from the process used for supplying fresh air and major spot cooling of the room, people and machinery.
Axial flow fans having four or six blades and diameters of 6-18 feet are commonly employed in air-cooled heat exchangers, however larger and smaller fans are used occasionally. The plastic fan blades are helpful for air temperatures upto 175-degree Fahrenheit, and metal blades are used for higher air temperatures.
Most frequently electric motors are used as fan drivers, however, at some frequencies turbines are also used. Speed reduction is usually accomplished with the use of V belts, high torque drive belts, reduction gearboxes.
Variable pitch fans are specially used for facilitating process side temperature control in air-cooked exchangers. The pitch of the blade is automatically adjusted for providing the required airflow for maintaining the desired outlet temperature of the process fluid.
Industrial Extractor Fans
The heavy-duty design and performance of Axial Flow fans make it suitable for every environment. They are perfectly suited as an effective means for circulating huge amount of air across the premises.
Air Flow Direction-Air that moves from motor to impeller is said as standard. And the air moving from impeller to motor is moved on request.
Static Pressure- up to 100 mm weight
Comprehensive choice of diameters- Range from 250 mm to 1600 mm
Introduction To Centrifugal Fans
Typically centrifugal fans have eight types that draw air into the inlet of housing blower via the wheel and discharges it at 90 degrees. There are two major types of blowers-Pressure blowers and volume blowers. Pressure blowers are specially designed to drive or push air at high pressures. Fans are made of SS, fabricated steel or cast aluminum.
Size, specification or range of centrifugal fans
Size- Impeller Diameter with minimum 1050 mm
Temperature: up to 425 °C
Pressure- 1200 mm wg. to 2500 mm wg.
Airflow: Single and double widths 125000 CMH to 275000 CMH


I hope you get an overview of centrifugal fans & axial flow fans. If you are searching for an authentic platform for purchasing a perfect piece of such products, then you can request a free quote at Ventech Systems.
Sponsor Ads
Report this Page
Created on Oct 23rd 2019 00:50. Viewed 541 times.
Comments
No comment, be the first to comment.