Kanha National Park
by Nature's Sprout
Indian National Park
Kanha National Park Is in the Maikal range of Satpura, Madhya Pradesh and it is said that the heart of India. This National Park is very popular for tiger reserve and it is declared as one of finest national parks in the world. The Kanha National is spread across Mandla and Kalaghat district and this was declared as reserve forest in 1879 and revalued as a wildlife sanctuary in 1933. This National park is spreading across 940 sqkm in Maikal chain of hills. Kanha has total 1945 sq km area when we bringing up buffer and core zone together. The surroundings of dense forest offer the amazing sightseeing experience for the nature lovers.
The Kanha National Park is the home for wild creatures like tigers, most populated animal Barasingha, many species of plants, birds and insects. This is the best location you can enjoy is sunset point in BammiDadar.
Why to Visit Kanha National Park
Kanha is the amazing National park where you can enjoy various activities like cycling, wildlife jeep safaris, elephant safaris, nature walk, birding walk and some other activities which are organized in resorts.
Wildlife safari: This park is divided into 4 zones. Each zone has its specialty like Mukki zone is good for tiger sightings whereas Kanha zone ensconces Sal belt, mixed forests, grassy meadows and number of water bodies like SarvanTaal. Kisli zone is also good for wildlife sightings and also good for birding.
Elephant Safari: Riding an elephant is most majestic way to travel in the forest and to observe wildlife. It is very adventurous when the elephant passes through beautiful greenlands and you find the best views of the forest area.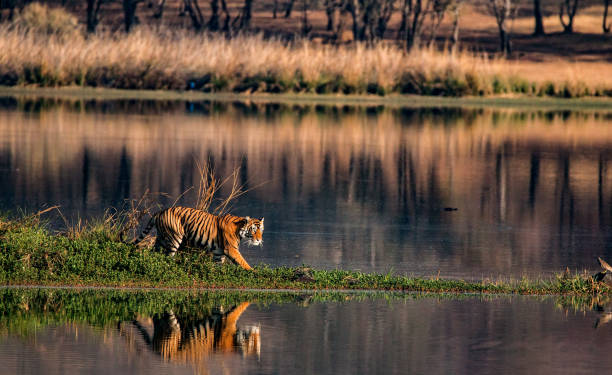 Flora and Fauna in Kanha National Park
Flora - Kanha National Park is the home to more than 200 species of flowering plants and it is the low land forest other mixed forest trees, mixture of sal and mingled. The climate supports the growth of rich varieties of plants in the park. There are 10 varieties of Angiosperms (flowering plants) belongs to 506 benera and 134 families and 22 species of Pteridophyte belonging to 14 genera and 14 families.
Fauna- This National Park is spread over two rivers which are Banjarriver and Hallon river. In this amazing forest there are many varieties of animals are discovered in abundance. During the Jungle safari in Kanha National Park you can spot many mammels and wide variety of bird species. The mammels you can see in this forest are mainly the tigers, Panther, Chital, Sambar, Barasingha, Black buck, Barking deer, Chousingha, Gaur, Langur, Wild pig, Jackal, Sloth bear and Wild dog.
Best time to visit Kanha National Park
This is only National Park where you can see tiger sightings all year around. But this park is open for tourist from 1st October to 30th June. The winter is the best time to visit Kanha because the weather is so good in this season. You can see gorgeous views of forest along with a nice weather. The amazing wintery feel of the forest is something that you should experience at least once. The summer season is perfect for tiger sightings because the animal walks out of the forest for searching water bodies. The guest does not prefer to in the monsoon season because of the muddy roads and inaccessible zones.
How to reach Kanha National Park
By Road- This is popular tourist destination of Madhya Pradesh it is well connected via roads. You can easily access Kanha National Park from Jabalpur which is 170 Km distance from Kanha, Khajuraho is 445 Km, Nagpur is 270 Km and Raipur is 219 Km distance from Kanha.
By Air- The closest airport from Kanha is Jabalpur. The Jabalpur airport is located at distance of 170 km and it takes around 4 hours to reach Kanha National Park. Other than this Raipur is also a good option and it takes around 5 hours to reach in the park.
By Train- Jabalpur railway station is the closest station of Kanha. There are taxi and public transport services available from station to reach Kanha National Park.
How to Book Safari in Kanha?
Kanha jungle safari tickets can be
Online safari booking kanha
through different websites. You can also book your kanha national park safari tickets in the resorts where you are going to stay. You can collect entry tickets from the entry gates booking window. There are three gates so you can collect your entry tickets from these gates. In one jeep safari of Kanha there are 6 people allowed plus a park guide & a driver are mandatory. So, book your safari online through Natures Sprout.
Stay in Kanha National Park
You want to closely observe the nature? Then there are many jungle resorts near Khatiya Gate, mukki gate and sarhi gate of Kanha National Park. These resorts and lodges have beautiful organic garden where you can go for an early morning stroll. There are many indoor activities you can enjoy in these resorts. You have to book
Kanha Resorts
in advance. Winter is the best time to visit kanha National Park, so in this season all the resorts and lodges are pre-booked. You can get online booking of kanha national park resorts with Natures Sprout.
To get more details about sundarban tour package call us on: 7719806444 or send email on: naturesprout18@gmail.com
Sponsor Ads
Report this Page
Created on Jan 6th 2022 03:57. Viewed 152 times.
Comments
No comment, be the first to comment.