Hydron Reinforced Chitosan Hydro Fiber Hemostatic Dressing and Surgery Products
by Professional Writer
Professional Writer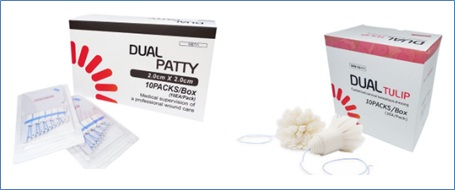 ENDOVISION develops next-generation medical devices and biomaterials. Since its inception in 2013, it has grown to become Korea's leading and most advanced bio & mechanical medical device industry. It primarily produces biomaterials, spinal endoscopic, arthroscopic, endoscopic, laparoscopic, hemostatic, and gynecologic products.
Endovision's Hemostatic Products
Endovision has created functional hemostatic products using an innovative chemical treatment process that converts hydrogen-reinforced chitosan to hemostatic gauze and hydrogel. Its hydrogen-reinforced chitosan hemostatic products are dual tulip, dual patty, nexoseal plus, dual laparo, kito gauze, kito activator pro, kito activator, kito band liquid, and nexoseal.
Dual Patty
Dual patty is a surgical patty made of HR chitosan hydro fibres that is used to protect the vessel and nerve during surgery. It is designed for spinal and brain surgery, and it is simple to secure vision by managing bleeding during the procedure. Dual patties have a high absorption capacity and can be customised in size, thickness, and flexibility. The product's structure is very easy to remove and can also be used in small surgical areas.
Dual Tulip
Dual tulip is an HR chitosan hydro fiber anti-microbial and hemostatic dressing product for gynecology. This product is effectively applied to the affected area and simple to insert and remove. Dual tulip is a cervical hemostasis dressing product with 134 petals and a large surface area. This is CE and MFDS patented dressing product, and it is used for conization, uterine cancer examination, and female inspection.
If you are looking for high absorption hemostatic dressing and surgery products, you can find it at Endovision
Click here to contact ENDOVISION.
View more: Hydron Reinforced Chitosan Hydro Fiber Hemostatic Dressing and Surgery Products
Sponsor Ads
Report this Page
Created on Dec 30th 2022 05:54. Viewed 76 times.
Comments
No comment, be the first to comment.