How to Grow Your Software Testing Career into QA Manual & Automation?
by Aegis Soft Tech
Prominent Mobile Application and Offshore Software
Today I am going to discuss a very important topic and that is how to start a career in IT as a software tester. I will also be mentioning from Non-IT or having IT background someone is not having any kind of Programming background. How can I start a career in IT as a software tester? I will be discussing exactly the same and if you want to enter into the IT industry and you want to create your career in the software field. Software testing is one of the easiest ways.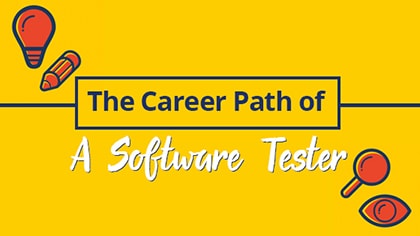 Skills Required for Software Testing
:
Analytical skills: A good software tester should have sharp and good Analytical skills because they help you to break down a complex software system into smaller units to gain better understanding. That is how you can create various test cases and execute your test cases.

Communication skills: Good software testers require communication skills because when you're going to test the various modules, various units or the complete system you will find some bugs. To report those bugs to deal with the developers you must have a good command on the verbal and written parts in terms of communication skills.

Passion: If you want to excel in any kind of profession or any job regardless of your degree the passion is something which is the most important. If you have a passion to enter the field of software testing and you want to learn new skills, that is how nobody can stop you to grow into that field. Like I will give you my example, I started my career from Non-IT and Non Programming initially. But I had a Passion to move into QA. Currently, I am working as a QA Automation lead role. Almost worked into 4 different companies and multiple Projects along with multiple domains. Currently working into Oracle Cloud Financials applications with Python & DevOps Automation Framework. Earlier worked on QTP/UFT, Selenium Java Testing tools as well.

Technical skill: Before appearing for an interview or applying for the relevant Job in any Technology-related field. It's always recommended you should have some good knowledge or Information about that Particular Technology. Skills you should learn for Applying Job as a QA Test Engineer first starts with the Basic Manual Testing. Here you will learn some Testing related Models and Methodologies, Types of testing, Bug Life cycle, Importance of QA in the Software Industry. Different roles and responsibilities as a QA Engineer. While applying for a job you can Mention the same in your CV with some knowledge as a Fresher or Experience if you have and after this start learning about Automated Software Testing as well. It will help you to shortlist your CV more to get Testing interviews calls.
Software Testing Career Path
Manual Tester: Here we discuss Career Path into Software Testing. It has multiple roles and Opportunities. Like, if you are new to Testing then can start your career with Manual testing which does not require any coding knowledge or experience. You can learn about the concepts required for Manual Testers like Types of Testing, Methods of Testing, Different SDLC Models and Software Testing life cycle used into Testing like Agile is very famous nowadays. What is the Bug and Bug life cycle..Can learn some tools like ALM or Jira used for Test Management and what are the different roles and responsibilities of a Manual Tester.

Automation Tester: Once you get some experience or knowledge about Manual Testing concepts Parallel start learning Automation Testing using any Tools like Selenium Java/ Python/ C#QTP/UFT VbScript, Tosca etc. many Test Automation tools are in demand in the market but Selenium with Java and UFT is the leader of the same. Nowadays Demand for Python Test Automation Engineers is also increasing day by day. Because of its simplicity and less code complexity with Powerful Language. This is how you can boost your career and Technical with Programming skill set. Manual Testers with Automation Experience and knowledge are higher in Demand and you can demand more salary along with that skill set.

Test Lead: After having some good years of experience in the QA field you can start applying for the QA Test lead role in the companies. Which will help you to grow your Leading skills, Communication as well as Technical skills.

Test Manager / Test Architecture / Scrum Roles: You can also step into your career with Test Manager or Test Architecture roles as well after getting a number of Years of Experience. You can also start applying for Scrum roles like scrum master.

Director / Head of Testing Unit: By having sound Technical Testing experience and Management experience. You can also become head of the Testing department in any Organization.
Sponsor Ads
Report this Page
Created on Apr 6th 2020 07:21. Viewed 1,848 times.
Comments
No comment, be the first to comment.