How can Artificial Intelligence and Disruptive Technology facilitate coaching?
by Hr Tech Partnership
We work with companies at early stages to ensure
A blog by Gabriel Barnes
In this new age of remote working, businesses have had to adapt to significant changes which have affected them at all levels.


Senior leaders have been forced to make a shift away from authoritative management styles, towards those which are nurturing and supportive. They have had to take into account the jarring changes to the home and work life which workforces have endured, whilst trying to reconcile this with some rapid, transformative business decisions, necessitated by the crisis.


The workplace is now, more than anything, a virtual space, so gone are the days of teams organised in one place. Team leaders have been contending with the difficulties of homeworking, on top of the pre-existing challenges which come with effective management– such as presiding over groups of people from diverse age groups and backgrounds, and with various needs.


These are uncharted waters for employees, too. There is a great deal of uncertainty at present, as business models are changing, and different skill sets are becoming more relevant, and yet there is a lack of clarity about how these can be navigated and managed on an individual basis.


What is necessary, therefore, is to upskill workforces in order that they can deal effectively with the upheaval that this crisis has caused. In the future of work, coaching and mentoring must be democratised – no longer exclusive to a small pool of high-potential talent, but accessible to all, even the most junior of staff members. Organisations are currently looking for cost-effective ways of implementing this change.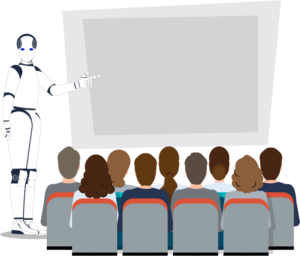 How has technology been used in coaching to date?
Following a period of rapid response to the sudden change to the status quo, businesses have begun to focus on new strategic priorities to allow coaching and mentoring to be done most effectively. Artificial Intelligence and digital solutions have played a role in this, as they do not necessitate huge levels of spending and are easy to implement across organisations. These solutions also facilitate self-directorship, meaning that they do not require significant levels of manpower.
Artificial Intelligence-based simulations have been used in larger organisations to deal with the challenge of ensuring that their younger, perhaps less experienced managers are sufficiently equipped to lead amidst this uncertainty.


Some team leaders have had access to simulations which expose them to a variety of management scenarios, which can be completed in their own time, and which provides those junior managers with a level of self-confidence and psychological safety.


Artificial Intelligence and digital solutions have also been used to facilitate coaching on building relationships and developing and maintaining emotional connections with people – at a time when doing so has been harder than ever.
Solutions based on Artificial Intelligence, such as these, have the potential and the capacity to consolidate data from a variety of sources (such as psychometric tests, performance statistics, and self-assessments) to produce the highest quality coaching and development programmes which are tailored precisely to the needs of the individual.
In the immediate future, it is predicted that these approaches to company-wide coaching will become even more finely tuned, with smaller, more regular interventions aimed at larger groups of people. Digital solutions will be increasingly employed to upskill operational workers to be able to manage the anticipated virtualisation of business and supply chains and workplace digital disruption. Meanwhile, coaching at the executive level is not likely to be completely replaced with Artificial Intelligence, but certain tools will become more prominent as enablers of top-of-house mentoring.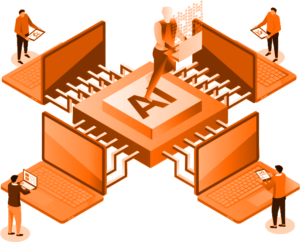 The future of AI in coaching
Whilst coaching has in the past been primarily an expensive face-to-face activity, as we have seen, enhanced in some cases by certain digital solutions, it is predicted that Artificial Intelligence will make even greater inroads into the domain of in-house mentoring. Technology such as augmented reality and two-way bot communication, which allows for intelligent interactions between person and machine, will become prevalent. This increase will have a great facilitating effect on coaching in a variety of ways.
Artificial Intelligence and digital solutions will allow coaching to be scaled across entire organisations. This will allow for a higher quality of coaching as mentors and mentees can be matched more intelligently and suitably.


Initial advice sought by employees will be transferred into the realm of Artificial Intelligence, freeing up managerial time previously dedicated to low-level mentoring.


In this era where business models are changing and organisations are pivoting in response to the crisis, there is uncertainty around how individual jobs may look different in the future, so digital solutions will play a key role in improving talent and workplace productivity with a level of psychological safety. The use of ongoing intelligent coaching will mean that individual career paths will not be cut short.


Artificial Intelligence will facilitate remote team coaching, not only by ensuring effective communication, but also by promoting team values, achieving common goals, and reinforcing positive behavior.


Artificial Intelligence will be able to harness data from analyses of online interactions between employees so that leaders can get a better sense of where they need for coaching lies in an organisation, and of the kind of coaching which is necessary.



Introducing AI in a practical way

The use of Artificial Intelligence and digital solutions can have wide-ranging effects on the quality and effectiveness of coaching in an organisation. Rather than committing a total reform in how coaching is undertaken, it is possible for leaders to pilot the use of Artificial Intelligence to test the business case for its application. An accessible way to do this is by trialing it briefly within a small team and scaling it across the organisation only if this test is successful. Whilst the positive effects of coaching are often difficult to quantify, Artificial Intelligence has the capacity to show clearly how much progress is being made in respect of the goals for the trial. The HR TECH Partnership (HRTP) runs a human capital digital innovation hub that can facilitate this low-budget innovation in human capital so that leaders do not have to make large commitments in the first instance.
Sponsor Ads
Report this Page
Created on Dec 18th 2020 04:55. Viewed 243 times.
Comments
No comment, be the first to comment.