How‌ ‌Artificial‌ ‌Intelligence‌ ‌Can‌ ‌Transform‌ ‌Digital‌ ‌Marketing?
by Syco Digital
Internet Marketing Services
Artificial intelligence has transformed the digital landscape altogether. Whether we talk about the Google's RankBrain personalizing recommendations by Amazon or the use of chatbot for enhanced customer experience, AI has become an essential part of our day to day happenings, digital marketing being no exception. When we talk about AI, you start thinking of sci-fi with futuristic robots, but this is just the tip of the iceberg. With proper understanding and analysis of input data, AI helps in identifying the new marketing opportunities. Firms offering digital marketing services incorporate Machine Learning and Artificial Intelligence as a part of the firm's marketing plan. To understand the impact of AI on digital marketing, let's look at some interesting statistical data.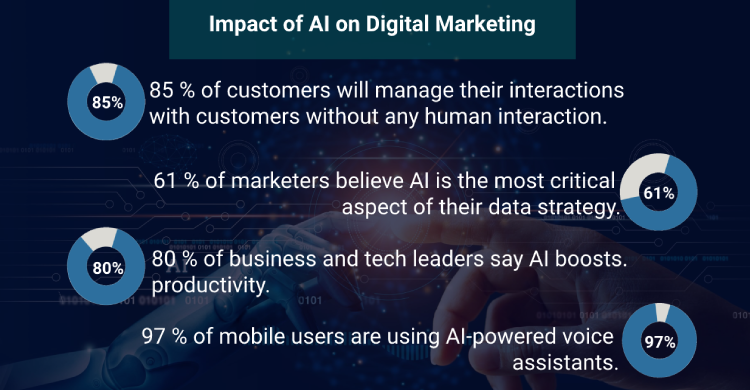 - 85 % of customers will manage their interactions with customers without any human interaction.

- 61 % of marketers believe AI is the most critical aspect of their data strategy.

- 80 % of business and tech leaders say AI boosts productivity.

- 97 % of mobile users are using AI-powered voice assistants.



These figures clearly represent why AI has become the need of the hour in digital marketing. Despite this, many marketers wonder, "how can I use AI." If you have no clue how to use AI in digital marketing, we have answers for you. So, without any further delay, let's look at the role of AI in digital marketing.
Translate Big Data into Useful Information: What will you do with big data, if you are not able to convert it into actions that drive business outcomes. Two essential features of AI, predictive analytics, and propensity modeling help marketers to use consumer behavior to execute successful campaigns. Let's take an example, say you have to increase sales by 40% this quarter through email marketing, with AI it is possible. The AI algorithm will identify an optimal strategy to achieve this goal and refine campaigns based on the user response. And, for this, you can use GoogleDoubleClick's new planning and bid manager feature.
Chatbots for High Speed and Command: In 2016, the first wave of the chatbot was deployed, giving customers prompt services and creating a new opportunity for firms offering advanced digital marketing services. A survey of 1000 consumers was conducted, which shows that 49 % of respondents prefer conducting customer service interactions via text, chat, or messaging app instead of with customer service agents. Millennial preference for using a chatbot is the highest, revealing the practical use of AI-powered tools to boost your business.
Online Searches: Two significant advances in artificial intelligence that revolutionized internet searches and search engine optimization are voice search and Google's algorithm RankBrain. Innovations like Amazon Echo, Google Home, and Apple Siri make it easy for people to perform searches by pressing a button or saying a command. Google' RankBrain algorithm works to get the best search results to users. It interrupts users voice searches, using the power of AI providing the best result to users.
Digital Advertising: Digital advertising is the area of digital marketing that firms can adopt if they have the know-how of artificial intelligence. Like Facebook and Google ad platforms already use ML and AI to find people who will perform the desired actions. To achieve this, you have to analyze the user's information, interests, choices, and facets to identify the best audience for your brand.
In addition to the above applications, AI has a lot to offer to firms offering digital marketing services. AI can help firms create interactive web designs, play a crucial role in boosting Local SEO, and drive social media strategy.
Sponsor Ads
Report this Page
Created on Aug 7th 2020 16:23. Viewed 245 times.
Comments
No comment, be the first to comment.