Have a quick look at The Most Reliable Centralized Air Conditioning System
by Ventech Systems
Air Pollution Control & Ventilation Systems
When you're up to install or replace a centralized air conditioning system it means you have to compromise with your biggest expenses. And that is the reason you want installation or replacement of the Air Conditioning System to be done right the first time. But when it comes to visualizing in real life, it is not practically possible that consumer gets a perfect replacement at a single effort. So many variables lay a direct or indirect effect on the successful implementation of the Centralized Air Conditioning System within the premises. The variables like size and design of premises, way of system installation and construction of ductwork, etc.are some direct means to affect the installation process.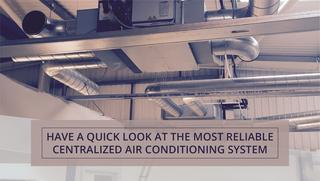 The latest survey conducted on more than twenty thousand users of the centralized air conditioning system installed by them reveals some major points. The report describes which parts break and what does it cost to fix central AC at the time where repairing is required.
By the way, the segment of air-conditioning and refrigeration is having a very vast application with diverse application requirements. Some important terms related to air conditioning systems are:
Unit
The unit of refrigeration is a ton, which is a time rate of cooling equal to 12000 BTU/Hr.
Refrigeration cycle
The major components of the vapor compression cycle are a condenser, thermostatic expansion valve, and evaporator. The refrigerated gas enters into the compression at low temperature and low pressure where it is compressed by leaving compressor at high temperature & pressure.
Equipment used in Centralized Air Conditioning System
1-Compressor-
Sealed, semi-sealed and open type
2- Condenser
Generally, the condenser is made available in two types of design- Water cooled type design or air-cooled type design. Water-cooled type condensers are in the form of tube or shell construction, whereas air-cooled condensers are an assembly of finned tubes through which refrigerant flows & rejects air heat.
3-Evaporator
When the medium of cooling is air, the evaporator type is called a direct expansion cooling coil that comes along with finned construction. In this system, air flows over the tubes and the refrigerant flows through the tubes. When the medium is water, the evaporator is called direct expansion chiller
4-Cooling coil

There are two types of cooling coils direct expansion or chilled water type. The cooling coil has finned tube construction where refrigerant gas or chilled water moves via tubes & air is driven over the tube surfaces. Fins are specially used to increase the effective heat transfer area. Once the refrigerant flows via tubes, the cooling coil is converted as a direct expansion cooling coil.
5. Air Handling Unit
Air handling units have a cabinet type sectionalized construction specially used in air conditioning applications. It is connected with other equipment in the refrigeration circuit through the cooling coil.
Apart from these five major units, other auxiliary equipment like a cooling tower, pump sets, ducting, piping, insulation work, etc., are required for completing the installation of the Air Conditioning plants. For the installation of central plants, there is the requirement of two separate areas-Condensing unit and Chilling Unit.
To keep the Air conditioning system working properly for a long time four tips should be followed by the users:
● Keep it clean
● Seal and insulate ducts
● Seasonal checks
I hope, an overview of the Centralized Air Conditioning System is helpful to you. If you are looking for Air Conditioning System in Noida, you can join Ventech Systems for convenient solutions.
Sponsor Ads
Report this Page
Created on Aug 27th 2019 06:21. Viewed 341 times.
Comments
No comment, be the first to comment.