Global Dermacosmetics Market was valued at USD 53.0 billion in 2018.
by VynZ R.
VynZ Research.Industry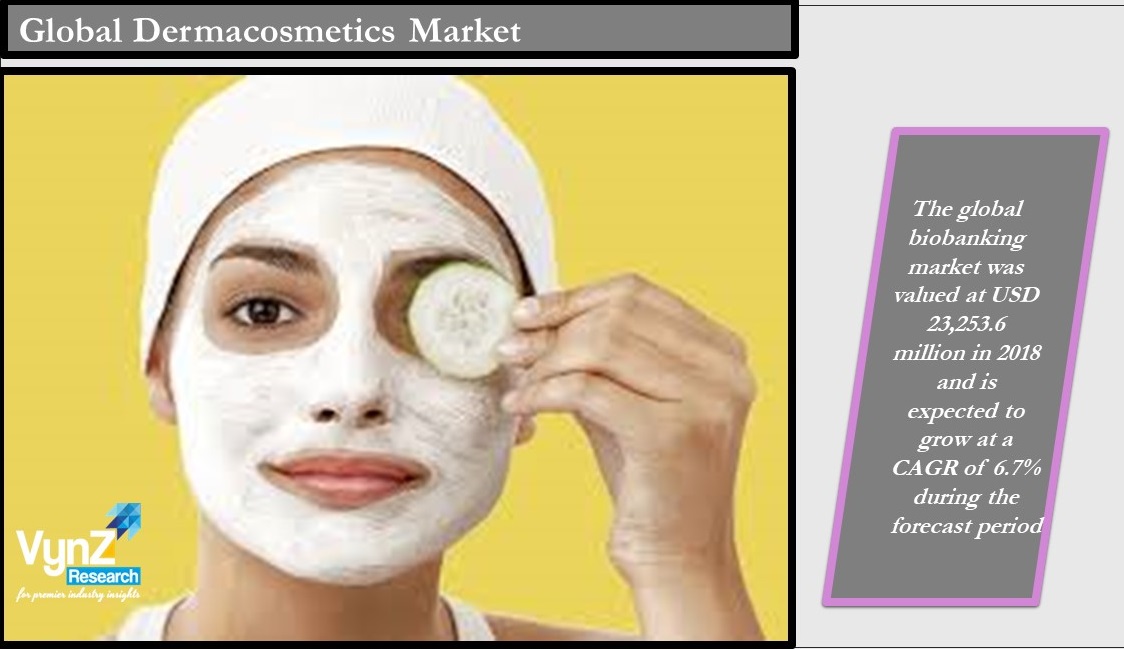 The global
dermacosmetics market
is expected to grow at a CAGR of 6.6% during the forecast period with its market size valued at USD 53.0 billion in 2018. Globally, dermacosmetics industry players are undertaking mergers and acquisitions and collaborations in order to expand their product portfolio and gaining competitive advantage. The key player in this market comprises of both large as well and small service provides making it a fragmented market structure.
Dermacosmetics market in Asia-Pacific is expected to witness highest CAGR during the forecast period owing to evolving lifestyle patterns, improved economic condition, excessive awareness about dermacosmetics, increasing personal disposable income of population and presence of key players in the region are factors driving the growth of dermacosmetics market.
Some of the players having prominent presence in the global dermacosmetics market include Johnson & Johnson, Bausch Health Companies Inc., Galderma S.A., Unilever Group, Procter & Gamble (P&G), L'Oréal S.A., Beiersdorf AG, The Este Lauder Companies Inc., ZO Skin Health Inc., Amorepacific Corporation, Sebapharma GmbH & Co. KG, Dermtek Pharma Inc., Phyto Botanical Power, Zorah Biocosmetiques, Shiseido Co. Ltd., BCG Badan-Badan Cosmetics Group Gmbh, Dr. med. Christine Schrammek Kosmetik GmbH & Co. KG, Uriage Dermatological Laboratories, Youth Lab Dermacosmetics, Physicians Care Alliance LLC, Nuxe Laboratory, Pierre Fabre S.A., Kanebo Cosmetics Inc., and Allergan plc.
Global Dermacosmetics Market Coverage
Product Insight and Forecast 2014-2024
Skincare
Cream
Serum
Lotion
Cleanser
Gel
Toner
Others
Haircare
Shampoo
Conditioner
Others
Treatment Insight and Forecast 2014-2024
Skin
Anti-Aging
Skin Whitening
Acne Treatment
Others
Hair
Anti-Dandruff
Anti-Hair Fall
Hair Repair
Others
Distribution Channel Insight and Forecast 2014-2024
Pharmacy and Retail Store
Online
End-User Insight and Forecast 2014-2024
Clinics, Medical Spas, and Salons
Hospitals
At-Home
Geographical Segmentation
Dermacosmetics Market by Region
North America
By Product
By Treatment
By Distribution Channel
By End User
By Country – U.S., Canada, and Mexico
Europe
By Product
By Treatment
By Distribution Channel
By End User
By Country – Germany, U.K., France, Italy, Spain, Russia, Switzerland, Sweden, Norway, Denmark, Poland, and Rest of Europe
Asia-Pacific (APAC)
By Product
By Treatment
By Distribution Channel
By End User
By Country – China, Japan, India, South Korea, Australia, Indonesia, Singapore, Thailand, Malaysia, Sri Lanka, and Rest of Asia-Pacific
Rest of the World (RoW)
By Product
By Treatment
By Distribution Channel
By End User
By Country – Brazil, Saudi Arabia, South Africa, U.A.E., Argentina, Chile, Colombia, Ecuador, Israel, Egypt, Kuwait, and Other Countries
About VynZ Research
VynZ Research is a global market research firm offering research, analytics, and consulting services on business strategies. We have a recognized trajectory record and our research database is used by many renowned companies and institutions in the world to strategize and revolutionize business opportunities. The company focuses on providing valuable insights on various technology verticals such as Chemicals, Automotive, Transportation, Energy, Consumer Durables, Healthcare, ICT and other emerging technologies.
Contact
Manager: Client Care
Toll-Free: 18882533960
Sponsor Ads
Report this Page
Created on Apr 10th 2020 07:04. Viewed 92 times.
Comments
No comment, be the first to comment.