Get The Best Hypoallergenic, Pet-Safe Cleaning Solutions For Healthier Homes
by PRC Agency
PR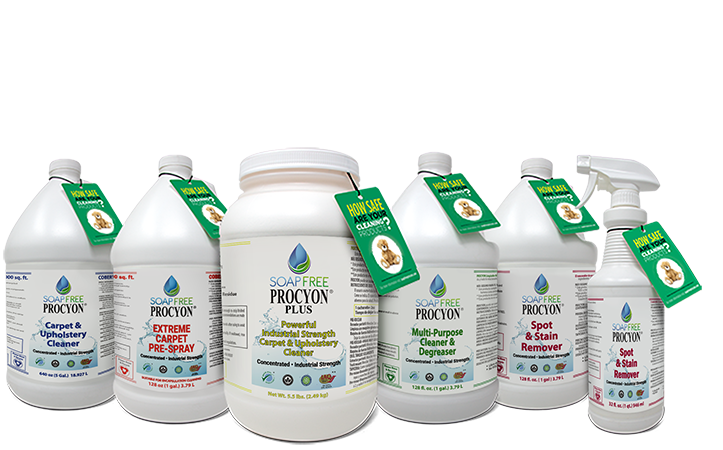 Everyone wants to tout their green credentials these days. But most of these companies are actually greenhorns - inexperienced novices hopping on a trend!
Plus Manufacturing, whose carpet, tile, grout, and upholstery commercial products are Indoor Air Quality (IAQ) approved by the EPA, offers its Green Home Procyon bundle for homeowners looking for powerful, yet safe and chemical-free solutions to their house cleaning needs.
Check them out at https://soapfreeprocyon.com/shop
The company, which holds a total of 12 eco-friendly certifications, sells online its standalone tile and grout, carpet cleaning, and stain removal products. All cleansers are soap-free detergent-free, odorless, and hypo-allergenic. They are biodegradable and contain no toxic chemicals or volatile organic compounds.
Operational for almost 40 years, Plus Manufacturing has become the preferred one-stop-shop for commercial cleaners who no longer rely on chemical-based products. Now you too can get their stuff for your home - at the click of a mouse.
While eco-friendly cleaning solutions have been growing in market share over the past two decades, the pandemic triggered heightened interest in household hygiene. Since these products do not pollute the environment, they promise to reduce households' carbon footprint - a key consideration for consumers - especially among the younger generations.
Plus Manufacturing's Green Home bundle borrows directly from two of the company's commercial solutions. The company's soap-free Procyon Spot and Stain Remover has been tested and certified for power and performance by multiple labs and institutes. Shampoos and other soaps can leave behind debris and buildup in your sinks, bathtubs, and showers that Procyon will dissolve and eliminate.
Their soap-free Procyon Tile & Grout Cleaner Concentrate has also been performance-tested and certified to be effective when it comes to cleaning dirty, greasy tile and grout floors. Both products have been used by professional carpet cleaners, building service contractors, schools, shopping malls, and health care facilities around the world for several decades.
The product will also reduce slipping and falling accidents around your home because the soapy, sticky, buildup residue on property floors will be eliminated. The Procyon line of cleaners does not harm either the environment or people, including asthma and allergy sufferers.
One customer said: "Soap Free Procyon cleaning solutions are the best cleaning products in our home — we clean our tile/grout, fiberglass bathtub, spots on carpet and upholstery, and even use it to remove laundry stains. We value our health, and we are confident that Procyon products are the best and healthiest cleaners for our family."
The biggest knock on eco-friendly cleaning products is that often they don't work, right? That just doesn't apply here - and there's plenty of proof!
Go to https://soapfreeprocyon.com/shop and let your home sparkle - without those noxious fumes!
Sponsor Ads
Report this Page
Created on Jun 28th 2022 02:06. Viewed 47 times.
Comments
No comment, be the first to comment.