Dog Food Orijen: Orijen Puppy Food Review
by Bijal Patel
Pettoba Owner
Champion Petfoods and Orijen are recognized for "Biologically suitable pet foods from Fresh Regional Ingredients" is what. They work on the premise that dogs should consume a diet that includes foods that are similar to what they would eat in the wild. There is a lot of beef protein in the diet. Dog food Orijen is made up of 75 to 80% meat and 38 to 42% protein. This is far more than the majority of dog foods.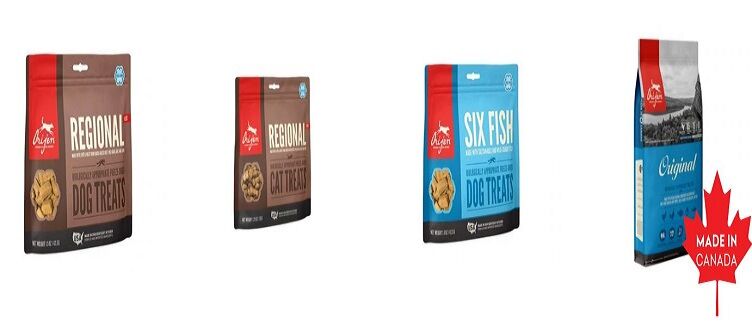 They only contain 18 to 22% carbs, which is extremely minimal. They're produced with up to 40% fresh meat, which is almost unheard of. Each formula contains a minimum of five fresh types of meat. There are no other foods that are comparable to Orijen, especially kibbles.
Ingredients In Orijen Puppy Food
To fully support their rapid growth and development, all puppies require a diet rich in protein and fat from a variety of fresh, whole animal ingredients.
· Dog food Orijen for nourishes puppies according to their evolutionary and biological demands, using 85% high-quality animal nutrients.
· For a concentrated supply of nutritious protein, 1/3 of the animal ingredients are dehydrated chicken and turkey (air-dried at a low temperature from fresh flesh).
· 2/3 of the components, including the top ten, are FRESH (refrigerated, no preservatives) or RAW (flash-frozen, no preservatives).
· Fresh meat, organs, cartilage, or bone in nutrient-dense WholePrey ratios give a natural source of practically every nutrient your puppy needs.
· Freeze-dried chicken and turkey liver infusions naturally boost flavor and palatability, giving ORIJEN meals a flavor that dogs love.
Breakdown of Ingredients
Boneless chicken, chicken liver, chicken meal, boneless turkey, and whole herring are the top five components in Orijen Puppy Food. The top five ingredients are the same as in the Orijen Large-Breed Puppy food mix. A brief description of each of these substances may be found below:
Boneless Chicken - This Orijen Puppy Food does well by putting a fresh source of animal protein at the front of the ingredients list. Free-range cobb chicken is used in Orijen's formulae, so you can be sure it's hormone- and antibiotic-free. It's also a great protein source for a large-breed puppy.
Chicken Meal - This meal is formed from boneless chicken meat that has been cooked to eliminate moisture. As a result, chicken meal is a far more concentrated source of protein than boneless chicken, making it an important addition to this formula.
Chicken Liver - This component gives protein to your puppy, but its nutrient content is more vital. Vitamin A, vitamin D, several B vitamins, iron, phosphorus, and folic acid are just a few of the vitamins and minerals found in chicken liver.
Whole Herring — Like the three items before it, this ingredient is high in protein. This component provides omega-3 fatty acids, which are beneficial to a puppy's skin, coat, neurological system, heart, and other systems because it comes from fish rather than beef.
Boneless Turkey - Like boneless chicken, this is a good source of animal protein. It's crucial to remember, too, that fresh meats like turkey retain up to 80% water, so they'll add less protein volume to the end product. However, because this meal has so many protein sources, this isn't an issue.
Conclusion
If you're looking for grain-free puppy food with a lot of meat protein, Dog food Orijen for puppies sounds like a nice option. One can unequivocally recommend this meal as a very high-quality puppy food based on the parameters used to evaluate it. The only drawback to this food is that it isn't available everywhere.
Sponsor Ads
Report this Page
Created on Apr 20th 2022 01:13. Viewed 111 times.
Comments
No comment, be the first to comment.