Choosing the Right Colors for Your Door Hanger to Market It Better
by Shawn Nag
Printing Service Provider
When it comes to market your brand, it is necessary that you think of all the possible ways so that you can never regret that you have left out something. So, when you are planning to boost your marketing with some cost-effective promotional tool, it is necessary that you think of door hangers.
Fun, quirky, colorful and attractive, door hangers are considered to be one of the most effective promotional tools to generate instant interest in your potential consumers. So, when you are thinking of designing your door hangers and hiring a high-quality printing service to get them printed, it is necessary that you think of knowing the use of different colors in the door hanger. So, what is the significance of the colors that people popularly use in the door hangers? Take a look at the following points to know more.
Colors for Attention
When you are choosing the color of your door hanger, it is necessary that you think of understanding the aim of it. So, when you are looking for a way to grab the attention of your audience, you need to choose the colors wisely. Custom door hangers like political door hangers, liquidation notice for your business, or the ones that need to be noticed immediately should be prominent. For such hangers, the background colors and the font colors should be in contrast. So, the options you should choose are, red and black, yellow and black, orange and blue, yellow and purple, red and blue, and white and blue.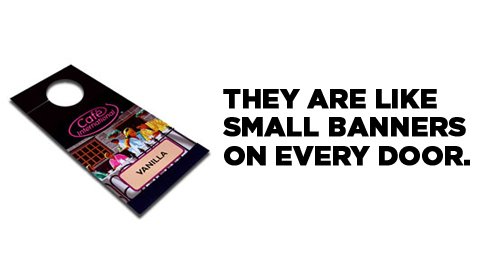 Color for Emotion
When you are looking for door hanger printing and want to inspire emotion, you again need to use colors for that. With right types of presentation, colors can inspire emotions which eventually help in different purposes, such as, spreading brand awareness, influencing the audience to make them buy or interact with the brand. These colors are,
Happiness: yellow
Excitement, urgency, fear: red
Love and romance: red and pink
Power and wealth: black
Calmness: blue, purple, green
Excitement: orange
Color of Brand and Product
When you are hiring a service for online printing, it might also happen that you need to create a brand statement. And for that, you need to think of using the colors that are identical to the brand's color or the logo's color. In fact, when you are launching a product, you can also think of marketing the color according to that. And keep this in mind that the previous two points can be also included when you are opting for this too. In this case, the colors that you can think of are,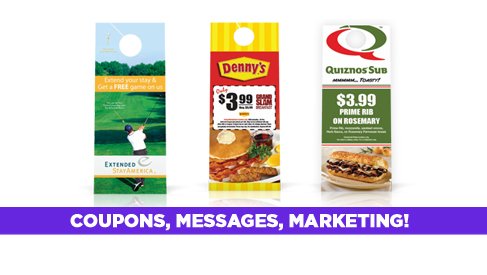 Yellow as optimism and youthfulness
Pink and red as feminine and romantic
Blue for trustworthiness and security
Green for progress and money
Black for power and sensuality
So, now as you know about this significance of colors, what are you waiting for? Hire a trustworthy agency and discuss your plans and vision with them. Make sure you are hiring a company with notable reviews and ratings online.
Sponsor Ads
Report this Page
Created on Mar 13th 2019 02:36. Viewed 416 times.
Comments
No comment, be the first to comment.