Things to Know About Egypt
by Rose Jone
Travel Articles Writer
When you mention Egypt, the deep lines of history flow to write the finest words. Egypt is one of the most distinctive countries of the African continent, how many civilizations passed on Egypt, and how many monuments and museums, buildings, and pyramids towering, and palaces built in it, which dazzles the eye, and what grabs the kernels From magic and beauty, from statues, artifacts, drawings, and pictures. When you visit Egypt, you feel like you entered an era of history, wandering between monuments and travel in your imagination far. Egypt, with its cultural diversity, overlooks the world and boasts the Nile River, where many words and poems have been spoken. The Nile is the divine gift of great Egypt, which made it the most wonderful natural diversity.

Best 7 Tourist Cities in Egypt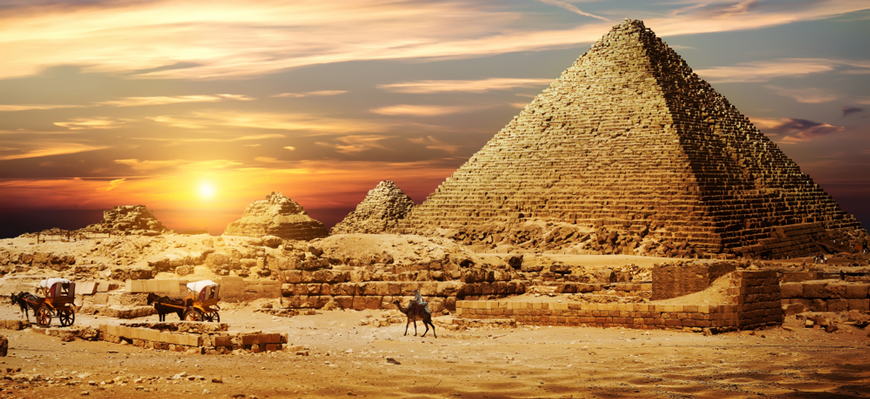 Egypt's monuments and tourist areas are spread throughout the country, but there are about 7 cities that are the most attractive and famous among tourists in the different cities of Egypt.

1- Cairo "The Capital of Egypt"
Since it is the administrative capital of the country for many centuries and the first place that the tourist arrives for tourism in Egypt often goes ahead, it is natural to include a variety and quantity of tourist areas in Egypt that cater to different tastes, as Cairo is one of the most diverse tourist areas in Egypt.

In Cairo, you will find religious tourism through mosques, churches, and museums of religious nature such as the Islamic and Coptic Museum, recreational tourism through gardens, international shopping centers, traditional markets, art centers, cinemas, Nile cruises, historical tourism by visiting various museums.
2- Giza "The Land of Pharaohs"
The city of Giza is one of the strongholds of tourism in Egypt and the most closely related to the Pharaonic era. Most of its tourist places are closely linked to the monuments of ancient Pharaonic civilization, as well as the zoo, which is a special point for recreational tourism in the city amid hundreds of animals attracted from around the world.

3- Alexandria "The Bride of The Mediterranean Sea"

Alexandria is an Egyptian coastal city, famous for its temperate climate and its beaches along the Mediterranean Sea north of the country.

But its coastal nature with its extended area that made it the second Egyptian capital did not make it accounted only by beach tourism. Alexandria is one of the most diverse places of tourism in Egypt, one of the features of what is religious in nature, including what is also a historical-cultural character is not without a touch European. You cannot come to Egypt without visiting Alexandria.
4- Luxor "The Capital of Ancient Egypt"
One of the most important tourism cities in Egypt, due to It holds a huge number of antiquities in the world through archaeological sites that include thousands of artifacts. Tourism in Luxor is a pure historical Pharaonic cultural tourism, a city that smells one of the oldest civilizations on earth.

5- Aswan "The Nubian City"
If you are a fan of tranquility, make sure that tourism in Aswan is one of the best tourist destinations for you, especially if you are coming from Cairo, not to mention being one of the most important destinations for lovers of temples and historical monuments.

Aswan and Luxor are inseparable tourist destinations and we recommend you to visit them together through a Nile cruises, which enables you to enjoy the picturesque scenery on the banks of the Nile River and also enjoy short trips to the most important landmarks of those cities with a tour guide.
6- Sharm El Sheikh " The Pearl of The Red Sea"
Sharm El Sheikh is an Egyptian coastal city with a warm winter climate, stunning beaches and beautiful marine creatures of gradient fish and coral reefs, making it the top tourist destination in Egypt in recent decades.
Tourism in Sharm El Sheikh is characterized by visiting multiple nature reserves, with water sports such as diving, swimming and surfing, and enjoying Aqua Park, which is one of the best tourist places in Egypt in general and Sharm El Sheikh in particular, and suitable for family visits, children and young people because of the fun and diverse water games provide you a spirit Adventure, along with hotel services and Day use rooms are available for the convenience of visitors.
7- Hurghada " The Jewel of Egypt"
Tourism in Hurghada is one of the most important areas of tourism in Egypt, both externally and internally. It attracts tourists due to the splendor of its beaches and the purity and serenity of its waters filled with coral reefs colorful and eye-catching.
All of this has made Hurghada a unique destination for nature lovers and adventure lovers in general.
Best Time to Visit Egypt

Egypt has a hot, dry climate, warm summers, and mild winters, making
Egypt vacation packages
suitable all year round depending on the nature of the city you intend to travel and the nature of its climate. For example, a coastal city in Egypt, such as Alexandria, is a very suitable city to visit during the summer, and at the same time enjoy a special sparkle during the rainy winter nights, despite the cold.
Unlike other coastal cities such as Sharm el-Sheikh or Hurghada, they are more suitable for wintering, as are the cities of Luxor and Aswan in southern Egypt, which has very hot summers in summer and mild winters in cold winters at night.
The archaeological areas of Greater Cairo with a desert nature are best suited to visit during the winter day, while the city of Cairo appears in a charming illuminated color colorful during the night hours in various seasons.
Report this Page
Created on Sep 4th 2019 06:16. Viewed 199 times.
Comments
No comment, be the first to comment.