The Guide to Plan the Best Muslim Wedding Invitations
by Rahul Jindal
Owner at The Wedding Cards Online
How can you beautifully proclaim in front of the whole world that you are going to have your "HAPPILY EVER AFTER" with the love of your life? How about expressing that with beautiful Indian wedding cards, which is the official connotation of your togetherness and upcoming adventures. How about adding the flair of age-old beliefs and add an adjective "traditional" in front of Indian wedding invitations? Yes, many couples still prefer traditional wedding cards. They look appealing and are the perfect way to express respect for the culture and the community as well.
Every traditional Indian wedding card constitutes several symbols, signs, writings and icons. You probably wonder what the meaning behind all of it is. Like how every Hindu wedding card is embellished with the beautiful image or motifs of Lord Ganesha. Similarly, there are some symbols and icons which are very popular in Muslim wedding cards.
Here we are telling you about the different symbols which are popular in Islamic wedding invitations along with their significance and reason. We will be telling you how to use these enticing signs in your Muslim wedding invitation cards in both traditional as well as contemporary manner.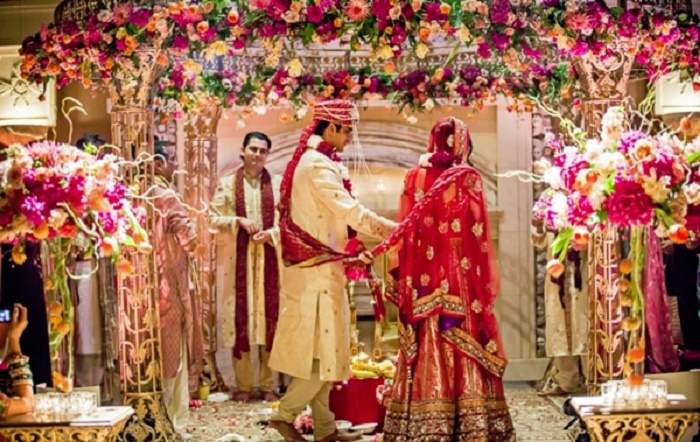 Let's begin with the symbols used in Muslim wedding cards:
You often find these symbols in Muslim wedding cards. Not only they look beautiful and go along with the designed aesthetics of wedding invitations, but they also have religious significance as well. Let's find out which are these symbols and their significance in wedding cards
Bismillah Symbol
This is one of the most common symbols which you find in Indian wedding cards. As per the Islamic culture, this is the symbol of the true spirit of the Holy Quran. Including them in wedding invitations signifies the blessings of that almighty for this new journey of the couple. This is one of the symbols you might find in almost all Muslim wedding invitations.
Allah Symbol
This is another symbol that you find in Muslim wedding invitations. As per the Islamic culture, the sign portrays the divinity and the holiness for the auspicious wedding ceremony. In fact, this is one of the symbols that are quite essential for traditional Muslim wedding invites. There is this belief that including the symbol in Indian wedding cards ensures a happy and prosperous married life. It is believed that the almighty is there from the very beginning of this new phase of their life.
Star and the crescent moon
This is one of the most beautiful of the three symbols and ascends the aesthetics of Muslim wedding invitations. The symbol is the representation of the faith in that supreme power. You might know that this is the same sign which is believed to consider very pious. Incorporating one in your Indian wedding cards will only ascend the look of the whole card. It means that the couple is asking the god for his blessings for a happy married life.
These are some of the most common symbols you find in Muslim wedding cards.
On the second note, we move to our colour palette:
Though there is a whole extensive palette available for so many different communities of India. Like the Hindus considered red is auspicious for any such occasion. Similarly, it's the green for Muslims. Other popular colours in colour palette are cream, golden and red. These are some of the colours you find in many traditional Muslim wedding cards. Although there are other colours as well that are so loved. These colours change as per the trends; for instance, there is teal blue, turquoise green and many other pastel shades that are preferred by many Muslim couples going to get married.
There is no doubt that these colours look very mesmerising, but the traditional colours have their own significance. Like the green is considered very pious and is the most popular colour for Muslim wedding invites. It connotes the religious faith and is considered auspicious to be used in wedding invitations. Red is the colour of fertility while cream colour depicts the purity of this relationship you are going to get involved on.
Third, let's talk about the materials popular for Muslim Wedding Invitations
There are many materials which are commonly used in Muslim wedding invitations. Among these, metallic paper, satin, silk and handmade paper tops the list of expensive materials. These are preferred for the elegance they add in the wedding invitations. These materials are best recognized for their rich look and grace. There are many options available in the budget as well.
After the material, it's the design that ascends the wedding cards. Floral abstracts especially those of rose along with patterns inspired by peacock are very common for Islamic wedding cards. You can browse through other designs as well which you find on the internet. You don't have to go with conventional; you can go for anything you like as per your requirement.
Let's take the best of both the worlds
Which of the two should you go for- contemporary designs or traditional lures for Indian wedding cards? The good news is you don't have to settle for one when you can have the best of both the worlds. For instance, instead of modern shapes, you can go with traditional scrolls as your wedding invitations. Vintage never fails when it comes to its charms. With these scrolls, you can have a regal touch for your wedding cards. You can even go for digital Muslim wedding invitations. They are a lure as well for both the couples and the recipients. You can customize it the way you want and it's cost effective too. You don't have to divert your efforts in addressing the invites too. You can simply mail them or inform people about your wedding website.
The idea is to inform the guests about your day in the most stylized manner. So get all playful, all crafty, contemporary or traditional, anything you want for your Muslim wedding cards.
Sponsor Ads
Report this Page
Created on Jan 2nd 2019 04:36. Viewed 503 times.
Comments