Avoid These Mistakes While Sending Gifts to Your Loved Ones
by Gautam Pradhan
Author
Sending gifts online has become a popular trend these days. It began with people sending flowers online and has now come up with sending all types of gifts. You might be too excited to send gifts to your dear ones and commit some mistakes. Here are some of the common mistakes that people commit which you must avoid while ordering gifts online to be delivered to your loved one's place.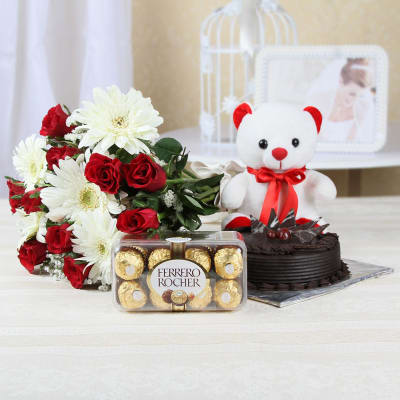 Send a Gift According to the Receiver:

Do not blindly follow the gifting trends. Send a gift that will be of use for your receiver. Make sure that you send something that the receiver remembers for a long time and smiles happily whenever he/she remembers the gift. Moreover, do not send personal gifts that the receiver might be embarrassed to receive at a public place.
Trust Only Reliable Online Sellers:
One of the most common mistakes that people make while choosing an online vendor for sending gifts is that they go for the sellers that offer exciting attractions. Many websites offer huge discounts and many attractive offers to attract new customers. Many people fall into their traps and thus end up in getting poor quality of products being delivered. This will not happen if you are going to choose a reliable site for sending gifts. They ensure that the quality of the products is maintained by providing the best deals to the customers.
Be Wise in Sending Flowers:

Choose
online flower delivery
services only if you are sure that the recipient of the flowers is not allergic to them. You will want to make your gift memorable in a good way.
Enquire and Check Whether That Gift is Allowed in That Region:
You will not want to enter into legal trouble by sending a gift that is considered illegal in the recipient's region. Therefore, before sending a gift to a place which is not much known to you, take a brief idea about the items banned at that place. This will help you in ensuring that you are not placing the order for sending something illegal online.
Create a Right Blend of Utility and Look of Your Gift:
Do not gift something useful that is not good in looks. This will make your gift as just an ordinary gift, and it will not be a memorable one. If you give only a fancy gift, your gift will lose its charm in a few days. Think properly before choosing the gift so that you give the right gift. The gift should stay in the mind of the receiver for a long time and should not go as waste.
Choosing a gift can be tricky at times. You might take hours before finalizing what you have to gift to your loved ones. However, it is better to think and spend some time rather than gifting a wrong gift and regretting that later. These mistakes are common, and many people often commit them while sending gifts online. Make sure that you are a smart buyer and do not commit these mistakes. A gift is not just a materialistic thing; it is sent with emotions as well. Therefore, make it special by sending the right gift.
Report this Page
Created on Aug 3rd 2018 05:09. Viewed 252 times.
Comments
No comment, be the first to comment.