6 Best Food Processor Accessories That You Must Know About
by K 2 Appliances
Kitchen Appliances - Review & Buying Guide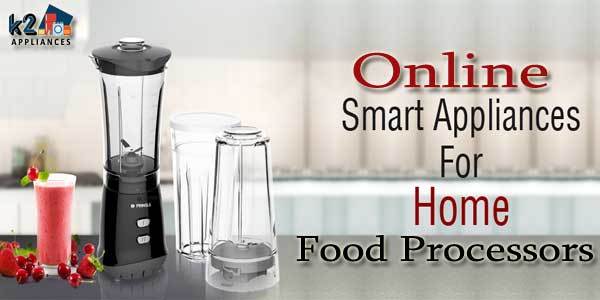 Food processors are one of the most versatile appliances that can handle your multiple kitchen chores effortlessly. Food processors come with a wide range of accessories - you might get confused and end up buying food processors with accessories that are even not required. It is important for buyers to choose the food processor with the right set of accessories and pay for what is actually needed. Getting extra attachments or accessories with the food processor in India can occupy maximum space in your kitchen and make you spend way out of your budget.
You need to consider this fact - increase in the number of food processor attachments will move you up the price range. Philips and Bosch are one of those Best food processor brands that offer an extensive collection of food processors where the basic model is the same, but as the model increases, the number of attachments increases, so as the price tag.
To avoid extra spending on useless attachments and figure out how likely you will be using them, we bring you this guide mentioning the usage of each attachment. Please take a look!
Different Types of Blades
Food processors come with a wide array of blades, including knife blades, dough blade, shredding or slicing blade, and grating blade. Knife blades are the most common attachment that comes with most food processors. The knife blade can be used for mashing, mixing, pureeing, mincing, and chopping. Dough blade is used for kneading different kinds of doughs.
Shredding and slicing blade comes in variable sizes and can easily shred and slice the food items to different finishes. These blades are perfect for home cooks who want to make homemade French fries or chips. Slicing, grating, and chopping blades are the most common attachments you will find any best food processor in India.
Blending Accessories
Almost every food processor comes with different blending accessories like jug blender and maxi blend or blendermix. A jug blender is one of the most versatile attachments that come along with the food processor. You can puree soups, prepare smoothies, milkshakes, and soups in a jug blender.
When buying the best food processor, make sure it comes with a high-grade maxi blend. Because it is a special blending tool that you can use in the main processing bowl. Maxi blendermix can be used in conjunction with the knife blade to prepare or blend milkshakes, soups, or smoothies effectively.
Juicer
Many food processors include a simple juicer to extract juices from fruits or vegetables. They are mainly of different types - citrus press juicer and a centrifugal juicer. If you want to juice citrus fruits, then you may need a citrus press juicer attachment. And, if you want to juice hard vegetables or fruits, you would need a centrifugal juicer accessory.
Small Bowl
Best food processor models often include standard-sized or mini bowls as an attachment. These bowls with their own blades can fit perfectly inside the main processing bowl for added versatility. If you chop vegetables in the mini bowl, it will consume more time due to its short blades. But, for small food items, this attachment is the best option.
The Bottom Line
Apart from these attachments, many Inalsa food processor include attachment storage boxes, spatulas, whisking blades, and much more. All you need to do is to understand the actual usage of each attachment and shop accordingly. There is no need to have them all and get totally out of the pocket. Shop wisely! To make a smart purchase, shop through K2 Appliances and get 10% cashback.
Report this Page
Created on Jan 17th 2020 07:38. Viewed 220 times.
Comments
No comment, be the first to comment.