5 things to see in Ho Chi Minh City
by William Howard
Content Generater
Take a photo of Saigon, and you'll find it out of date within weeks. Once a city devastated by war, it's now becoming a modern metropolis, buzzing with contemporary hotels, modern restaurants and shops. Wander it's streets and you'll discover it still retains character, however, with French-colonial architecture, flourishing markets and peaceful temples. Officially re-named in 1976 to Ho Chi Min city, it's still referred to by the locals as Saigon.
Exploring Saigon, the bustling and vibrant hub of Southern Vietnam, will always yield a sort of "East meets West" vibe as you meander through the chaotically organized streets and markets flooded with life.
Vietnam specialist Alex
Things to see and do in Saigon
See Saigon like a local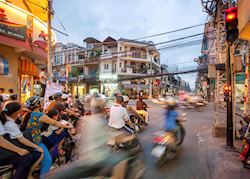 As the evening closes in, Saigon's inhabitants finish work and head out to enjoy their city. Taking a tour with a Vietnamese city-dweller, you can dip behind the scenes of Saigon to spend an evening like a local. Your guide will pick you up from your hotel on a Vespa motorbike - the only way to negotiate Saigon's traffic. With a back rest and handle bars for support, they're a comfortable way to travel.
Weaving in and out of the streets, you'll stop at some local haunts along the way. Finding the best seafood stall or best pancake house, you'll be able to eat alongside local families and gossiping friends. The evening will finish with an interesting journey though narrow alleys and staircases to one of Saigon's hidden coffee bars. Acoustic music, sometimes in candlelight, provides an intimate setting to enjoy a nightcap.
Stroll the boulevards of District One
Whilst much of Saigon has grown sporadically, streets sprawling out from its heart to meet the demands of a growing city, District One has a different feel. Planned in detail by French colonialists in the late 19th century, it incorporates wide, tree lines boulevards and frequent parks. Stroll the streets and you'll find cosmopolitan cafes and excellent shopping.
Find more 5 best things to see in Saigon
It's also where you'll find some of the key sites. The Saigon Opera House is a lavish display of French colonial architecture. Book the popular A O show to see traditional music, acrobatics and dance tell the story of rural Vietnamese adapting to urban development. Nearby is the Central Post Office, a well-preserved lemon yellow building designed by Gustave Eiffel. Pop inside and you'll find huge hand-painted maps that depict Saigon in 1892.
Dine overlooking Saigon in Bitexco tower
The highest point on Saigon's skyline, Bitexco tower is at the heart of the city's financial quarter. Designed by Carlos Zapata, its 68 stories are inspired by the national flower, the lotus - although it's a little tricky to see the resemblance. A slick, glass building, it's teetering helipad is the focal point, looking like a CD poking out of a CD player.
Predominately office space, floors 49-51 are open to visitors. The Skydeck is a viewing platform on the 49th floor with 360 degree views from the floor to ceiling windows. There's a relaxed coffee shop with seating lined up facing the view. On the floor above is EON 51, a fine dining restaurant serving Asian and Western food, but before you eat you could watch the sunset from the EON Helibar, with a team of expert mixologists, the cocktails here come recommended.
Visit the War Remnants Museum
Originally named the Museum of Chinese and American War Crimes, the War Remnants Museum is a harrowing but fascinating account of the Vietnam War. As its original name implied, the information is arguably one sided, but the documents and artefacts tell their own story. The collection includes tiger cages, where members of the Viet Cong were kept. Outside is a collection of US armoured vehicles, weapons and aircraft.
Legendary war photographer Tim Page has curated a captivating exhibition, Requiem, which shows the work of war photographers of the era - many of whom were killed in action. There is also a more upbeat display of posters and photos of anti-war movements around the world.
Step into the Cu Chi tunnels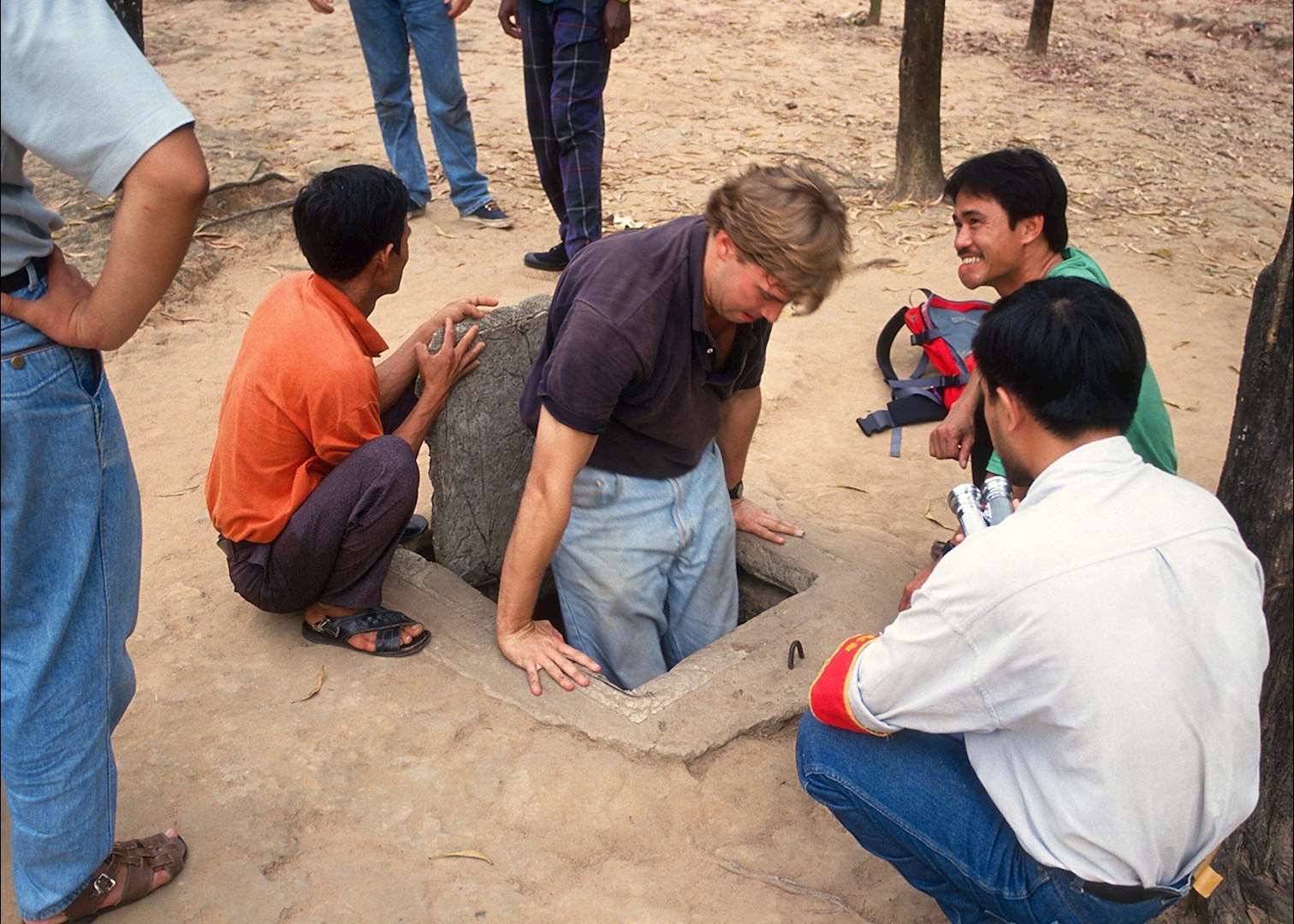 About an hour and a half outside Saigon lie the sprawling network of tunnels dug by the Viet Cong during the French-Indo-China wars. They were later expanded, housing legendary underground communities during the 1960s when American troops were deployed across the country. In their prime, they stretched from Saigon to the Cambodian border, helping the Viet Cong control a vast rural area.
At the site it's possible to watch original film footage of the tunnels, illustrating their use as hospitals, schools and communication channels. Part of the tunnel has been enlarged, enabling visitors to step underground. Snaking up and down for 50 m (164 ft), the unlit tunnel is 1.2 m (4 ft) high and 80 cm (2.5 ft) wide.
Explore Chinatown
Cholon, Saigon's Chinatown, is a city within the city. Dating back to the 18th century, Chinese minorities fled here to hide from the Tay Son. They stayed and built a community selling Chinese products to the Vietnamese. Start in Bin Tay market and you'll find wholesalers selling everything from silk to plastic buckets, as well as artisans selling embroidered fabric and lacquered wooden objects.
Outside, the streets are lined with street hawkers and small authentic restaurants selling dishes with exotic ingredients including dried seahorse and salted duck eggs. Step away from the bustle into one of the many temples and you'll find a little pocket of calm. The most revered is the Thian Hau Pagoda, built to worship the goddess of the ocean – particularly important to a community of traders who arrived by sea.
Best time to visit Saigon
It's possible to visit Saigon year round but it's a good idea to be aware of Vietnam's three micro-climates. November to April, with dry days and low humidity, is the best time to go. It's also the driest time for the rest of Vietnam too. March to May can be very sticky with temperatures reaching 39°C (102°F). Showers are frequent from May to October but with intermittent sunshine, but it's worth considering for good value hotels.
Sponsor Ads
Report this Page
Created on Dec 13th 2017 04:10. Viewed 1,148 times.
Comments
No comment, be the first to comment.