You Can Improve Your Credit Score 100 Points in 30 Days
by Kimmy Burgess
Your Money Problems Solved
There are ways you can improve your credit score as much as 100 points in just 30 days. Not everyone can see such a large score increase, but it is possible. Here's how to get started: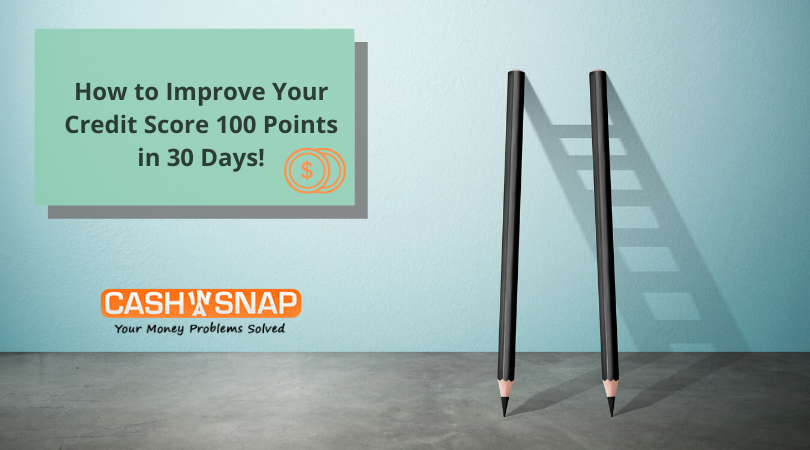 Get a free credit report
Before you can start to improve your credit score, you have to know where you stand. The quickest way to do this is to get your credit report from one of the many free services like Credit Karma. You can get 2 of the 3 credit bureau scores from this service. You can also get a free report on the government site called www.annualcreditreport.com (but only once a year).
Identify any negative accounts
Now, you have to find out if you have any negative hits to your score i.e., any reports that are negative.
Pay off your credit cards
This is probably the hardest thing to do for many people, but it is the most critical starting point for raising your scores. Your credit card utilization ratio is a large factor in your credit score.
Contact the collection agencies
If you find you have bills that have gone to collections on your report (you probably have been contacted by an agency if you do), then contact the agency to see if they will delete the collection report if you pay the bill.
Don't pay if a collection agency will not remove the account from your credit report
When it comes to your credit score, any collection account that is on your report affects your credit score even if you paid it, and it shows ZERO owed. Never pay collection accounts without a 'pay for delete' letter from the agency.
Dispute any negative account on your credit report
Most people never dispute a negative account showing on their credit report. However, when you send in a dispute letter about any account that you feel is inaccurate, even if it is just technical difference (like the balance due is really $135.67, but it shows $137.65), the credit bureau has only 30 days to review and respond to your dispute.
You can dispute credit inquiries too
Hard credit inquiries will lower your scores for a short time. If you are getting a new car or making a major purchase that requires credit, there will be a hard inquiry.
Get yourself added as an authorized user on a credit card
Now this one is tricky. Most of the time, only a close family member or long-time friend would consider allowing you to be an authorized user on one of their credit cards.
How is your FICO credit score calculated?
Your FICO credit score is calculated using algorithms created by FICO. You will often see differences in your scores from one bureau to the next.
Sponsor Ads
Report this Page
Created on Feb 26th 2020 04:48. Viewed 198 times.
Comments
No comment, be the first to comment.