Why Consider India For Best Hair Transplant Treatment?
by Andrew Martin
Health Consultant
India has always been popular among the foreigners for being one of the most attractive spots for tourism. It could be said that people dream to visit India at least once in a life time to enjoy its beauty, serene landscapes, varied colours, culture, architecture and welcoming people.
Not only tourism, India is growing popularity in the world of cosmetic surgeries and few of the cities in India have become the hub of best cosmetic surgery centres. Cosmetic surgeries demand the excellence in surgical skills and artistic vision and hands which definitely Indians are competent in.
In fact, Sushruta was the first plastic surgeon to perform the cosmetic surgery in old times worldwide that belong to India. Since then India had the best cosmetic surgery industry where people visit from worldwide for the best outcomes and correction of their flaws.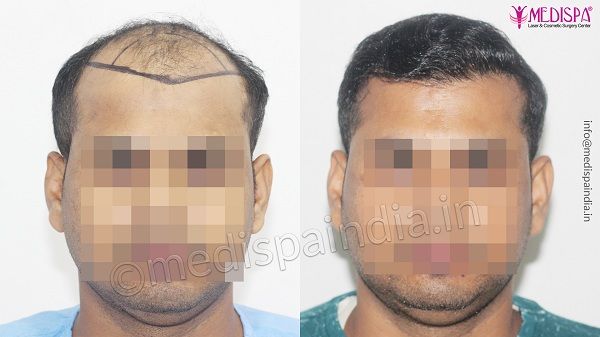 Hair transplant is an outpatient cosmetic surgical procedure which involves the harvesting of the hair grafts from the donor area and then transplanting these hair grafts at the desired bald area. The hair transplant procedures provide permanent outcomes and natural looking results for which it has been considered the ultimate solution to hair loss issue.
The principle behind the permanent outcomes of hair transplant is selectively choosing the specific donor area which possesses permanent hair roots. These permanent hair roots are DHT resistant hair follicles which do not undergo changes under the influence of androgenic hormones and thus stay intact for life time.
Hair transplant in India is so much in demand due to increased aesthetic consciousness in the country along with higher prevalence of hair loss. The western world countries offer the hair transplant at sky riding cost which halts the way of many residents to avoid choosing this procedure because it stays out of pockets. Other medical facilities are covered under government insurance plans in these countries but the cosmetic procedures are not involved in these insurance plans and the patient has to pay the whole amount.
Thereby, people pursue other best and affordable options for hair transplant tourism and India has been found to be a pre eminent choice these days for getting an excellent hair transplant. Hair transplant services in India are remarkable and up to the standards of international levels. Cherry on top the hair transplant cost in India is way too affordable which make this destination a desirable one for the hair transplant tourism.
Medispa hair transplant clinic is pioneer in the world of hair transplant and is one of the most preferred destinations to go for hair transplant tourism. Every year we serve hundreds of domestic and international patients and have served thousands of successful hair transplants until not since 2005. Dr Suneet Soni is one of the best hair transplant surgeon in India well known for his excellence in the field of hair transplant. He is fortunate to have astonishing surgical skills with extraordinary sense of art which makes him deliver the world class hair transplant outcomes with maximum possible hair density and impeccably natural looking hairline.
Why India is considered for hair transplant treatment
India has been long considered a place to go for hair transplant and this is not just because of the cost effective procedures in fact there are plenty of reasons in favour of the country for being a top destination for hair transplant tourism. These reasons are explained as follows:
1. Top class hair transplant surgeons: India is jeweled with top class hair transplant surgeons who have excelled their field and have received huge appreciation worldwide for their world class hair transplant outcomes. These surgeons are well known for their expert hands, huge experience and skills which is the demand of every surgical procedure including hair transplant.
Dr Suneet Soni is one of the top tiered hair transplant surgeon whose surgical skills and sense of art ensures the best possible hair transplant outcomes.
2. International standards: The standards of the hair transplant maintained in few of the Indian clinics are at par the international level. These clinics maintain the strict hygiene and safety protocols as per the international norms to provide the best services and complication free hair transplant. The equipments used are USA and UK based with an excellent quality high loop microscope which ensures the exceptional hair transplant with least damage rate of less than 1%.
3. Reputed hair transplant clinics: There are few hair transplant clinic in India which are highly reputed and have a huge name all across the world. These clinics serve hundreds of patients every year and approached for their excellent services. The reputation is built on the foundation of thousands of successful hair transplant stories and these clinics are definitely worth trusting for your hair transplant. Medispa hair transplant clinic is one of the best clinics which is leading with huge patient footfall and has a reputation worldwide for delivering the best results.
4. Cost effective hair transplant: The cost of hair transplant in India is definitely very affordable which is around 5 – 6 times lesser than the cost of the hair transplant in western world countries. The cost of hair transplant in India varies from 60,000 to 400,000 INR depending on various factors associated with the procedure.
Sponsor Ads
Report this Page
Created on Aug 26th 2020 06:04. Viewed 346 times.
Comments
No comment, be the first to comment.