What is PURE Contouring? Who Defined it?
by Dr Rajat Gupta - RG Aesthetics
Cosmetic Plastic Surgeon
Cosmetic surgery is the branch of plastic surgery concerned with restoring the aesthetics of the body. This is often done through the removal of unwanted fat or tissue from various body parts. Creating hourglass silhouettes and six-pack abs requires the careful, controlled elimination of subcutaneous fat from the body.
Subcutaneous fat is the layer of fat present between your skin and muscle layer. It is incredibly hard to get rid of this fat. Even after months of exercise, a person may find no change in the amount of subcutaneous fat. This is where cosmetic surgery can help with its most popular procedure: liposuction.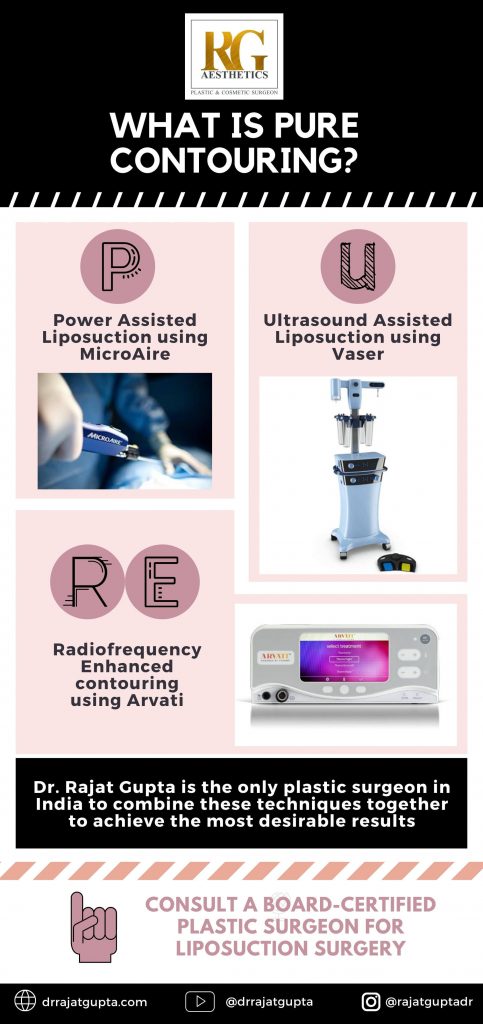 What is Liposuction
Liposuction is a plastic surgery procedure involving the targeted removal of fat from the body. It typically involves removing this fat through a suction tube after manually making it fit for removal. This is called the traditional liposuction.
Today, the most popular methods of liposuction are power-assisted liposuction (PAL) and ultrasound-assisted liposuction (UAL). These minimally-invasive methods use cannulae for precision. They can be inserted through very thin incisions and do the job perfectly.
Sculpting with Liposuction
With the advent of such advanced liposuction technologies, some equally advanced technologies have emerged in the form of radiofrequency-enhanced technology (RF). While PAL is the primary way of removing fat, UAL often serves the purpose of tightening the skin, too. However, its heat is unregulated and can cause burns when performed by a less-than-ideally qualified surgeon.
RF technology subverts this by being heat-focused. It can be controlled and, when used with an infrared camera, gives the surgeon an exact idea of the patient's threshold. The resulting contours are much finer, and the results look more natural.
PAL, UAL and RF combined form PURE Contouring (Power-Assisted Ultrasound-Assisted Radiofrequency-Enhanced Contouring).
The Founder of PURE Contouring
The PURE contouring technique was first devised and defined by Dr Rajat Gupta, a board-certified plastic surgeon in Delhi. As the first surgeon to acquire and use all these technologies simultaneously, he saw the impeccable results and named the procedure. Subsequently, he trademarked the procedure.
PURE contouring, therefore, is foundational in ensuring excellent results. Its benefits far outweigh its risks since modern medicine makes every procedure much more manageable. Using heat to shrink the skin instead of skin removal additionally speeds up recovery time. Meanwhile, the non-traumatic nature of the machines make a recovery much more comfortable.
Opting for PURE contouring ensures much more enhanced, natural-looking results that follow the contours of your body so it can create your ideal figure!
Sponsor Ads
Report this Page
Created on Jan 7th 2021 05:29. Viewed 172 times.
Comments
No comment, be the first to comment.