We sold 800kw Cummins diesel power generator for sales
by Generator D.
Diesel Generator
Recently, a mining development company purchased one unit of 800kw Cummins diesel generator set from our company. Thanks for client's cooperation, we will provide best product and service to you.
Our diesel generators have always been popular with customers at home and abroad, especially diesel generators powered by Cummins engine. Our Cummins genset power range is from 20kw to 2400kw, 50Hz/60Hz are available.
The 800KW diesel generator set purchased by the user is equipped with Cummins engine. Cummins diesel engine has the advantages of small volume, light weight, low fuel consumption, stronger power, reliable operation, convenient supply and maintenance of accessories. We are the OEM supplier of Cummins engine, having better performance, better quality and more guaranteed service in similar products.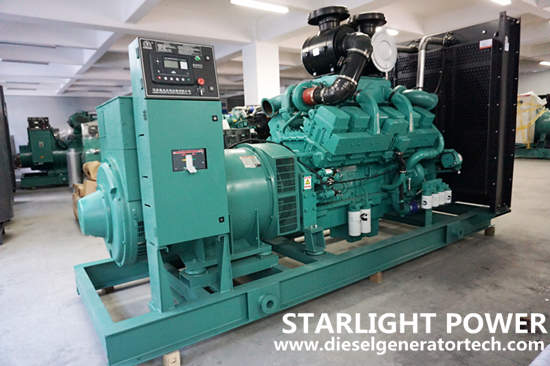 Technical specifications for 800kw diesel generator set
Manufacturer: Starlight Power
Genset model: XG-800GF (Open type)
Prime power: 800kw/1000kva
Standby power: 880kw/1100kva
Rated current: 1440A
Rated voltage: 230/400V
Rated frequency: 50Hz
Rated speed: 1500rpm
Overall size: 4500×2000×2300mm
Net weight: 6900KG
The genset includes automatic monitor system, muffler, shock absorber, maintenance-free 24V DC battery, user manual, maintenance & repair manual, factory test report etc.
Technical specifications for Cummins engine KTA38-G5 for 800kw genset
Manufacturer: Chongqing Cummins engine Co., Ltd
Engine model: KTA38-G5
Prime power: 881KW
Standby power: 970KW
Aspiration: Turbocharged, Aftercooled
Bore x Stroke: 159X159mm
Rated speed: 50Hz
No. of cylinder: 12
Type: 4 Cycle , 60° Vee
Capacity of engine oil: 135L
Fuel system: Cummins PT fuel pump
Displacement: 38L
Compress Ratio: 13.9:1
Fuel consumption( rated prime load) : 100%: 202g/KW.h, 75%: 207g/KW.h 50%: 194g/KW.h
Technical specifications for alternator for 800kw genset
Manufacturer: Shanghai Kepu
Model: TFW2-800
Capacity: 800kw/1000kva ( can over load 10% for 1 hour every 12 hours)
Type: Brushless self excitation, single bearing( options: two bearings)
Voltage regulation: AVR
Insulation class: H
Protection level: IP22
Alternator options: original Stamford, copy Stamford, Leroy Somer, ENGGA, Siemens, Marathon, Starlight.
Technical specifications for controller for 800kw genset
Manufacturer: SmartGen
Model: 6110CAN
Electronic control with standard equipment and provides total generator set system integration,including auto remote start/stop, alarm and status message display.
Control panel options: Deep Sea
Above information is required by the customer. Of course, we also have other different specifications with different requirements if you need. If you have plan to purchase diesel generators this year, welcome to send inquiry to us by email sales@dieselgeneratortech.com, or call us by office phone number +8613481024441 ( same as WeChat No.).

Sponsor Ads
Report this Page
Created on Jul 29th 2020 22:52. Viewed 150 times.
Comments
No comment, be the first to comment.