Turn Your Business Ideas Into Successful Ventures With Best Mindfulness Method
by PRC Agency
PR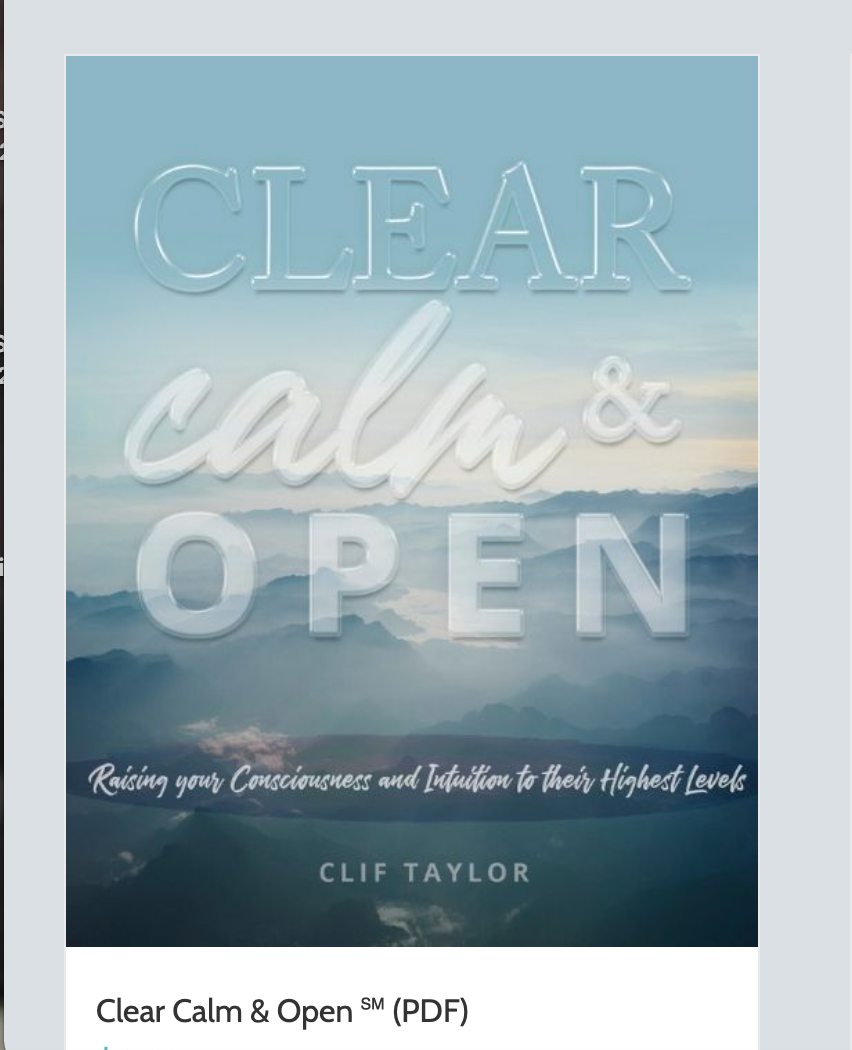 If you're interested in mastering mindfulness, you should check out Clear, Calm, and Open by Clif Taylor. His new mindfulness technique takes meditations to a whole new level!
Taylor reveals the relationship between entrepreneurship and mindfulness - and how you can reach the optimum level for successfully transforming an idea into a business venture.
Check it out at https://www.cliftaylor.com/product/clear-calm-and-open
Upon experiencing how clarity and stress reduction led him to take a creative problem-solving approach to evolve his ideas into books and initiatives, Clif Taylor is sharing his Clear, Calm, and Open mindfulness technique with other entrepreneurs.
"Collectively, when you practice mindfulness through the Clear, Calm, and Open technique, you begin to experience enhanced clarity that removes internal and external distractions," explains Clif Taylor. "Being in this state naturally guides you to dissolving obstacles, realizing answers to questions, resolutions to conflicts, and next step actions to take to rise above challenges."
Clear, Calm, and Open is the simplest possible way to enhance your daily quality of life, heighten your ability to naturally discover answers and solutions, and map out fresh new courses of action.
When adopted as a daily practice, the new mindfulness technique leads to an increase in energy, allowing you to become more centered and capable of focusing more creatively and clearly on an idea or concept - not only in developing it, but also in materializing it and taking it to market. Clear, Calm, and Open works for any type of idea or vision - whether you have an invention, a new product, a new approach, or a niche service or specialization.
"The process of evolving an idea into a theory, and then taking action to create, produce, test, refine, revise, and test it again can be overwhelming. This is why most people quit the pursuit of a new idea before it has the chance to take root," shared Taylor. "But, by maintaining productive levels of Clear, Calm, and Open, your patience, energy, vision, and determination self-perpetuate, making it very natural to hurdle the obstacles, resolve each problem as it arises, and press forward," he added.
Spelled out in his latest digital book of the same name, Clear, Calm, and Open is accessible to people of all ages and walks of life who may be seeking higher levels of intuition, consciousness, and mindfulness, or seeking ways to eliminate stress, increase productivity, gain clarity and balance, and cope with and navigate through life's daily struggles.
Clear, Calm, and Open is a wellness healing technique that will lead you to the highest levels of mental clarity for heightened mindfulness, awareness, balance, and productivity. You can practice this technique in any situation, anywhere, at any time.
Each element in Clear, Calm, and Open has its own meaning and purpose:
Clear refers to the mind - free your mind of all thoughts, distractions, and obstacles
Calm relates to the body - when you reach Calm your body can flow at a smooth and measured pace and vibration whether active or resting
Open pertains to the soul - once you achieve a centered and grounded soul, you can peaceably handle all situations
Upon reading the 30-page digital book which projects the message Taylor is sharing, you can learn how to discover and apply your natural abilities to reach higher, productive levels of Clear, Calm, and Open.
This book helps you learn the Clear, Calm, and Open healing technique based on your unique personal strengths and possible challenges.
About Clif Taylor
Recognized for his extremely genuine presentation, Clif Taylor is unique in his ability to hold his students' and readers' attention as they learn how he discovered his newly revealed technique by reverse-engineering how he survived and conquered many extreme challenges, tragedies, and setbacks in his personal and professional lives.
Clif Taylor, founder of Connect Spirit, LLP, publisher of Connected Spirit Publications, and author of several books dedicated to the mind-body-spirit connection, has developed the new 3-step technique to heighten intuition, consciousness, mindfulness, and clarity.
Clif Taylor guides his readers, students, and audiences as he shows how he applied this practice to his life experiences - from a small boy in Oklahoma to a global contractor working in China, Angola, and Iraq during Operation Iraqi Freedom to founder of Connected Spirit, LLP - a "kitchen table" venture Taylor created that has grown into a robust company.
Sponsor Ads
Report this Page
Created on Aug 23rd 2022 02:17. Viewed 35 times.
Comments
No comment, be the first to comment.