The difference between aluminized zinc plate, galvanized plate, and aluminized zinc silicon plate
by Zhi shang
Metallic material
Zinc-aluminum alloy coated plate is also known as low aluminum galvanized steel plate, coating contains 5%Al, 95%Zn, and trace rare earth elements. The main advantages are that the coating has good plasticity and adhesion, and the corrosion resistance before and after deformation is unchanged; And the corrosion resistance of the atmosphere is 2~3 times of the conventional hot galvanized sheet and has good coating, weldability, in all galvanized sheet, its toughness is very good, corrosion resistance and formability can be comparable with galvanized sheet. The product is mainly used for corrosion and weather resistant environments and coating material substrates.
Aluminum zinc alloy coated plate (GL)
The coating structure of Al-Zn alloy coating plate is 55%Al, 43.3%Zn and 1.6%Si. Its surface is smooth and has excellent atmospheric corrosion resistance, 2~6 times higher than the same hot galvanized sheet. It has similar high temperature corrosion resistance to hot plated aluminum plate. It can be used for a long time without any discoloration or deformation at high temperature of 315 degrees. The corrosion resistance of water is better than that of hot galvanized sheet and hot plated aluminum sheet, and the corrosion resistance of soil is better than that of hot galvanized sheet. Its thermal reflectance is higher than 75%, which is twice that of ordinary galvanized sheet. With good coating and processability, it is gradually replacing galvanized sheet and widely used in the world.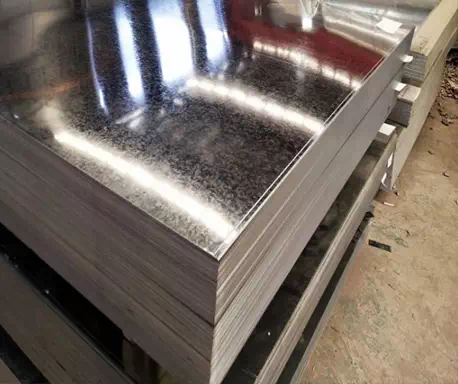 Hot rolled galvanized sheet
Hot-rolled galvanized sheet is a kind of galvanized sheet produced directly by pickling and galvanizing. The plate can be widely used in construction, automobile, steel bin, railway passenger car, highway guardrail plate. At present, the production of hot-rolled galvanized sheet is less in China, and most of the galvanized production lines that have been built and put into operation are based on cold-rolled galvanized sheet. Compared with cold rolled galvanized sheet, there is no great difference in the performance of hot rolled galvanized sheet. Because the hot rolled galvanized sheet saves the cold rolling process, the production cost is lower, and it has obvious price advantage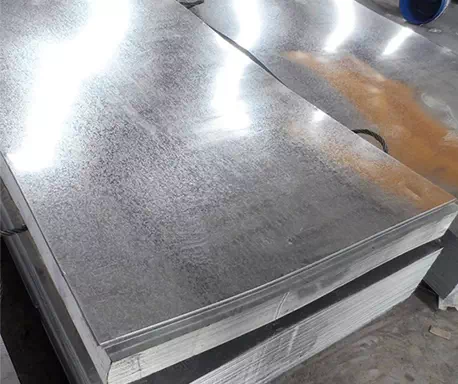 Aluminized zinc plate and galvanized plate difference
1. Different materials
Galvanized sheet: is to prevent corrosion on the surface of the steel plate to prolong its service life, plating a layer of metal zinc on the surface of the steel plate.
Aluminum plated zinc steel plate: The surface is a unique smooth, flat and gorgeous star flowers, the primary color is silver white. Its surface coating is made up of 55% aluminum, 43.4% zinc and 1.6% silicon.
2. Different service life
The special coating structure makes it have excellent corrosion resistance, and the normal service life of aluminized zinc plate is 2-6 times that of ordinary galvanized plate.
Characteristics of aluminized zinc plate
1, corrosion resistance: aluminum zinc silicon plate resistance to atmospheric corrosion and moisture corrosion resistance are better than galvanized plate, can be used for a full range of a variety of internal and external building materials and parts.
2, good economy: lower production cost than galvanized and aluminum plate.
3, heat reflectance: the thermal reflectance of aluminum plated zinc steel plate is very high, twice that of galvanized steel plate, people often use it to make insulation materials.
Sponsor Ads
Report this Page
Created on Mar 1st 2023 03:24. Viewed 43 times.
Comments
No comment, be the first to comment.