Ten ways to make a long haul flight comfortable and easy
by Boyan Minchev
Travel Blogger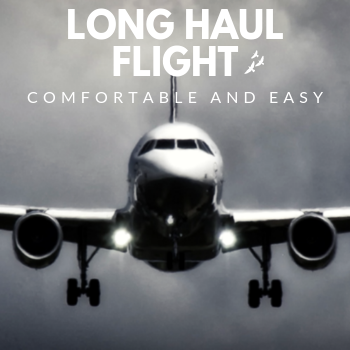 A plane has become a popular transportation medium nowadays. Because it saves time and helps us to reach our destination early. But when the long journey comes to business, it is really tough to handle. A 10 or 12 journey is sometimes harrowing, let alone those 18 hours or more than 24 hours journey. These long haul flights are not a cup of tea of everyone. Most of the people suffer on this kind of long haul flights. These long journeys aren't comfortable to spend. It is also true that some people can handle those long haul flights. Some people are used to these long haul flights because they travel on this kind of trips regularly. So, what can you do to avoid your uncomforted journey and make it a great and enjoyable one?
This article is the answer to your question. Here we will discuss all the long haul flights tips and tricks. We will know what we need to do on a long haul flight. You need to follow these ten steps given below to learn all the long haul flights tips and tricks and make your journey great and comfortable:
Book your ticket early
Rule number one is to buy a ticket as soon as possible. It will give you the advantage of choosing your favorite seat and have a comfortable journey. You may need a window seat or a seat close to the aisle or a seat close to the restroom. If you book your ticket in the first place, you can have your favorite seat. If you get your preferred seat, you can travel peacefully and comfortably. Otherwise, you will be upset over this all time.
Wear Comfortable Clothes
You need to wear clothes that you are comfortable with. You just can't put on a fancy or gorgeous dress on a long flight and feel uncomfortable the whole time. You should wear something casual and cozy to feel comfortable in the entire journey. These comfortable clothes will make your trip better. You will feel like home on a long flight.
Don't carry too much luggage or bags
You should bring light bags or only luggage on long flights. It will make you feel comfortable as you don't have many things to carry. Otherwise, it will feel like a burden and will make you uncomfortable. So, you should avoid taking many things on a journey.
Don't put something in front of your leg
Putting things in front of your leg will shorten the space of your seat. Then you won't be able to move your legs properly. On a long journey, you need to move your leg properly. Otherwise, you won't be comfortable on a long flight. It would be better for you if you don't put anything in front of your leg.
Be an ideal and friendly seatmate
As there is no single seat on a plane, you better be an excellent and friendly seatmate. Try to have some casual talk with your seatmate. It will allow you to make friends and have a comfortable journey. This can eradicate your boredom and make your trip more convenient. It will be good for both of you.
Take a good sleeping pillow
You can invest some money by buying a nice cushion for sleeping on a long flight. Sleeping is not a bad idea on a long haul flight. It can be helpful in many ways. You can spend your time sleeping. It can make you feel the long flight a short one. A right sleeping pillow will help you to sleep comfortably on a long flight. It will make your journey short.
Avoid plane foods
You should bring your foods from home or buy something before boarding. It is better to avoid plane foods. It is not healthy. Eating homemade food will help you to have a comfortable journey. It will give you refreshment and energy to complete your journey. Plane foods can make you feel sick and make your trip more uncomfortable and lengthy for you.
Take a walk after every few hours
You should try to take a walk every few hours. That will help your blood circulation running correctly. Your body and mind will get a pace then and you will feel much comfortable even on a long haul flight. You can take a walk every hour if you want to. But you need to take care of one thing which is your walking should not disturb other passengers or your seatmate.
Avoid wearing too many makeups
This step is actually for the girls. They sometimes put too much makeup on a long journey and become uncomfortable with it after a few hours. They should avoid doing this on long haul flights. They should wear light make-ups on a long journey. It will make their journey much more comfortable.
Take your headphones
You have to take your headphones with you. They are the best companion for any trip nowadays. They can make your journey cozy and comfortable. They will keep you aside from the noise of outsides. Sometimes baby crying, snoring can be the problems of your uncomforted feelings. But a headphone can give you release from this kind of issues.
Finally, we can say that, if you can follow these steps on long haul flights, you won't feel uncomfortable. These Long haul flights tips and tricks will help you to make a great long haul journey.
Source: Chipjourney.com
Sponsor Ads
Report this Page
Created on Sep 6th 2019 06:16. Viewed 322 times.
Comments
No comment, be the first to comment.