Soundproof diesel generator set 150KW
by Generator D.
Diesel Generator
We are as a leading manufacturer of diesel generator in Jiangsu China, founded in 1974. Our product has sold all over the world, such as Ethiopia, Egypt, Sri Lanka, Philippines, France etc.
On June 16, 2020, we exported 150KW silent diesel generator set to Nigeria. Before shipment, we do test and commissioning at factory, after all qualified, we deliver the genset to client. Thanks for the client's support.
Feature of 150kw silent diesel generator set
1.Soundproof, waterproof and robust silent case, suitable for all-weather
2.Auto start, auto stop and manual change over switch.
3.Easy to access to all major components during routine maintenance
4.Non-slip flooring
5.Emergency battery backup lighting with manual test switch
6.Low fuel consumption, noise level 75dB@7m
7.Base bottom fuel tank for 8 hours operation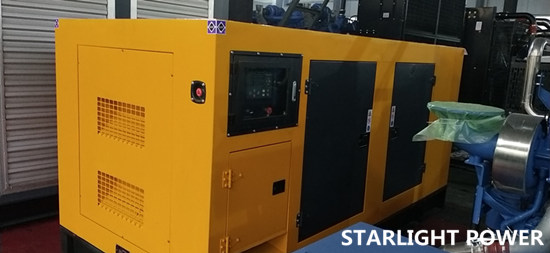 Diesel generator set technical data
Manufacturer: Jiangsu Starlight Electricity Equipments Co.,Ltd.
Genset model: XG-150GF
Prime/standby rating: 150kw/165kw
Rated voltage: 220/400V
Current: 270A
Speed/frequency: 1500rpm/50Hz
Power factor: 0.8lag
Diesel engine: Cummins 6CTA8.3-G2
Alternator: Original Stamford UCI274H14
Controller: SmartGen HGM6110N
Nowadays electric generator has been widely used for various fields, as prime power supply or standby power supply, and some fields require noise level, such as residential areas, schools, hospitals, hotels, office buildings, etc. for this kind of environment, we recommend that customers purchase silent type generators when purchasing generator.
After we use diesel generators, we should also do well in maintenance.
1.The diesel generator set shall be inspected every 6-8 hours for long-term operation.
2.After the standby generator is shut down, shall be inspected for 200-300 hours to check the valve clearance and the fuel injector. Drain the water in the oil-water separator every 50 hours of operation; check the start-up battery electrolytic level.
3.Change the lubricating oil and lubricating oil filter every 50-600 hours or at least every 12 months of operation. The genset maintenance period depends on the quality of the lubricating oil, the sulfur content of the fuel and the consumption of the engine lubricating oil.
4.Check and adjust the drive belt every 400 hours operation, and replace it if necessary. Check and clean radiator chip, discharge sludge in fuel tank.
5.Replace the oil-water separator every 800 hours operation and replace the fuel filter; check the turbocharger for leakage; check the intake pipe for leakage; check and clean the fuel pipe.
6.Adjust the valve clearance every 1200 hours of operation. Every 2000 hours of operation, replace the air filter; change the coolant; thoroughly clean the radiator chip and water channel of the water tank.
7.Every 2400 hours operation, check the fuel injector; thoroughly check and clean the turbocharger; comprehensively check the engine equipment.
For different genset, different use situation, the user should also refer to the relevant maintenance data of the engine for correct implementation. If you are also looking for silent diesel generator set, please contact us by email sales@dieselgeneratortech.com or call us by phone +8613481024441.
Sponsor Ads
Report this Page
Created on Jun 23rd 2020 20:54. Viewed 169 times.
Comments
No comment, be the first to comment.