Sarasota FL, The Touristic Paradise
by Theresa Hus
Content Writer for RealEstateAgent.com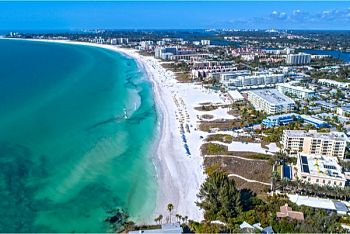 Have you already made plans for your next vacation? On what unexplored grounds is your next adventure going to take you? Have you ever experienced the warm sugar-white sand from beaches of Florida enveloping your feet in the most pleasant feeling ever? Have you had a chance to witness the breathtaking orange sunset from the Sunshine State?
If that sounds like the perfect place to be a tourist then we have great news for you. There are plenty of coastline destinations in Florida that would make you want to pack right away and have a taste of what it's like to live in a beautiful coastline city. One such place that really stands out for it's potential to attract tourists is the city of Sarasota FL.
Sarasota is a city located in Sarasota County on the West Coast of Florida and it goes by many names. It is known to be the Cultural Coast of Florida and it was also known as a circus city. Not only that but the attractions featured in Sarasota FL offer tourists plenty of things to see and do throughout the day. Here are a couple of reasons why people consider Sarasota FL to be a tourist paradise.
Attractions in the city of Sarasota FL
How great must a place be in order to impress you, making it truly a heavenly experience that you are not going to forget very soon? For some tourists, the food scene is one such experience that makes them fall in love with the place. For others, having a glimpse at the city's history is just as fascinating as going through an art exhibit with splendid works for art enthusiasts. Whatever hits the spot for you, here are some of the most outstanding attractions you can experience in Sarasota FL.
Lido Mangrove Tunnels Tour
This amazing tour used to be called the Almost Heaven Kayak Adventure because the encounter with nature in this Kayak tour is out of this world. If you love nature and you are not afraid of water, this is going to be one of the most amazing tours you can have in Sarasota FL. This eco-tour is aimed at creating awareness towards the surrounding environment in order to promote conservation and protect the ecosystems.
The company that leads the tour expeditions offers a variety of guided tours through the mangrove forests of Florida that naturally evolved into this stunning natural canals and tunnels. While on the guided tour you get to see stunning views of the mangrove forest that is home to plenty of birds and marine life. You will have a closeup encounter with bottlenose dolphins and manatees and the thrilling adventure is going to be something you won't soon forget.
Take a tour back in time to the Circus City
Most visitors love to find out more about the history of a place and when it comes to Sarasota FL, it is truly something to look forward to. The city of Sarasota FL is a touristic hub thanks to the great contribution of the Ringling family. An unforgettable trolley tour takes you back in time to learn more about the circus history of Sarasota.
During the trolley tour, a passionate guide will fill you in with all the details related to the colorful circus character, performers and showmen who resided in the city. Riding through historic districts such as Rosemary District, you will learn more about the vibrant food and art scene. Get to know the famous history of the Ringling Brothers, who operated the circus known as the "Greatest Show on Earth".
Pass by the famous John Ringling gallery museum that houses his extensive art collection. Also, get to explore other well-known locations throughout the city, involved in Sarasota's circus history.
Beaches of Sarasota FL
Probably one of the most exciting parts about the city of Sarasota FL is the beach area around the city. Sarasota FL prides itself by having some of the best beaches on the West Coast and people love them a lot.
Sarasota FL is well known for its keys because they consist of beaches that can cater to everyone's interests. From beach areas for families with kids or singles who want to party to quiet retreats and pet-friendly beaches, Sarasota has it all. For example, Siesta Key is one of the most popular and loved keys in the area both by locals and tourists.
Siesta Beach is very charming thanks to the picturesque landscape and plenty of water activities to keep you entertained for hours. You can rent a paddleboard or kayak and go explore the waters or you can choose to bathe in the sun. Venice is another great beach that is home to Venice Public Fishing Pier and it is a great place for bird and dolphin spotting.
Lido Key is another popular beach area that is known for its sunset cruises and eco-tourism. Great for deep fishing, dolphin spotting, and sailing, here you can also find some of the most pristine resorts in the area. The beaches of Sarasota FL will not disappoint and they are one of the reasons why the city is considered to be a tourist paradise.
Best amenities in Sarasota FL
Given the fact that Sarasota FL relies a lot on tourists that visit the area in order to build the economy, it comes with some of the best amenities. The city is built to offer a very pleasant traveling experience for locals and tourists while the hotel services and amenities are some of the best with staff that is very courteous and friendly.
Resorts in the area really stepped up their game by focusing on providing the best possible guest experience. Some of the resorts in the area have all of the "Old Florida" feel to them but yet guests are greeted with modern amenities for a pleasant and comfortable stay. With all the fully equipped Studios and Suites, the resorts around Sarasota FL make you feel like home when visiting the Sarasota area.
Some of the hotel amenities include pools that are adult only with close by pools for kids so adults can supervise them closely. Decks for recreational activities or Yoga, game rooms, and spa appointments for that precious time when you just lay back and relax. Most of the hotels provide free bike rentals or are within walking distance of shopping and dining areas. Some rooms are stocked with cookware, utensils, and dishes but you can also spoil yourself with good food at some of the complimentary Barbeque grills or hotel restaurants.
The city is also packed with shopping centers, restaurants, coffee shops, parks, grocery stores, and everything is within walking distance or a short drive away. The beautiful downtown area of Sarasota FL is also a pleasant place to be strolling and you will definitely have a blast here in Sarasota FL.
Conclusion
It's hard to find the words to describe the beautiful city of Sarasota FL. It has everything you might look for as a tourist from world-class beaches to top dining experiences. From top amenities to friendly people, in Sarasota, you will have one of the best traveling experiences of your life. In fact, it might be so good that you will be looking for a real estate agent in Sarasota FL in order to relocate here.
Whatever the case might be, make sure you share all the amazing things you learned about Sarasota FL with your friends and family by sharing it on your social media accounts.
Report this Page
Created on Jul 2nd 2020 11:41. Viewed 276 times.
Comments
No comment, be the first to comment.