Phoenix, AZ Online Retail Made Easy: Shop Overstock Inventory Through Facebook
by DAVIS BROWN
PRC Agency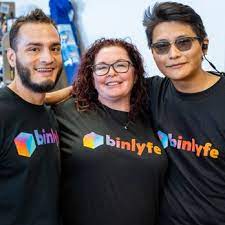 Do you ever miss the bygone days of the live shopping channel? Did you live for the deals, the banter, and the fanfare of it all? If so, there is good news. BinLyfe is reviving the live shopping tradition with their new Facebook shopping group, available through the BinLyfe app or Facebook directly.
To start enjoying the great discounts, visit https://binlyfe.com
BinLyfe's venture is a new take on a great retro concept, providing a more exciting and engaging shopping experience than you would otherwise receive through Facebook normally. The new app and Facebook group work in tandem with BinLyfe's preexisting online marketplace to bring high-quality products directly to you.
The concept of live shopping is nothing new, but has been a reliable source of revenue for cable retailers, and continues to be to this day. Even given the rise of streaming services and the general decline in cable subscriptions, these channels still bring in millions of dollars every year. One of the most popular cable shopping channels, QVC, grossed over 14 billion dollars in sales last year, thanks in large part to the worldwide lockdowns.
It is with this legacy in mind that BinLyfe has been expanded, bringing the interactivity and intrigue of home shopping directly to the mobile space. Now, you can enjoy live shopping from anywhere, with products selected from an expansive catalog of discounted overstock merchandise, from among the top retail brands.
Much of the inventory sold through this new shopping channel is direct from major retailers such as Target, Lowes, and Sam's Club. This excess inventory is available at a considerable markdown, with the added benefit of the live product showcases.
The best part is that you will not have to compete for these sales. BinLyfe has a huge inventory, so finding products you love is no hassle, and buying them is even easier: no quick fingers needed!
Customers in the Phoenix, AZ area can enjoy BinLyfe's curbside order pickup service as an added bonus. Products can be picked up directly from the warehouse and will be hand-delivered by a qualified representative.
One particularly satisfied customer had this to say about their experience: "I have so much fun saving money with BinLyfe. The people there are hardworking and dedicated to the business. The app has been a great way to combine the money-saving part with fun live sales events. It's great!"
Get in on the fun today! Visit https://binlyfe.com if you want to find out more!
Sponsor Ads
Report this Page
Created on Dec 6th 2021 10:01. Viewed 125 times.
Comments
No comment, be the first to comment.