Personal experience: how to find remote work during the quarantine (Linkedin)
by Mohimenul Islam
SEO service provider
Hi, my name is Olga Kucher and I have been a professional 3D visualization specialist for three years now. In this article, I will discuss my experience in searching for additional income in the 3D modeling field. Hopefully, my personal experience will help some individuals find an extra source of work during the quarantine.
Those who can and are willing to work remotely but have some difficulties with clients search offline might also find this article beneficial.
Extra income
I have a full-time job at an architectural firm, there is not much growth though. And I'm looking for more, especially being a travel lover I want to make more money :).
Luckily I have some free time so occasionally I search for clients and create 3D models for them such as interiors, houses, etc. Usually, private designers, architects, and small studios are those who are interested. But the main orders come from professional communities and referrals.
Freelancing platforms
About a year ago I decided to search for clients at our domestic freelancing platforms, but that crush quickly faded away. It's nearly impossible to make money that way. Only headaches, low-cost orders, and often inadequate clients. Will you be willing to create a 3D apartment modeling for 80 USD?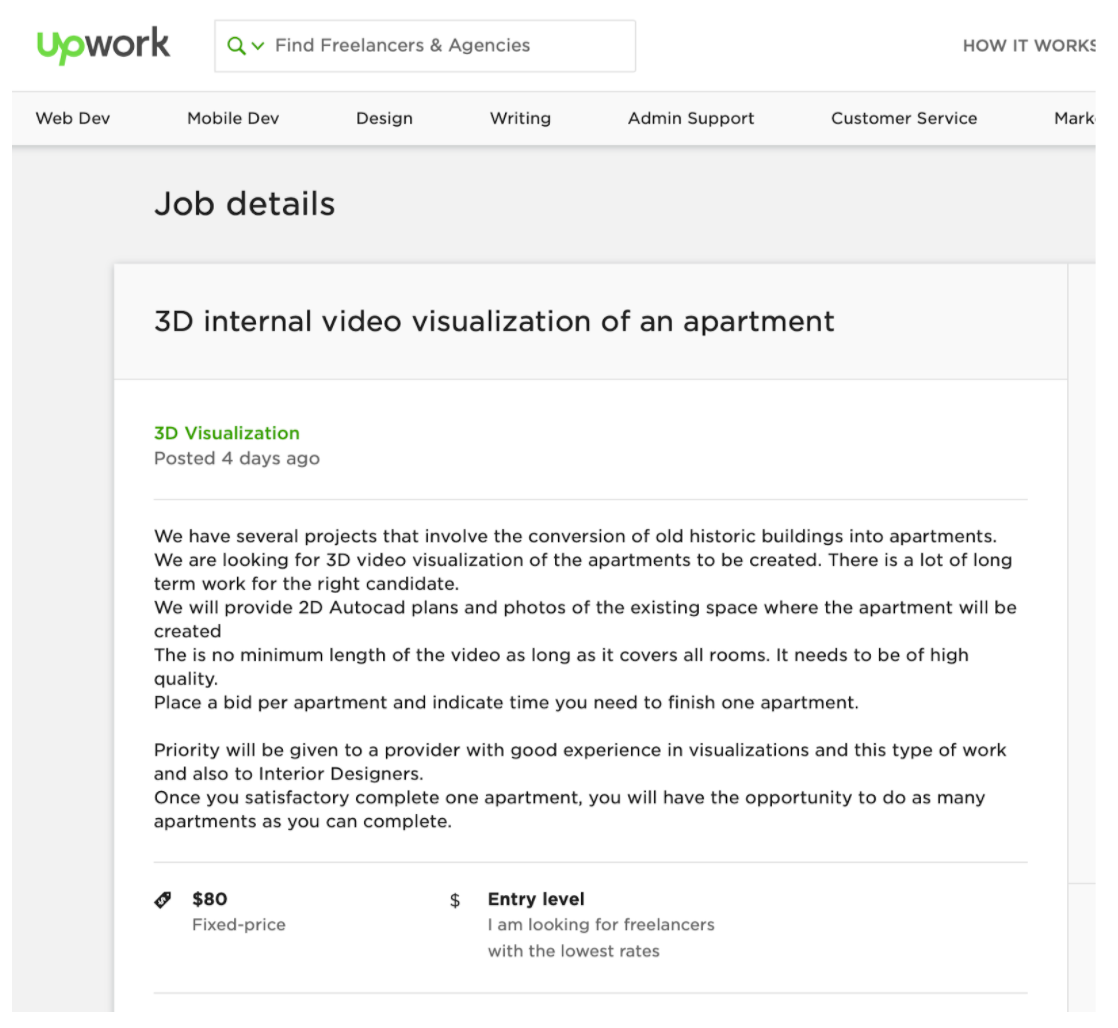 I dropped the idea with the freelancing platforms for some time but then decided to check out the foreign platforms. Well, I thought: the pay is higher in foreign currency, the market is wider, the orders are bigger, and my English is pretty good. And I went to Upwork. But that turned out to be even worse:
Competition: The market is overloaded, and dominated by the Indians :).
Ratings: The number of orders you get is in direct proportion to the popularity of your account. But due to the high competition, it's difficult to promote it to a satisfying level, you'll need to spend months on that while only one negative review will throw everything back.
Clients: The majority of Upwork clients in my area are agencies. They are well-versed in this matter and are willing to order from Indians at a lower rate.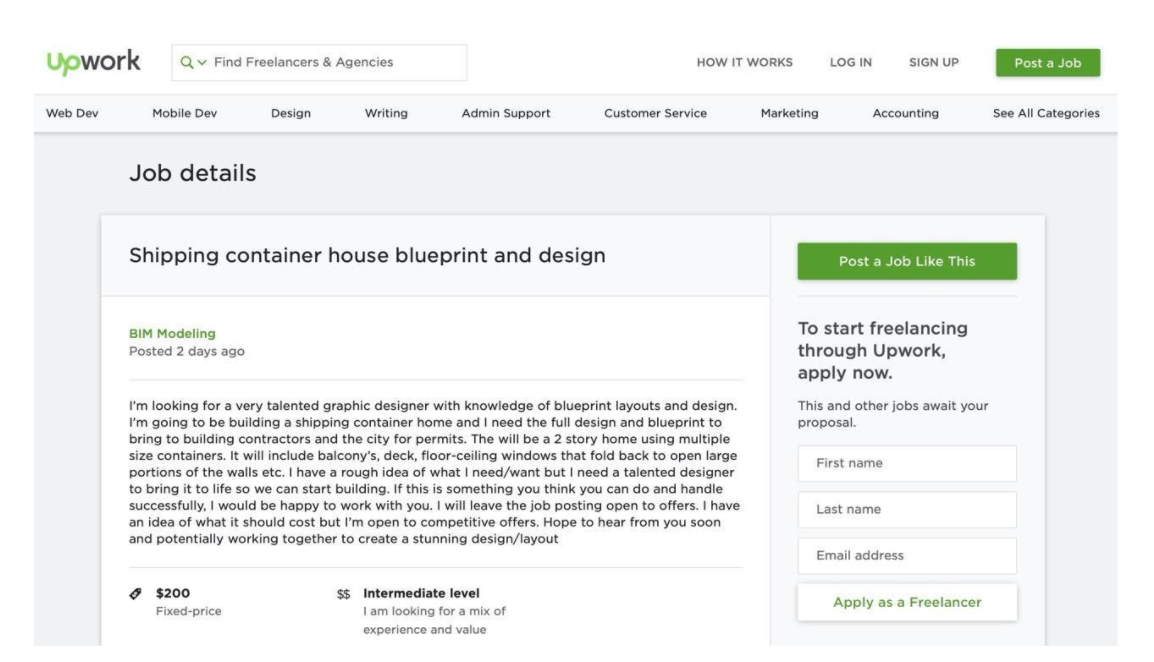 You can make some extra cash here, but not at the beginning since the process is long and challenging an
Solutions
Around the same time, I received a friend request from an architect on LinkedIn. And my mind vigorously started thinking in that direction. First of all, I checked how many potential clients there were, and it turned out it had a lot to offer.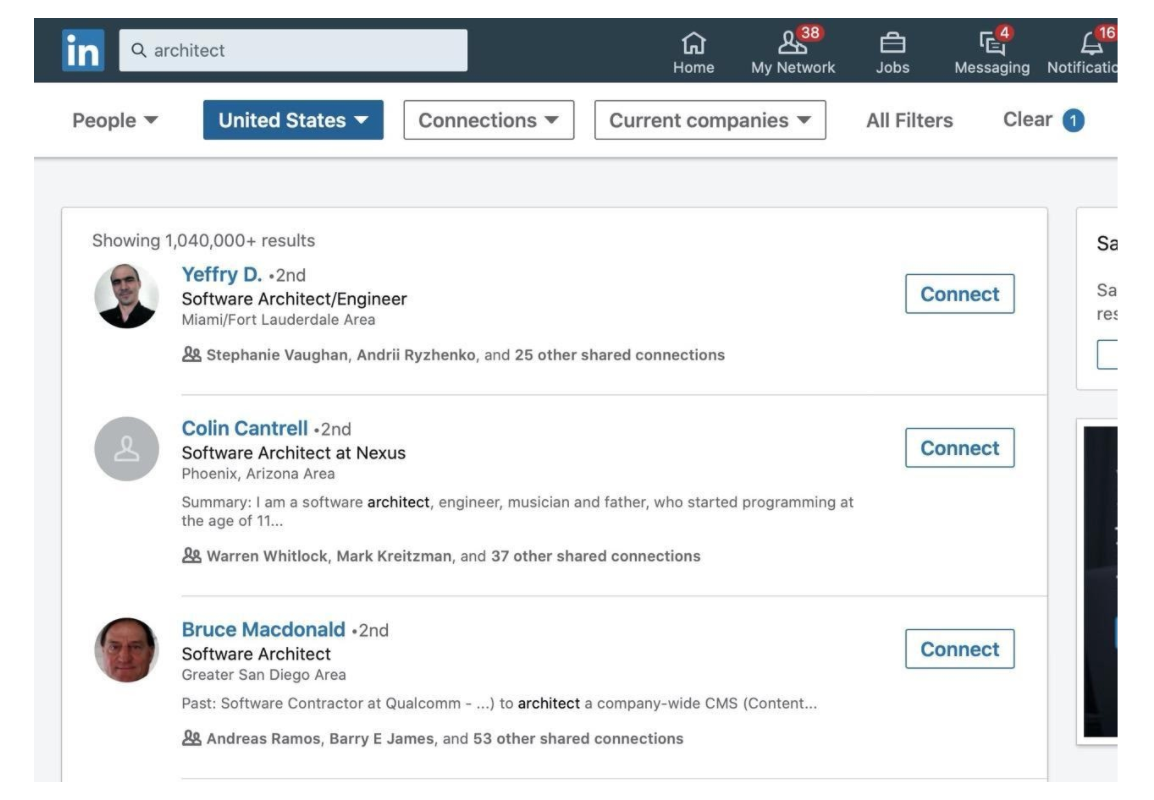 Well, what the hell, I thought and decided to try searching for clients via this social network.
The plan was simple:
– send friend requests to architects/designers
– send a greeting message to those who accepted the friendship something like: Hey, I see you are an architect, and I work in 3D modeling, maybe we could take advantage of each other?
– that's how a dialogue started (or didn't start) turning into an order eventually.
I've got moderate results but better than from freelancing platforms - I was able to gain a couple of regular customers within five weeks.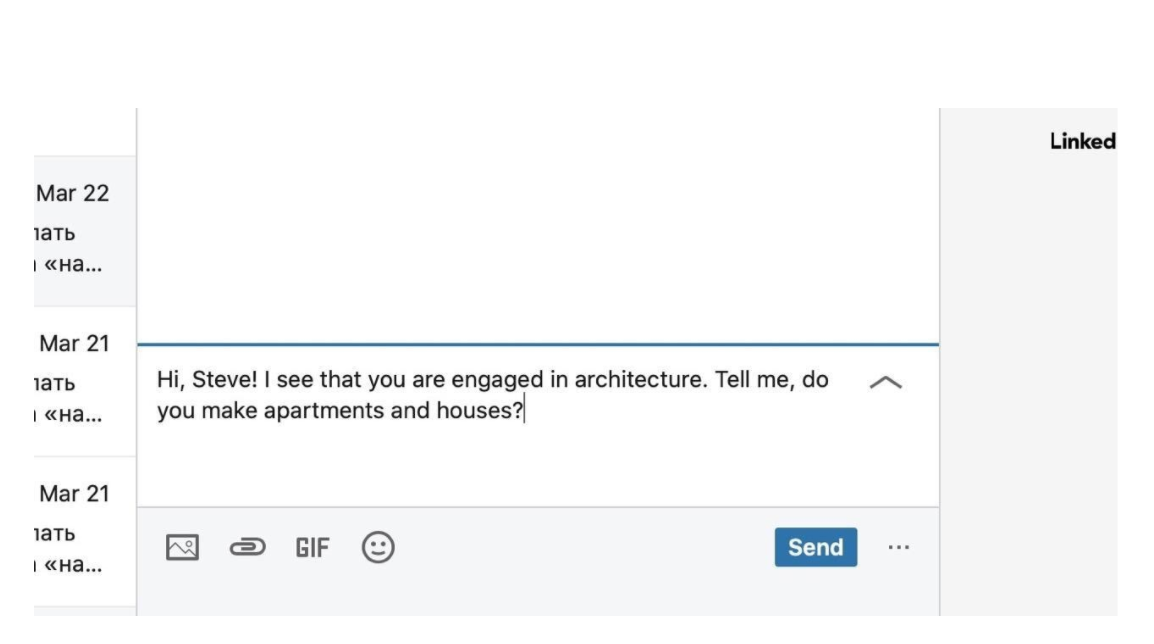 In general, it was obvious that the channel is effective but time-consuming. That was the reason why I was not able to get better results, I simply did not have enough time for the search and sending the invites on LinkedIn.
Semi-automation
Upon searching for automation tools for this routine I have found a few paid Chrome extensions: Meet Leonard, Linked Helper, and others.
They work as follows: the extension simulates your activity on LinkedIn. Everything seems to work fine, but there is one big disadvantage - you still have to handle lots of stuff manually every day since the extensions do not provide full automation.
Here is a brief outline of the process:
- Manually log into LinkedIn
- Browse target audience, in my case these are architects and designers
- Place all the necessary settings in the plug-in extension
- Launch the plugin-in and wait for some time
These steps have to be done daily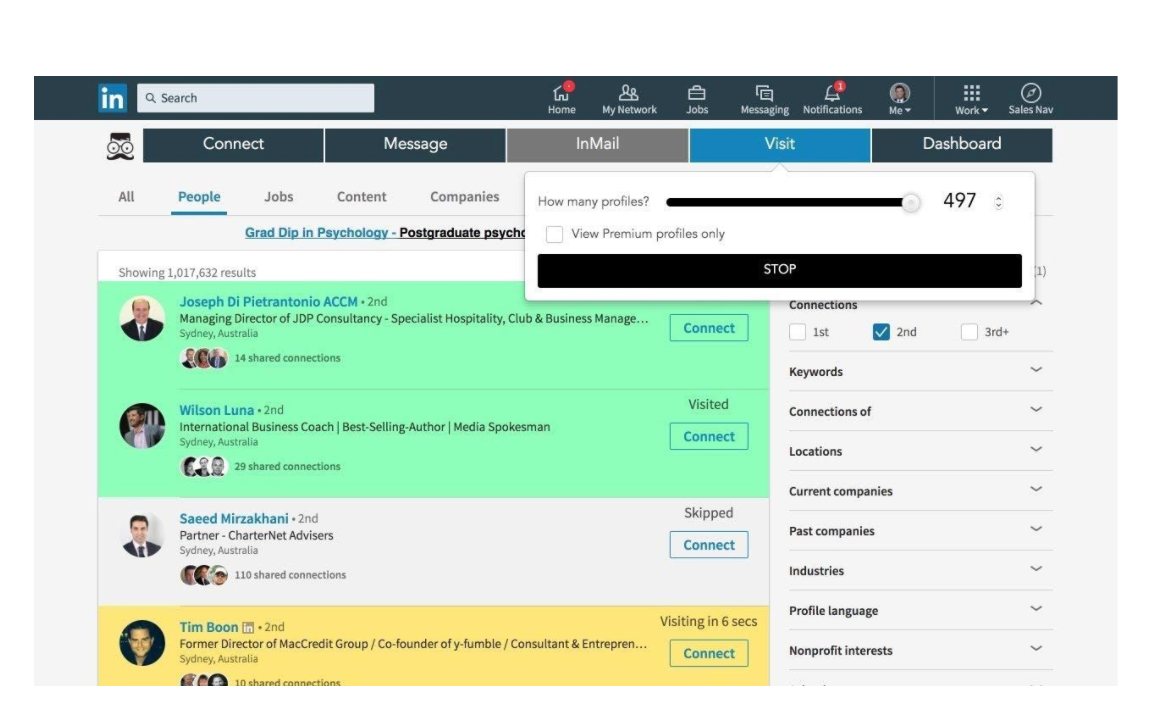 Automation
For a couple of weeks, I stopped working with LinkedIn having enough projects at my full-time job.
The monthly plug-in subscription has expired and I started googling other options and discovered
LinkAdd
service. It's not a plug-in but a full-fledged saas-service with the cost soaring to $99 per month which is 4-5 times higher than the Chrome extensions. But, the service unlike the extensions operates in a fully automatic mode - adjust your settings once and forget about it.
The service is searching for the right people on LinkedIn, keeping all the limits and rules of the social network - I haven't had any issues or bans for almost three months of using it.
What I need to do is to communicate with the architects and designers who have accepted the friend request.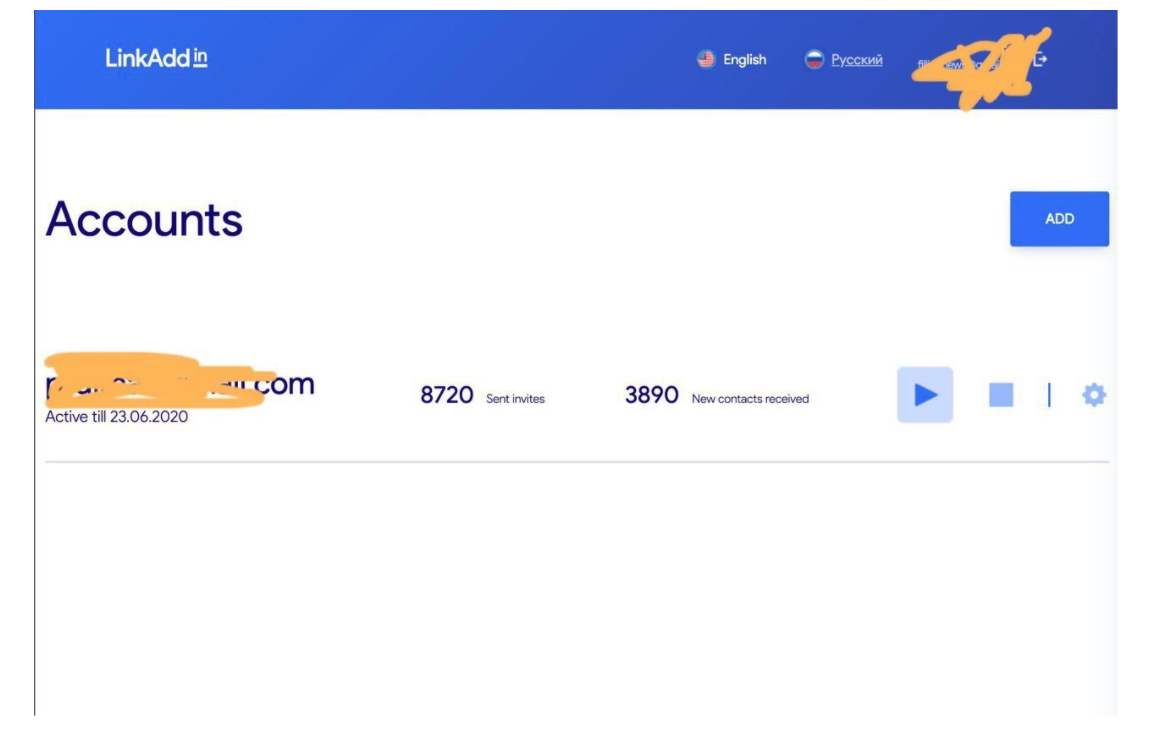 With this service, I still get 2-3 orders per month but save a lot of time, since everything is automated besides the communication process with potential clients itself :)
Despite the higher cost of a monthly subscription, my results are more than positive - since the subscription is fully paid off after the first order. And I didn't get one-time orders yet, usually, the client comes back to order more after a while. That's why it works for me just fine.
A lifehack
Specifically, in my experience working with clients, there is an issue - I can't accept payments online from some countries.
The solution I found is as follows: I offer a safe deal to my clients from LinkedIn - projecting technical requirements and processing payments via my Upwork profile. This even helped me grow my ratings on Upwork and I get new leads from it as well now. Profit :)
Conclusion
If you are a freelancer or, just like me, want to make some extra income with your hobby expanding your client base all over the world, I recommend trying to search for the clients on LinkedIn. There is a lot on that plate.
Especially now when there is a decrease in demand in many areas due to the quarantine and remote work - this source can really help you.
If you have some free time and a moderate service/product cost - try working in the semi-automated mode instead with the help of plug-ins, or try sending friend requests manually (to understand the demand and efficacy).
But if you need a fully-automated clients' search, and your average rate is higher, then the full-fledged saas-services are just right for you. This tool will save you time and multiply the search efficiency.
Sponsor Ads
Report this Page
Created on Apr 12th 2020 02:39. Viewed 244 times.
Comments
No comment, be the first to comment.