NEW Case Study Shows How To Generate Stable 6-Figure Income From Weekend Workshops and Seminars
by PRC Agency
PR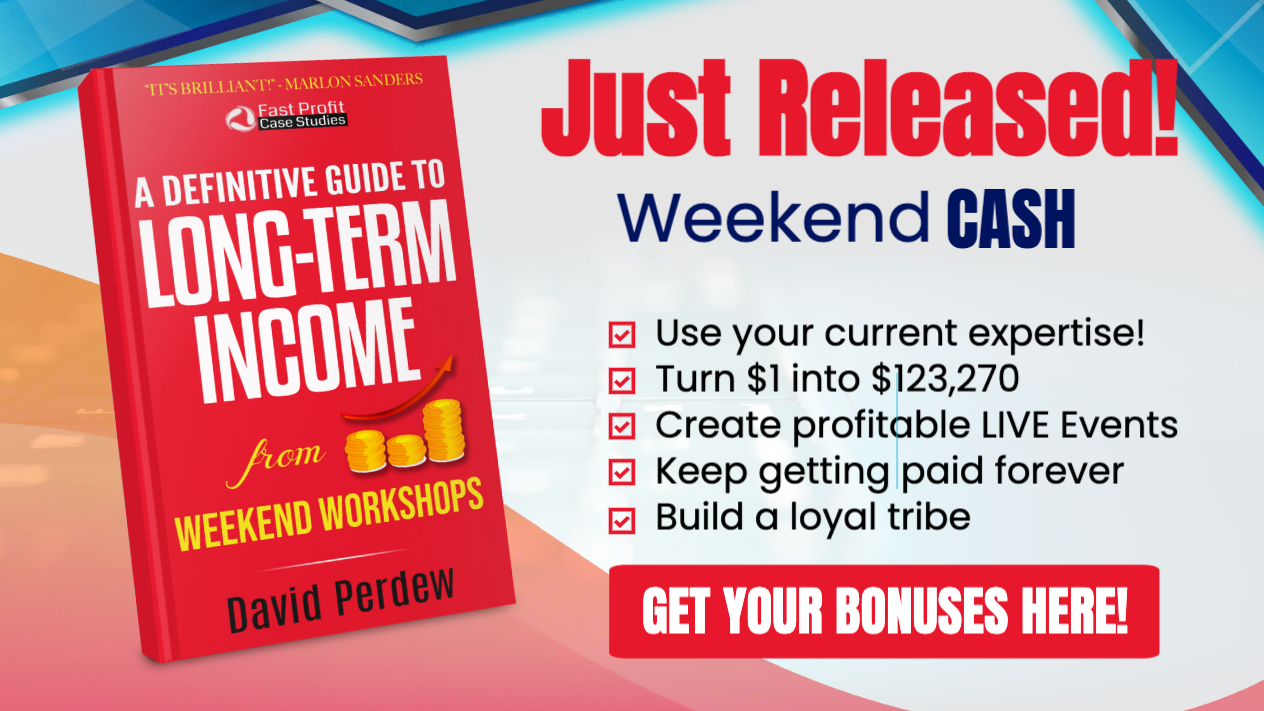 David Perdew believes that if you do what you love you'll never work a day in your life, and that if you're good at what you do, you can make money sharing your knowledge… and work even fewer days!
His new book, titled 'A Definitive Guide to Long-Term Income from Weekend Workshops', explores a real-life case study of the weekend workshop business model. It also gives readers actionable advice and tools regarding the implementation of this entrepreneurial strategy.
Go to https://nams.ws/ampWW to find out more.
The book is being released into an American market that is ever hungrier for self-directed business ventures. The latest figures from Smarts showcase that entrepreneur culture is at an all-time high in the US, with 45% of Americans now having a side hustle, and another 61.1 million planning to start one in the coming year.
With the Covid crisis completely changing the way in which many Americans live and work, a countrywide interest has been sparked in diversifying one's revenue streams. However, with a lot of bad advice out there, you may be struggling to make your business vision a reality.
As such, David Perdew is proud to be bringing you his combined expertise as an entrepreneur, business owner, journalist, and business and marketing coach. His new book recounts his own experience running the Fast Business Start Up Virtual Workshop during the peak of the Covid crisis.
As the book teaches you, with companies and businesses around the country shuttering their doors, Perdew knew that many workers were going to need fresh insights about how to start making money for themselves from home.
In the end, through the organization of these Fast Business weekend workshops, for which he only charged $1 for admissions, Perdew generated a six-figure income stream.
This is the core of the advice that he shares with you in 'A Definitive Guide to Long-Term Income from Weekend Workshops'. The book covers aspects of the workshop process like how you can test the market, how to use customer survey data to build your roadmap, how to develop processes to keep yourself on track, and how to know when you should commit.
David Perdew believes that you must focus not only on making money but on offering products and services that really help people, like value-added weekend workshops.
One reviewer of the book, Jeremey Kennedy, said, "Wow...This is easily one of the most detailed and thorough reports of a real, working case study I've ever had the privilege to enjoy." Melody Wigdahl concurred, calling Perdew's writing "a must-read for anyone considering putting on an event or workshop." George Nieves also commended the book, saying, "This is a case study demonstrating sheer brilliance."
With Perdew's advice, you can get the same results or better from your own weekend workshop.
Visit https://nams.ws/dpAuthorProfile to purchase your copy of the book and see how financial success is just one workshop away!
Sponsor Ads
Report this Page
Created on Jul 12th 2022 19:27. Viewed 119 times.
Comments
No comment, be the first to comment.