Millions now remote work! Time to see rental properties as retirement planning.
by PRC Agency
PR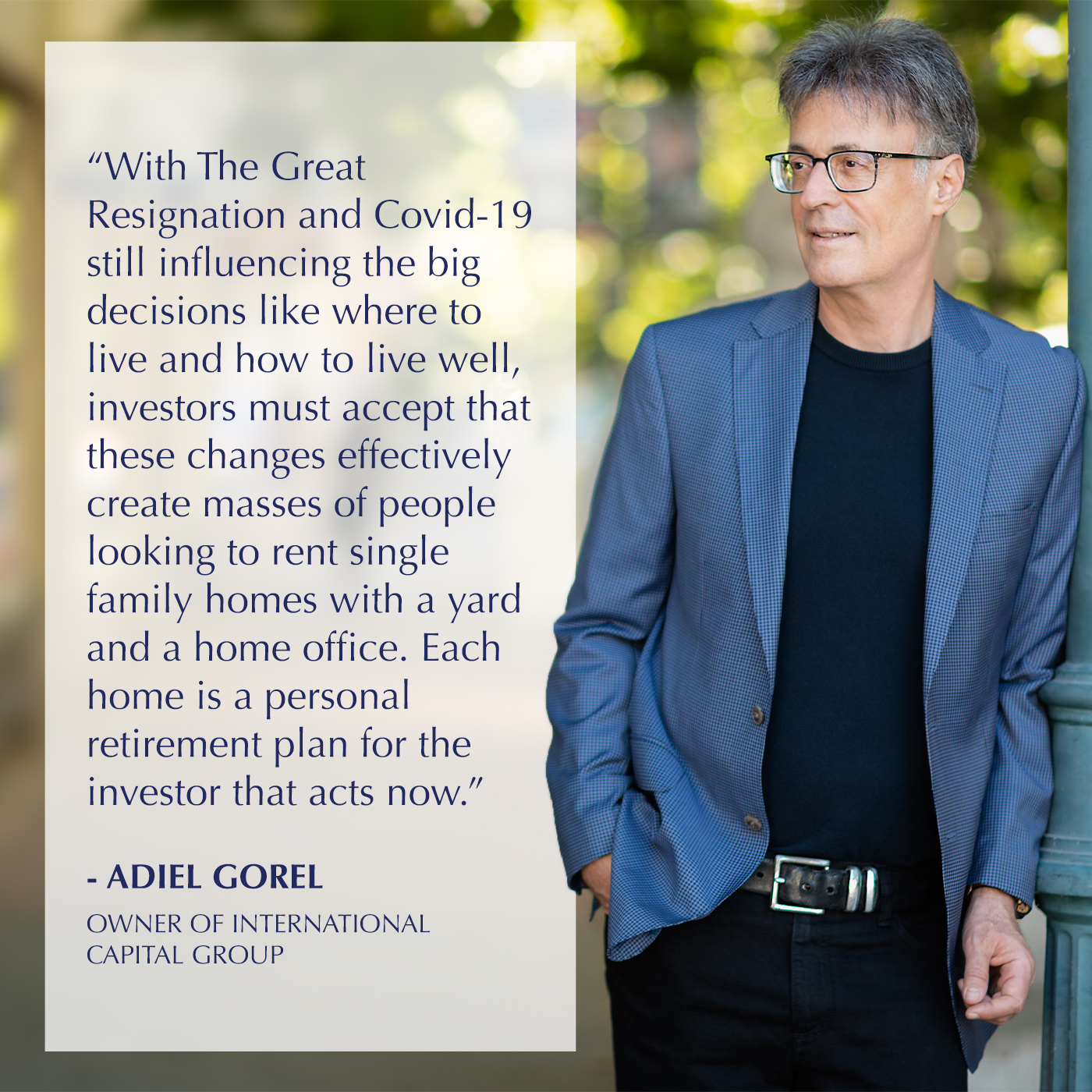 According to data analysts at Ladders, 25 % percent of all professional jobs in the U.S. will evolve into remote work by the end of 2022, and remote work opportunities will continue to increase through 2023. Why remote work is here to stay, is very simple the people have demanded it with their actions. Will real estate prices drop in 2022? Experts are saying unlikely. We can now choose to live anywhere and still attract the right job. Naturally, our next thought is where to live, and quickly after that comes the question of "how can I take advantage of the rising real estate prices in 2022?" Despite the rise in real estate prices, the loan rates are still historically low, despite surging in the past few months. Millions of folks now consider real estate investing as an affordable and reliable addition to any retirement planning already in mind. 
Adiel Gorel, Owner of International Capital Group says "With remote working becoming the new norm, millions of families are choosing to move from the cities and rent in the suburbs. Investors must accept that these changes effectively create masses of people looking to rent single-family homes with a yard and a home office. I see each home as a personal retirement plan for the investor that acts now."
Adiel has helped thousands of investors understand the benefits of retirement planning by investing in rental properties. With the loan rates still historically low, despite the recent massive surge, and real estate prices rising, Adiel is hosting a free virtual event to answer questions about how regular folks can start a retirement plan that works, will real estate prices drop in 2022, and of course, the most pressing question of 2022 will be answered, "which markets to invest in during this time?" Don't miss out, click icgre.com. 
As an investor, you could substantially increase your bottom line just by acquiring a good home in a good area with a down payment and a 30-year fixed-rate loan. Once that first goal is accomplished, the next step is to acquire another rental property. View each rental property as a business with the sole objective of creating what Adiel Gorel calls "Remote Retirement Riches," the title of Gorel's book. 
Mental health, quality of life, and room to live a good life are the reasons why remote work is here to stay and why rentals are going up. So you buy brand new homes in the suburbs of large metropolitan areas, mainly in the sunbelt states which attract families with kids. Families with kids make great long-term renters for you. Great long-term renters make retirement planning a joy for you, and you can watch your retirement riches grow continuously over time. You can also see each home you rent out as a unit of freedom, choice, and autonomy. This not only increases the health of your retirement planning but your well-being today and every day.
These homes, right now, are selling anywhere from $200k-$300k. Fannie Mae enables an investor, to put a minimum down payment of 15% with private mortgage insurance or PMI. Many people choose to put 20% with no PMI. With the minimum down on a home that's $250k, 15% would be $37,500 plus the closing cost and the loan costs, which can add another $10,000 as an example. 
Looking at it through this simple lens, a first-time investor would need $47,500 rounded up, a little less than $50k. That equation translates into a retirement plan where the renters pay off the mortgage increasing your bottom line, inflation erodes the value of the loan increasing your bottom line, and at any point, an investor can take money out of the rental property (tax-free) and invest in an additional single-family home rental property really increasing your bottom line. That's solid retirement planning.   
How many rental property mortgages can one person have? The answer is not super simple, but most people refer to the Fannie Mae mortgages. So, let's take how many rental property mortgages can I have with Fannie Mae as our example. Fannie Mae mortgages are the mortgages that are governed by the guidelines of Fannie Mae, which runs the secondary market and Fannie Mae has a limit of 10 mortgages for rental properties per investor. But here's something very exciting, if you're a married couple, and each of you can qualify separately, Fannie Mae enables investors to place the ownership of the home in both spouse's names but also in only one of the spouse's names. That will make your allowance of 10 become 20 mortgages for rental properties, which is very exciting and smart retirement planning for you and your family. <
Sponsor Ads
Report this Page
Created on Apr 20th 2022 13:31. Viewed 71 times.
Comments
No comment, be the first to comment.