Men's Lifestyle Site: Best Italian Chukka Boots For Winter 2022 Style & Comfort
by PRC Agency
PR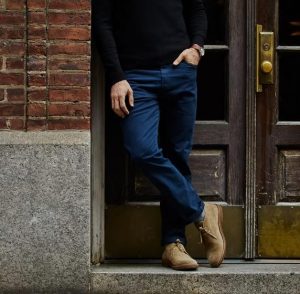 When it comes to winter boots, choosing the best type can be a chore. Do you choose comfort over style? Price over warmth? Choose not to compromise, and let Gear For Life do the research for you, with their new report on their favorite boot choice for men!
The recently released report discusses the pros and cons of purchasing the Astorflex Greenflex Chukka Boot, examines the history behind their creation, and considers the quality of the items still made today.
Go to http://www.gearforlife.com for more information.
The latest article from the online information source digs into the style and functionality of Chukkas and the reason they're still popular decades after they first became a fashion must-have.
A reliable source of information on men's style, fashion, technology, gadgets, and more, Gear For Life puts the work into researching the coolest and most interesting items out there so that you don't have to. The site's report on the Astorflex Greenflex Chukka Boot begins by listing the reasons the boot is a classic wardrobe staple, including the all-natural leather and rubber materials used, the comfort they offer you, and their affordability.
Suggesting the Astorflex Chukkas as a classic example of craftsmanship and functionality, the article goes on to discuss their simple elegance as a part of your wardrobe, and the role of tradition in the making of the boots. Dating the Astorflex brand back to the 19th century, the author elaborates on the original aim of the company that holds true today: respecting heritage and caring for the planet and environment. 
Gear For Life's report further states that Italian shoes are well-known around the world for their high-end look and feel, thanks to the premium materials used and the skill of their crafters. It explains that the hype we place around Italian shoes is well-deserved with a brand such as Astorflex, and mentions the environmentally-friendly way their Chukkas are made - which is just the same as it has been for years.
Later in the article, the author details the ergonomic comfort offered by the style and shape of Chukkas such as those from Astorflex, and how this makes them worth your money. The report then elaborates that though the boots are a little on the costly side, they're quite reasonably priced for Italian shoes, and thanks to their durability, will last you comfortably for years - making it worth buying from a top Chukka brand.
Gear For Life is the men's lifestyle and tech website you can trust to highlight the best brands and products out there, doing the research to save you the trouble!
Ready to learn more? Visit https://gearforlife.com/astorflex-greenflex-chukka-boot-handmade-eco-friendly-chukkas if you want to read the article!
Sponsor Ads
Report this Page
Created on Jan 11th 2022 22:01. Viewed 89 times.
Comments
No comment, be the first to comment.