Main Reasons Why Inbound Leads Don't Convert
by Oodles Marketing
Digital Marketing Expert
Inbound Leads Don't Convert and Generating ample traffic by various marketing techniques are good, but it doesn't make sense when your traffic doesn't convert into the lead. To make your business successful conversions or lead are the most important key factor.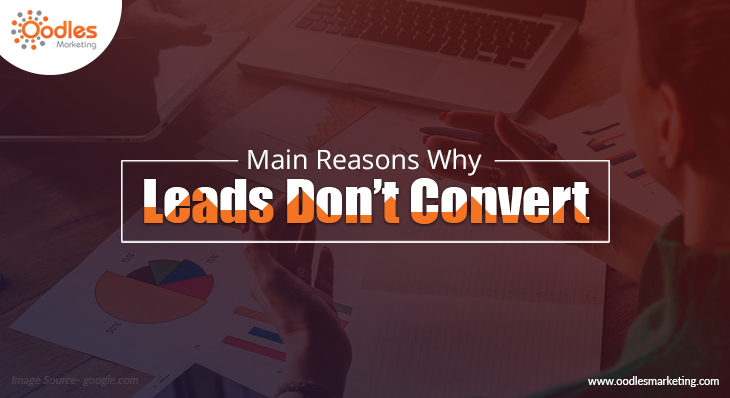 It requires a comprehensive Digital Marketing strategy, proper planning & other things to convert those visitors into actual customers.
This article presents the handful of common reasons that why leads don't convert.
Your Users Don't Get The Chance To Convert
This might be a strong reason why your traffic or inbound leads are not converting as a lead. Analyze your website & determine is your traffic able to get contact or perform your desired action on your website?
Provide opportunities for your coming visitors or, inbound leads to getting convert by placing the call to action content & clickable button. Any visitor can immediately submit the contact or query form from the same page rather than going to contact us page.
Poorly Designed Site Architecture
The poorly designed website often fail to convert traffic into the lead. Many visitors get lost due to bad website navigation & don't able to reach the final step.
Following are few characteristics of lead generation websites:
-User-friendly
-Mobile optimized
-Rank higher in search engine
-Structured with high-quality content
-Easy to location call to action button
You Aren't Targeting The Right People
have you identified your personas to target? You're ruining all your efforts & lost the chances to earn high conversion rate if you are doing marketing after targeting everybody. You need to optimize your marketing strategy to narrow targeting. Your website, content & all the marketing activities should target your target audience's problem & solutions. Create the content for the targeted audience only. Analyze your target audiences & demographics by Google analytics & modify your marketing plan accordingly.
No Immediate Response
There may be another possibility that you are not nurturing your current leads & trying to generate other new leads. Your current customers might switch to your competitor if they don't get a response from your end.
To avoid this situation, you need to give attention to your current prospect & answer to all their queries. You can minimize the chance that they don't go back to other websites by providing Lead Nurturing, immediate response.
It's important to follow above strategies if you're looking to have plenty of conversions from your website. By analyzing your visitor's behaviour using "Google Analytics" you can increase your "conversion rate"
Sponsor Ads
Report this Page
Created on Apr 30th 2018 06:11. Viewed 958 times.
Comments
No comment, be the first to comment.