Look Stylish and Trendy with These Fashionable Kurtis
by Fashion Mozo
Fashion Mozo
This universal outfit can be worn in multiple ways ranging from college and office wear to partywear to daily wear at home. The Kurtis can be designed or embroidered in a unique style to suit your function. Apart from the designs, it can be worn with different bottoms for different events. Designer palazzos can be worn for parties whereas regular jeans or leggings can be worn for work and pyjama-style churidar pants can be worn when you are lazing around at home.
1.Cotton Kurtis
Kurtis made from soft cotton fabric is the most apt material for our Indian climate. It's versatile and comfortable. As cotton absorbs sweat, your body is kept sweat-free which ensures rash-free skin. It's the best attire for daily wear may it be at home, office, or college. Jeans, leggings, and jeggings are the perfect bottom to be worn as casual wear. Pair a short cotton Kurti with shorts and shrug for journeys and hikes. Plain short cotton Kurtis can be worn with vibrant long skirts as well.
2. Slit Kurtis
Slit Kurtis are in-style. This Kurti comes with slits either in the middle, side or between the two. The most typical kind of slit Kurti is the one with slits on the side. So, Kurti's designs with slits in the centre are very distinctive. Avoid wearing shorts and palazzos with centre slit Kurtis as they do not match. A-line Kurtis/ straight Kurti and long Kurti can be seen as a sub-division of slit Kurti. Pair it with jeans, leggings, jeggings, and pants.
3. Straight Kurtis for Women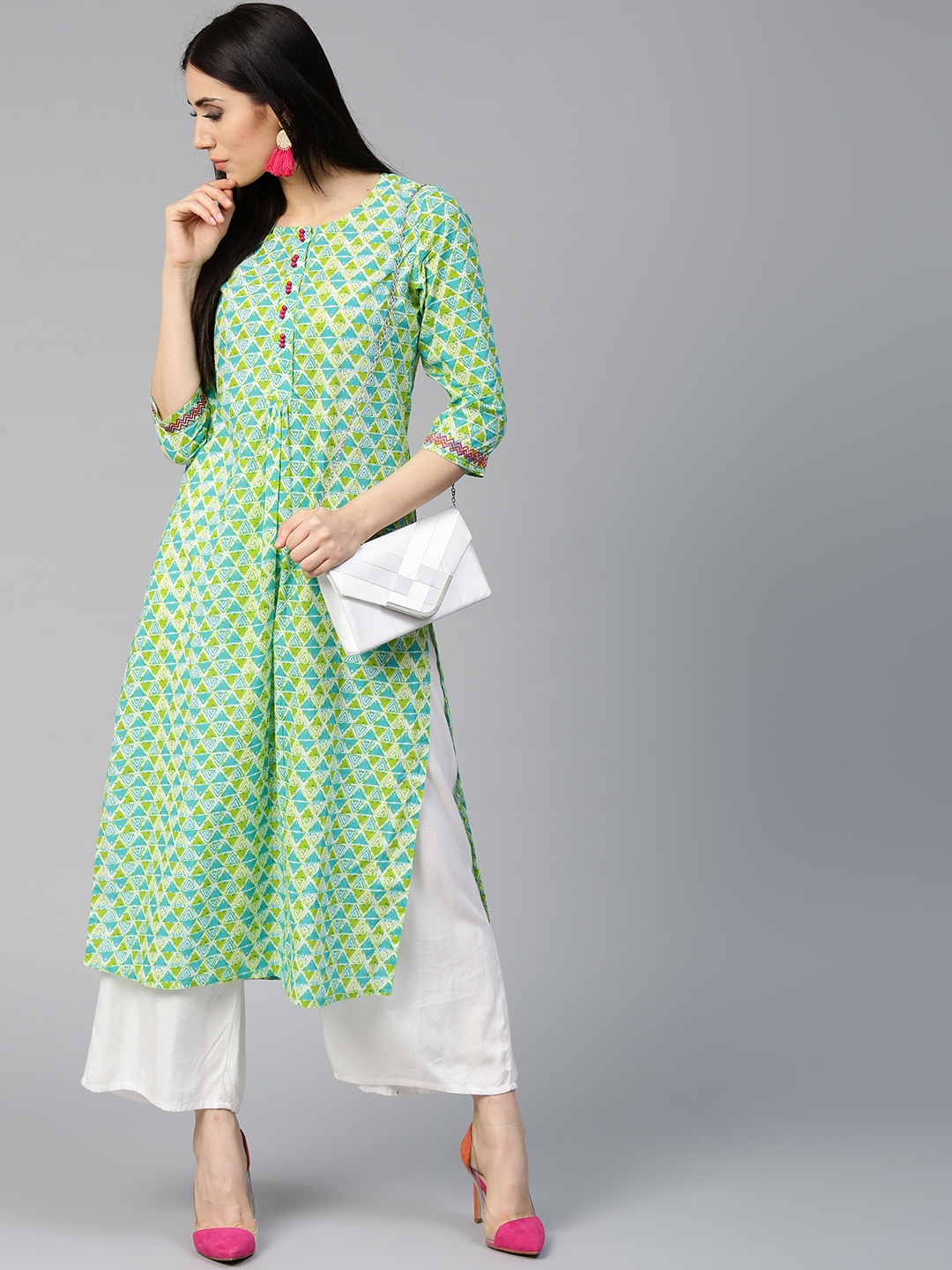 Kurtis with little or no flare is known as straight Kurtis or A-line Kurtis (the shape formed is an 'A'). It can be worn with almost all types of bottoms and for all occasions. Wear it with leggings or jeans for casual or daily wear whereas picking stylish dhoti type bottom, palazzos, or elegant pant type bottom for festive occasions. Pair it with minimalistic jewelry if you prefer a simple look.
4. Long Kurtis
The best example of a long Kurti is a Pakistani Kurti. They come in vibrant shades of green, red, orange, and many more with beautiful floral prints, sequins, and mirror work.
Long Kurtis
come up to your calf level and produce a perfect tall illusion. To get a modern, chic look, wear a sleeveless long Kurti with palazzo or leggings. Pair this with a dangling long earring and a full-stone ring. If you want to be traditional, pair your Pakistani long Kurti with jhumkas and bangles.
5. Flared Kurtis
Flared Kurtis is those that come in flares. The typical ones have the flare near the waist area but empire waist Kurtis flares from the bust region. The most common type of flared Kurti is Anarkali. Others include empire waist Kurti, tiered Kurti, double layer Kurti, and many more. Frock-style Kurtis has a modern touch to them so they can be paired with sneakers to produce a bold look. If you have a banana-shaped body structure, inverted triangle structure but you want to produce a pear-shaped appearance then flared Kurtis does the trick for you. Pair your flared Kurti with leggings or jeans, let your hair loose and make your fashion statement.
6.Party wear Kurtis

As the name suggests, these Kurtis are made for parties. Some partywear Kurtis is simple but very elegant whereas others have heavy embellishments like beadworks, mirror works, and many more. If you don't want to go with the classic lehenga look for your wedding then, try some
party wear Kurtis
that can be worn as bridal Kurtis or as bridesmaid Kurtis. It is more comfortable and versatile than lehengas but produces the same stunning look. To finish this look, pair it with traditional pieces of jewelry like jhumkas, bangles, nethi chutti, rings, and necklaces. Go for bright shades of lipstick and tie your hair in a pretty bun and decorate it with beautiful flower clips.
Styling tips:

While selecting the fabric/ material for your Kurti, ensure that you pick it according to your body type as well as the function you have to attend. If the Kurti is for casual wear, it is best to go for a vibrant cotton material. It is not only smooth for your skin but has multiple colour selections. For grand functions, you can choose fabrics like silk, rayon, organza, georgette, and many more. You can always pair your Kurtis with beautiful shrugs. Pair this with a belt and it is a different look altogether.
Sponsor Ads
Report this Page
Created on Mar 12th 2021 08:01. Viewed 116 times.
Comments
No comment, be the first to comment.