London, UK Mayfairsilk 2022 Brand Of The Year: Luxury Silk Sheets & Pillowcases
by PRC Agency
PR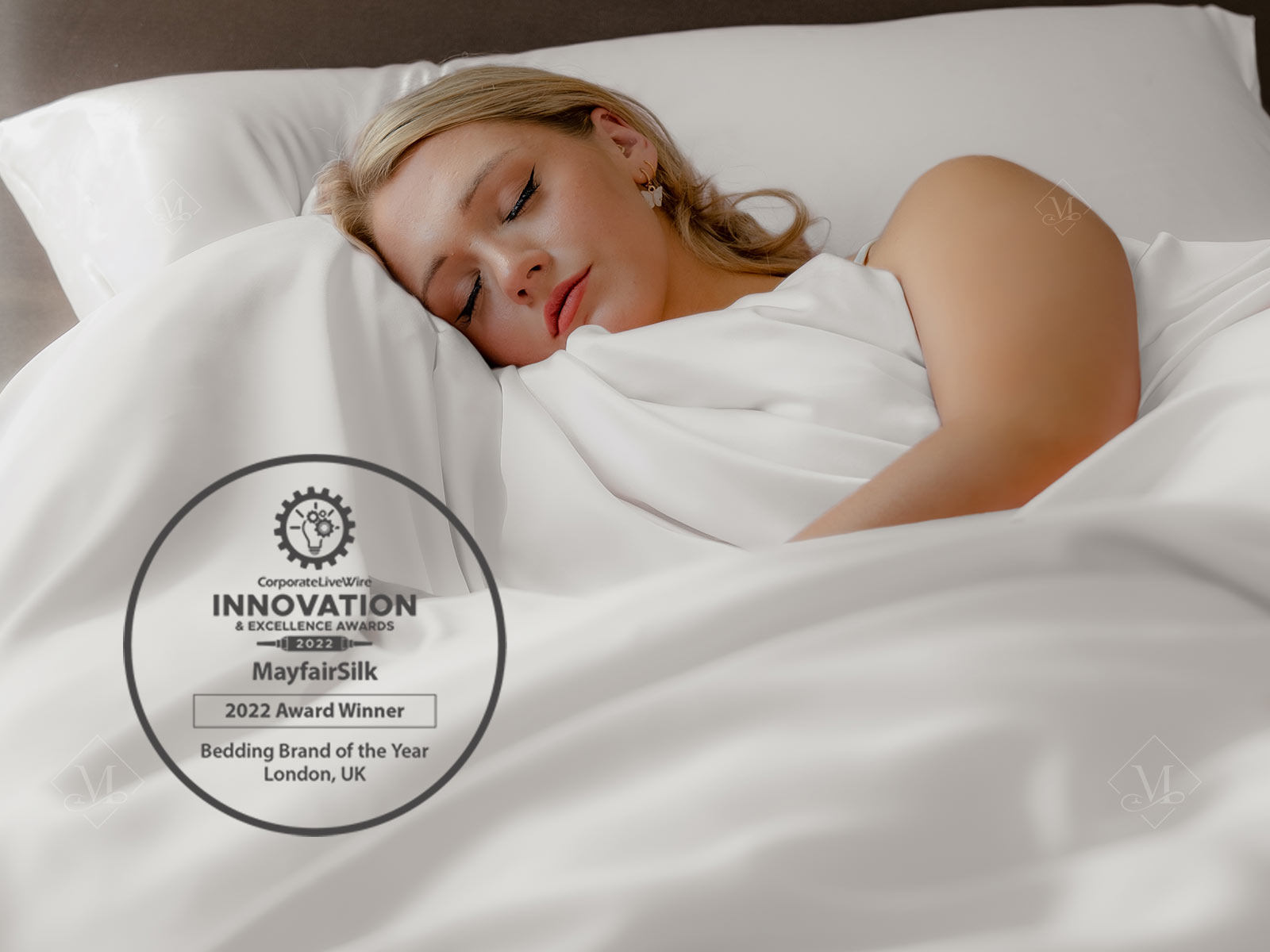 If you're not already buying your bedding, pillowcases, sleep masks and scrunchies from Mayfairsilk, you're missing out on one of the world's top retailers of best-in-class silks.
Not only are they fast becoming a leading retailer of upscale silk pillowcases, bed linens, home furnishings and lifestyle accessories, but they've also just won the 2022 Bedding Brand of the Year Award in Innovation and Excellence, presented by Corporate LiveWire.
The Bedding Brand of The Year award accompanies an array of distinguished honours issued to Mayfairsilk over the years. Based in London, the company ships worldwide and is now recognized as a leader in handcrafted, woven products made of the finest 22-25 momme Mulberry silk.
You can read all about it, and browse the company's amazing collections, at https://mayfairsilk.com/blogs/press-releases/mayfairsilk-wins-bedding-brand-of-the-year-2022
Did you know that sleeping in silk offers a range of benefits? Silk beddings are hypoallergenic, antibacterial, and sustainable. They also maintain a comfortable temperature for a better quality of sleep, and absorb less moisture than cotton, keeping your skin and hair hydrated. This helps prevent premature ageing, and also keeps your hair from splitting and breaking.
As the winners of the 2022 Bedding Brand of The Year award, Mayfairsilk is fast becoming a global leader in fine, top-quality silk bedding and lifestyle products. You have to check them out!
The organization that presented this latest award, Corporate LiveWire, is an informational platform that provides business professionals and individuals in the corporate sector with insights into the latest news and developments around the globe. So when you see they've bestowed a best-in-class award, you know it's something you can trust.
You may be wondering how winners of these awards are chosen. Nominees in each category are evaluated by over 90,000 businesses and corporate professionals, as well as magazine contributors and subscribers. Criteria that factor into their selection process include customer service, innovation, experience, and sustainability.
As manufacturers, retailers, and wholesalers of 6A long-fibre Mulberry silk bed linens and accessories, the mission at Mayfairsilk is to produce the highest quality silk pillowcases and bed linens designed to meet your discerning standards.
And, as if all that wasn't enough, for every order they receive the company plants a new tree - something else you can feel great about when you invest in the best.
The silk produced by Mayfairsilk is certified Standard 100 by OEKO-Tex, a body of 17 independent institutes in Europe and Japan that ensure fabrics are safe and do not contain harmful chemicals or dyes. Your skin will be thanking you!
To meet increasing global demand for their products, Mayfairsilk is expanding throughout the UK and into the US, Hong Kong, India, and the Middle East.
With the announcement of their newest award, Mayfairsilk is both the 2022 Bedding Brand of The Year and a long-time leader in high-quality, all-natural, hypoallergenic, and sustainable silk beddings and lifestyle products.
If you only buy the best, you are in good hands when you choose Mayfairsilk, silk products that are as environmentally responsible as they are elegant and luxurious.
Are you ready to take your quality of sleep to a whole other level with beddings that contribute positively to your skin, hair, and health? Visit https://mayfairsilk.com to find out more.
Sponsor Ads
Report this Page
Created on Mar 21st 2022 02:16. Viewed 111 times.
Comments
No comment, be the first to comment.