Largest Masterbatch Manufacturer in Korea with 36 years of expertise | SAMHWA
by Professional Writer
Professional Writer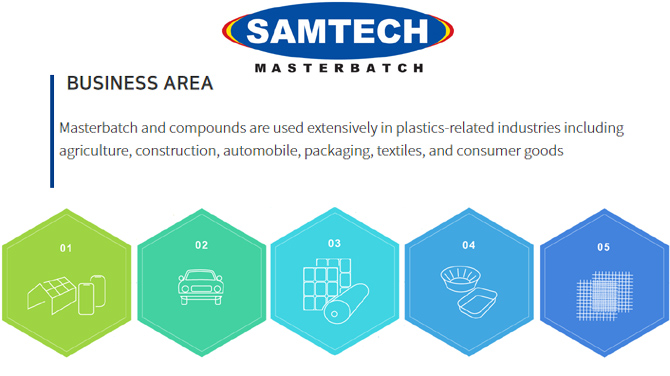 SAMHWA CORPORATION is the largest plastic and industrial rubber masterbatch manufacturer in Korea. Since its establishment in 1986, it has been providing the Korean and world plastics industry with its SAMTECH brand top-quality masterbatch. SAMHWA has been winning the trust and confidence of customers all over the world for over 36 years.
And now SAMHWA has grown into a largest masterbatch manufacturer in Korea with the production capacities of over 2,000 tons per month.
Quality is the most important feature and merit of SAMTECH products that are assured through constant quality checks in all stages of the production process. Strict specifications have been set for quality control, and production samples have been tested accordingly up to the requirements of ISO 9001 and ISO 14001.
SAMHWA Business Area
SAMHWA's masterbatch and compounds are widely used in plastics-related industries including agriculture, construction, automobiles, packaging, textiles, and consumer goods.
ü Agriculture: In agriculture field the SAMHWA Masterbatch is used for efficient agricultural productivity to produce various agricultural films such as light blocking nets, vinyl greenhouses, and silage films.
ü Automobile: SAMHWA masterbatch is used as various internal and external materials as well as bonnet inner parts for famous Korean brands automobile and global brands automobiles. SAMHWA masterbatch for automobile industry has been developed in line with the standard and quality of automobile parts in the global market for over 20 years.
ü Building and Construction: SAMHWA masterbatch is dedicated to meet the specifications prescribed by the Building and Construction industry. And it is used for production of UV protection, PVC cover, Pipe, Geogrid and Geomembrane.
ü Packaging: Food packaging is one of the main markets for the plastic industry. SANHWA masterbatch is used for various plastic containers tailored to food and industrial packaging for the antibacterial, antioxidant, and durability enhancement.
ü Textiles: The importance of synthetic fibers in the global plastic market is increasing day by day. SAMHWA's customized masterbatch for the textile industry is used for filament fiber, FIBC bag, nonwoven fabric and Raffia.
Click here to contact SAMHWA Corp.
View more:
Largest Plastic and Industrial Rubber Masterbatch Manufacturer in Korea
Sponsor Ads
Report this Page
Created on Apr 29th 2022 01:41. Viewed 91 times.
Comments
No comment, be the first to comment.