Is Hair Transplantation The Best Treatment For Pattern Baldness Issue?
by Andrew Martin
Health Consultant
What type of hair loss do you have? Is it a long-term or a short-term situation?
If you notice your parents or grandparents losing their hair, you are most likely dealing with permanent hair loss. Consult a doctor to confirm your hair loss and determine the best treatment option. Is it really worth it to get a hair transplant now that it has emerged as the best way to deal with your baldness?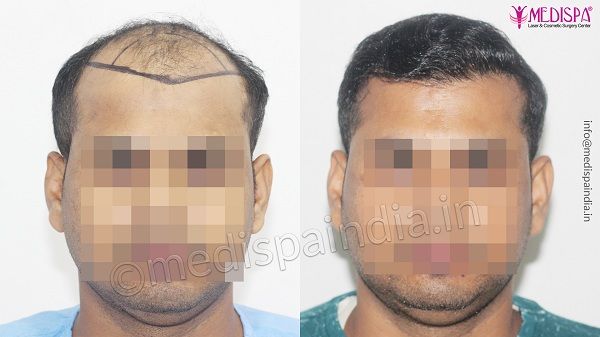 Let's take a closer look at pattern baldness and how to treat it.
What is pattern baldness?
Pattern baldness, also known as androgenic alopecia, is a type of genetic baldness. Genetic hair loss is the most common cause of hair loss in both men and women. Males, on the other hand, are more likely to do so. Males and females have different hair loss patterns, with males starting with a receding hair line and temples and females starting with a bald patch at the vertex. Hair loss progresses to a larger bald area, leaving a band of hair at the back and sides of the head in advanced stages. In females, the central thinning usually progresses with the widening of the partition but does not always lead to baldness.
Hair loss can be accelerated by a variety of factors, including increased pollution, life stress, poor nutrition, and a change in lifestyle. This could be one of the reasons why hair loss is becoming more common these days.
Treatment options in pattern baldness
If you're looking for a solution to your permanent hair loss, there are a few things you should know about hiding or treating baldness.
Wigs and prosthetic hairs: The majority of people choose to wear wigs or prosthetic hair, also known as hair patches. These wigs may be able to conceal your baldness, but they will not be able to treat it. These modalities are only temporary and require maintenance; they should be replaced every few months or a year. These short-term modalities may be exhausting and should not be used indefinitely. As a result, it may not be the best option for treating your baldness.
Medications: The most commonly prescribed medications for hair loss are minoxidil and finasteride. Minoxidil is a topical medication that is applied to the hair loss area to help slow the progression of hair loss and thicken the hair. Finasteride is a prescription-only orally administered medication that is used to slow the progression of hair loss and promote hair growth. These medications have been found to be effective in treating hair loss, but the effects may be reversible if the medications are discontinued. There are some side effects to the medication, so it is not recommended for long-term use. As a result, it becomes a temporary treatment for baldness.
PRP therapy: PRP is a platelet concentrate that, when injected at the proper concentration, is intended to increase hair growth at the desired site. Platelets are known to release growth factors that promote cell division and hair growth by providing a better environment for cells to divide.
Hair transplantation: Hair transplantation is a minimally invasive cosmetic surgery that involves the transfer of hair follicles from the donor area to the balding area. The donor area chosen is very specific, as only those areas with permanent hair roots are chosen. Permanent hair roots are DHT resistant and do not contain androgenic receptors, so they are unaffected by hair loss.
Hair transplant in Jaipur has grown in popularity in India as a result of the city's world-class hair transplant clinics that provide excellent services. The hair transplant quality in a few clinics in Jaipur is on par with international standards. Hair transplant cost in Jaipur is also very low, which attracts people who want a high-quality but low-cost hair transplant.
Every year, hundreds of patients realise their dreams with exceptional results at Medispa hair transplant clinic, which is one of the top destinations for hair transplant tourism. You can be sure of a successful hair transplant at an affordable price when you work with us. We're known for our high success rate and natural-looking hair transplants from around the world. You can expect to regain your confidence as the hair transplant you receive will undoubtedly improve your appearance.
So, if you're looking for the best hair transplant, medispa hair transplant clinic is the place to go for a truly unforgettable experience.
Hair transplant: the ultimate treatment option for hair loss
Hair transplantation is unquestionably the best solution for hair loss for the following reasons:
1. Hair transplant is a permanent solution for hair loss because only permanent hair follicles are transplanted at the donor site.
2. The procedure produces natural-looking results, but the surgeon must be creative in his work to achieve this.
3. It is a simple and low-maintenance procedure.
4. It is a painless method of dealing with baldness.
So make an appointment at the Medispa hair transplant clinic in Jaipur or Delhi today to give your dreams wings.
Sponsor Ads
Report this Page
Created on Feb 12th 2022 00:38. Viewed 133 times.
Comments
No comment, be the first to comment.