Introduction of Volvo TAD941GE Generating Set Engine
by Generator D.
Diesel Generator
TAD941GE is a powerful, reliable and economical generating set diesel engine built on the dependable Volvo in-line six cylinder.
Durability and low noise
Designed for the easiest, fastest and most economical installation. Well balanced to produce smooth and vibration free operation with low noise level, featured with high torque.
To maintain a controlled working temperature in cylinders and combustion chambers, the engine is equipped with piston cooling. The engine is also fitted with replaceable cylinder liners and valve seats / guides to ensure maximum durability and service life of the engine.
Operational economy and low exhaust emission
The state of art, high-tech injection and air charging system with low internal losses contributes to excellent combustion and low fuel consumption.
The TAD941GE complies with EU stage 2 and TA-fuft exhaust emission regulations.
Product identification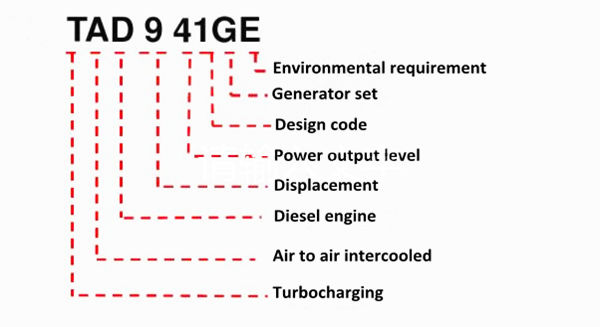 Generating Engine Working Condition Division
Prime rated power: The rated power meets the standard of ISO continuous operation and is suitable for continuous power supply under different loads. It has 10% overload capacity.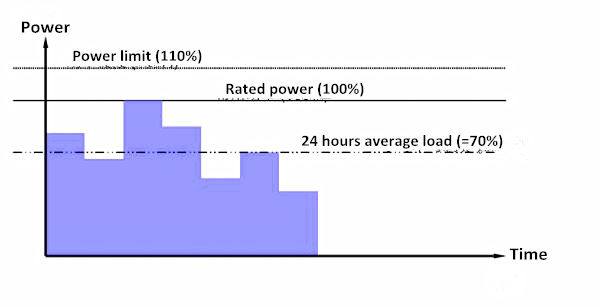 Maximum standby power: The power conforms to ISO standard and can be supplied continuously under different loads. It is suitable for use in the case of failure in areas with good power equipment. No overload is allowed.
Volvo TAD941GE Generating Set Engine Main Parameters

Prime power

281 kw

Max standby power

310 kw

No. of cylinders and configuration

In-line 6

Bore and stroke

120 x 138 mm

Displacement

9.36 L

Compression ratio

17.4 :1

Rated speed

1500 rpm

Lubricating oil capacity

35 L

Cooling water capacity

41 L (Engine only)

Ignition order

1-5-3-6-2-4

State motor

24V
Governor function
1. According to the load change, quickly and automatically adjust the fuel supply. Keep the balance of output power and load, and maintain a stable speed.
2. Limit the maximum speed to prevent speeding accidents.
3. Guarantee the stability of low speed idling.
Volvo commonly used governor is mechanical governor and full electronic governor.
Mechanical governor: Induction element is flying iron and spring mechanism, direct drive actuator. This type of governor is often integrated with the fuel injection pump and is widely used in small power diesel engine.
Full electronic governor: The signal sensing part and actuator are electrical. Small working capacity, suitable for small diesel engine.
Speed governor commonly used performance parameters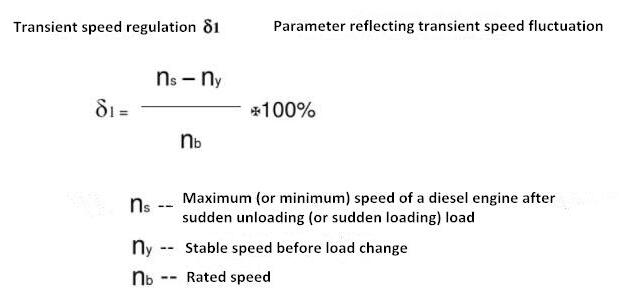 Oil selection
Oil grade

Fuel sulphur content, percent by weight

VDS-2 & ACEA E3**

< 0.5%

0.5-1.0%

> 1.0%

VDS & ACEA E3**

400 hours or 12 months

200 hours or 12 months

100 hours or 12 months

ACEA: B4, E3, E2

API: CE, CF, CF-4

*** CG-4, CH-4

200 hours or 12 months

100 hours or 12 months

50 hours or 12 months
* If the sulfur content is > 1.0%, oil TBN is > 15.
** Lubricating oil must meet two requirements.
Note: API: CG4 or CH4 can be used outside Europe.
*** Oil TBN is 14 – 20
VDS = Volvo emission specification
ACEA = European Automobile Association
API: American Petroleum Institute
Use Coolant Correctly
If there is a risk of cooling at any time of the year, a mixture of 50% purified water (ASTM D4985) must be added to the cooling system. This mixture can withstand freezing to minus 40°C and should be used throughout the year.
Note: Even if the temperature is not as low as minus 40°C, use a mixture of the above ratios to maintain complete corrosion protection.
Coolant and replacement cycle
| | |
| --- | --- |
| Coolant | Replacement cycle |
| (Volvo Penta) Coolant (glycol mixture) and coolant filter | Every 4 years or at least every 10,000 operating hours (16 litres) |
| Volvo Penta) Coolant (glycol mixture), no coolant filter | Every 2 years or at least every 5,000 operating hours |
| Coolant filter | Every 6 months or every 1,000 operating hours. |
Engine maintenance
Before starting for the first time every day;
Check engine oil level ①;
Check the coolant level;
Inspect and clean the outside of the radiator;
Check the air filter blocking indicator①②③;
Check the engine for water leakage and oil leakage;
①When used continuously, it should be checked every 8 hours;
②When the indicator shows a 1/3-1/2 red mark, the air filter should be replaced.
③When operating in a dusty environment, a special air filter should be used (not supplied by Volvo Penta)
About Shutdown
1. The machine should be run for a few minutes at an empty load before shutdown to prevent overheating.
2. Check for leaks after shutdown.
3. Close the fuel valve and the electric door.
4. Record the hours of operation and complete the required maintenance work.
Note:
1) Run the engine at least every 14 hours if the engine is not used frequently, and let it reach the working temperature to prevent corrosion;
2) If the engine is stopped for more than 2 months, an anti-rust oil seal should be applied.
Avoid running at idle and low load for long periods of time
This type of operation will result in:
1. The consumption of lubricating oil is high;
2. Leaking fuel or lubricating oil in the exhaust manifold;
3. Turbine shaft seal oil leakage of turbocharger;
4. Severe carbon deposits on the piston, piston ring groove, valve and supercharger;
5. Low combustion temperature will result in incomplete fuel combustion, resulting in dilution of the lubricant.
Starlight Power manufactures Volvo generator power range from 85 kva to 750 kva rated/standby diesel generator set. Contact us to get the price now!
Sponsor Ads
Report this Page
Created on Oct 19th 2019 03:55. Viewed 277 times.
Comments
No comment, be the first to comment.