How To Tell The Difference between Porcelain and Ceramic Tiles
by Sarfaraz K.
Just a single word has no impact but a bunch of wo
Buying a tile is not a quick process. A lot of thinking and a lot of planning goes into buying a tile. Whenever you're out buying a tile, you should be very clear about which tile you want and how you want to apply it in the space you have in mind. For example, if you're planning to buy a tile, you should definitely be able to tell the difference between porcelain and ceramic tiles. Both these tiles fall under the category of "Ceramic tiles' ' as both are made of a mixture of clay and other materials, then they are kiln-fired.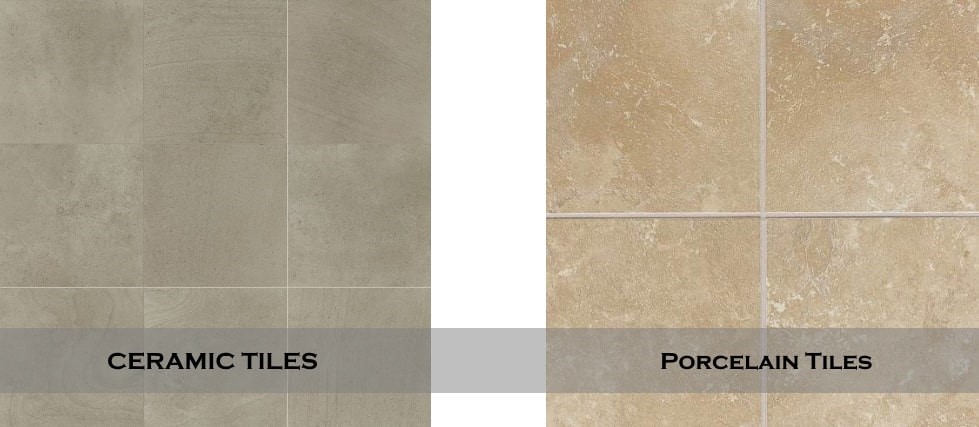 Ceramic tiles are generally clubbed under 2 different categories, one being porcelain tiles and the other being non-porcelain tiles. Porcelain tiles are of a higher quality as a finished product as these tiles are kind at a higher temperature and made of less porous materials. In this blog, we'll try to spot or identify a few of the basic differences between the two tiles, ceramic, and porcelain.
1. The Finish.
Finishing of the tile will help you identify the product very easily. The smoothness of a surface will help you determine whether the tile is ceramic or porcelain. You can either trust your eyes and just visually inspect the tiles to determine which one is smoother or you can run your fingers through the top surface of the tile. Porcelain tiles have a finer-grained texture than ceramic tiles, which is smoother.
2. Look for chips
Ceramic tile can be identified by looking for chips in the glaze. Look closely at the glaze: whether it's chipped, the white or tan base of the tile will show through. This is a strong indicator that the tile is made of ceramic. Glazed porcelain tiles are available, but not always. The colour of most high-quality porcelain tiles will be uniform in the tile's top, body, and bottom. On the other side, ceramic tiles are almost always glazed.
Non-porcelain ceramic tiles are much softer and less resistant to wear and tear than glazed porcelain tiles.
3. It can be on the sides too.
Look for a white, tan, or red colour on the tile's edges. Ceramic tiles are often white, brown, or red with a coloured glaze on top, whereas porcelain tiles may be coloured. If the tile's sides (and base) are any colour other than white, tan, or red, you can be sure that you're dealing with a porcelain tile. The colour of some low-cost, low-quality porcelain tiles might not be mixed within the tile's body. These tiles should not be purchased.
4. Costing
Costing will easily help you identify the tile. Porcelain tiles are slightly more costly than ceramic tiles. Compare and contrast the prices of the two tile forms. Porcelain tiles are almost always more costly than ceramic tiles because they take longer to manufacture, are more versatile, and last longer. Non-porcelain (ceramic) tiles would be less expensive if you compare two styles of tiles in hardware or home-supply shops.
A general figure that can be kept in mind is that porcelain tiles cost almost 60% more than the normal basic ceramic tiles.
Identifying already-installed tiles
1. Note the location.
Make a mental note of where the tiles have been placed. Ceramic and porcelain tiles are ideally suited for different areas of the house. Laundry rooms, bathroom floors, bathroom walls, shower stalls, and bathtub surrounds are all popular places to find porcelain tiles. Because of its hardness, porcelain tile is more durable than ceramic tile, and it is often more resistant to moisture.
On the other hand, ceramic tiles are mostly used as flooring in high-traffic areas such as an entryway or a heavily-used hallway.
2. Are they stained?
Examine the tiles for any stains or discolouration. If that's the case, they're almost definitely made of ceramic. Porcelain tiles are highly dense and designed to be stain-resistant. As a result, most staining substances (such as red wine) can be quickly removed. Ceramic, on the other hand, is light, porous, and readily absorbs staining substances. If the tiles are in an entryway, stains on them could be caused by foot traffic (dirt, mud, snow, etc.).
3. Their faces can't lie
Examine the tile faces for uniform size and shape. On mounted tiles, the "face" of the tile is the top part that faces upward or outward. Porcelain tiles have sharply defined faces that are all the same size. Porcelain tiles may be "rectified," or cut to highly precise dimensions for total uniformity, due to their durability.
The porcelain tiles can also be grouted together with only slight gaps between them.
You're dealing with ceramic tile if there's a size gap between the tiles.
This blog doesn't define or state the victory or triumph of one on the other. Ceramic tiles and porcelain tiles are very popular when it comes to homeowners. These tiles have their own perks and their shortcomings.
In the end, all that matters is which tile you think will suit your requirement the best. However, if you're on the lookout for ceramic or porcelain tiles, head over to Orientbell's website for a wide range and options for both categories. You are sure to find the exact tile that you desire. Happy tile hunting!
Sponsor Ads
Report this Page
Created on Mar 20th 2021 04:06. Viewed 173 times.
Comments
No comment, be the first to comment.