How to Get Ripped Abs After a Tummy Tuck?
by Dr Rajat Gupta - RG Aesthetics
Cosmetic Plastic Surgeon
Have you been visiting the gym regularly in the hopes of getting abs but just could not attain it? Or do you feel having abs and then maintaining it is easier? Then tummy tuck is a good option for you. You can even get ripped abs after a tummy tuck if you so desire!
Tummy tuck or abdominoplasty involves fat removal of the middle and lower abdomen and tightening the underlying muscles and fascia. It involves removing excess skin and fat that hide your abs, giving your abdomen a well-defined look. You will look fitter with a rippling six-pack.
Are you the ideal candidate for
tummy tuck surgery
?
The reasons for each patient is personal. However, there are a few conditions to be the right prospect for this procedure – be close to your ideal weight, non-smokers, and those who can face reality. Although this is a promising procedure, the expected result should be close to your body image, not the likeness of Arnold Schwarzeneggar.
Justification for Getting a Tummy Tuck
Patients desire tummy tucks for various reasons. Some of the most common driving forces before opting for abdominoplasty include:
Pregnancy stretches the abdominal muscles too much

Although close to your ideal weight, the shapeless abdomen hurts your confidence

Rapid weight loss causing overly stretched, loose skin

Despite your proactive workouts, your belly seems to want to greet the world first
How to Get Ripped Abs After Tummy Tuck
The 6-pack abs surgery or hi-definition liposuction uses your natural abdominal contours to give you designer abs. Dr Rajat Gupta specialises in creating these designer abs in a scar-free method. Not only is he a specialist and a veteran, the advanced liposuction technology and BodyTite tech at RG Aesthetics enhance the already promising result; tighter skin, natural and ripped abs after the tummy tuck.
For your tummy tuck surgery and washboard abs, your surgeon uses the following devices: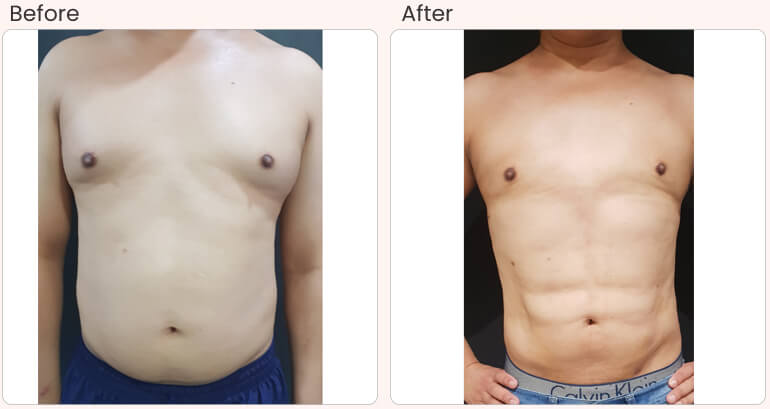 Power-Assisted Liposuction (PAL): MicroAire, employed in PAL, produces light oscillating motion that easily goes through toughened fibrous fat tissues along with great precision. There is minimal damage done to the fat cells, which means Dr Gupta can use the excess fat for homologous grafting.
Ultrasound-Assisted Liposuction (UAL): This procedure uses ultrasound technology to make the underlying fat soft and easier to the superficial fat. The device used is Vibration Amplification of Sound Energy and Resonance (VASER). VASER is the most modern, sophisticated, minimally invasive liposuction technology in the industry with painless execution
After the liposuction procedure, the ultra-modern BodyTite device that uses Radio Frequency energy emphasises the abdominal contours and tightens the skin. This device provides the finishing touches of tightening and smoothing the skin, giving you the washboard abs after your tummy tuck.
The minimally invasive technologies significantly reduce trauma and improve recovery time. When a board-certified plastic surgeon in Delhi like Dr Rajat Gupta performs the surgery at RG Aesthetics, you get excellent, highly contoured results with gorgeous washboard abs ready to see the world!
Read more information:
The A to Z of Six Packs Abs Surgery – Abdominoplasty
Sponsor Ads
Report this Page
Created on Oct 7th 2021 03:38. Viewed 136 times.
Comments
No comment, be the first to comment.