High-performance POM Masterbatch and Antistatic masterbatch | SAMHWA
by Professional Writer
Professional Writer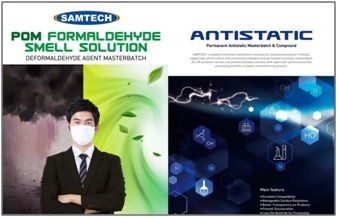 SAMHWA Corp. has been providing the Korean and world plastics industry with its SAMTECH brand top quality color masterbatches, additive masterbatches, and specialty compounds since its establishment in 1986. Its every customer enjoys top-quality SAMTECH products and ever-present sincere service rendered by SAMHWA Corp. SAMHWA has been winning the trust and confidence of customers all over the world for over 35 years.
Masterbatches are a solid or liquid additive for plastic used for coloring plastics (color Masterbatches) or imparting other properties to plastics (Additive Masterbatches). Masterbatches are a concentrated mixture of pigments and/or additives encapsulated during a heat process into a carrier resin, which is then cooled and cut into a granular shape. Masterbatches allow the processor to color raw polymer economically during the plastics manufacturing process.
Because of such kind of use, quality is the most important feature and merit of SAMTECH masterbatches products that are assured through constant quality checks in all stages of the production process. Strict specifications have been set for quality control, and production samples have been tested accordingly up to the requirements of ISO 9001 and ISO 14001. And SAMTECH masterbatches are tailored for customers to meet their specific requirements and challenges. Every customer enjoys top quality and hearty service rendered by SAMHWA Corp.
SAMTECH Masterbatches are widely used in the world by many plastic film manufacturers and plastic injection and extrusion producers in many countries such as Korea, Japan, China, Vietnam, Botswana, Congo, Ghana, Kenya, Tanzania, Zimbabwe, Bolivia, Colombia, Ecuador, Peru, Lebanon, Uzbekistan, Russia, and other countries.
Great features of SAMTECH POM Masterbatch
It is an environmentally friendly product that improves the efficiency of production of Polyoxymethylene products by reducing formaldehyde smells. SAMTECH POM masterbatches are in high demand due to thepremium quality, seamless finish, different patterns, and affordable prices.
SAMHWA offers highly concentrated and efficient POM masterbatches to complement the broad range of color products and specialty compounds. These masterbatches are made up of the modern formulations that maximize additive usage, providing plastic processors optimal functionality at the minimum cost of usage. SAMTECH POM masterbatches are available worldwide.
Distinct features of SAMTECH Antistatic masterbatches
SAMTECH Antistatic masterbatches provide permanent or long-term electrostatic dissipative control properties to a polymer and are widely used in electronic component package films and consumer product packaging to prevent dust build-up. And SAMTECH Antistatic masterbatches are available to be produced in a way of tailor-madeantistatic solution with different performance, productivity, and cost reduction.
ASL Antistatic masterbatch is available in application LDPE, LLDPE, HDPE film and CPP, OPP, BOPP film, Injection and extrusion polymers including engineering plastics.
PA Permanent Antistatic masterbatch and compound is available in application LDPE, LLDPE, HDPE film, Injection and extrusion polymers including engineering plastics
Click here to contact SAMHWA Corp.
View more: SAMTECH POM Masterbatch and Antistatic masterbatch
Sponsor Ads
Report this Page
Created on Jan 10th 2022 05:34. Viewed 141 times.
Comments
No comment, be the first to comment.