Handmade Loafer Shoes - The Ultimate Buying Guide To The Most Comfortable & Stylish Dress Shoes
by Pervaiz Ahmed
Online Shopping Product Reviews and Articles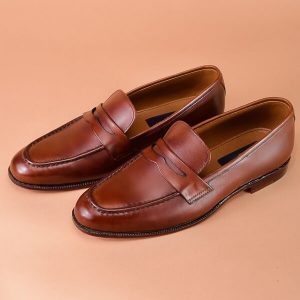 Loafer shoes made of leather are considered the most comfortable and stylish kind of dress shoes. If you want to look polished but always short on time, then you should consider adding a pair of loafer shoes to your wardrobe. Lately, it has gained a lot of popularity, and it is in demand among both men and women.

What Are Handmade Loafer Shoes?
Loafer shoes are popularly known as slip-on shoes, and they do not feature any lacing system and other fastenings. They are quick and easy to wear. The loafer shoes are considered the most versatile type of men's dress shoes, which can be dressed up and dressed down effortlessly. The handmade loafer shoes are made of high-quality materials with the best craftsmanship.
Benefits Of Handmade Loafer Shoes
There are multiple benefits of opting for handmade loafer shoes, such as follows -
Handmade shoes are more durable than manufactured shoes.

They are always high in quality because they are handcrafted and made in small numbers.

Handmade shoes have a better fitting, where the comfort of the feet is not compromised.

They are easily repairable. If maintained well, then it can also last longer than expected.
Different Types Of Loafers
If you have made up your mind and want to buy loafer shoes, then you must know about the different types of loafers available in the market. Each type has its unique beauty and character. Below we have discussed the various styles in detail so that it would be easy for you to pick a style that matches your requirement.
Kiltie Loafer Shoes
Kiltie loafer shoes have an old school look with a touch of the Victorian era. It features a decorative fringed leather panel, which covers the instep. They are also known as kiltie tassel loafers. The kiltie loafer is a casual shoe and will not look good with formal pants.
Penny Loafer Shoes
The penny loafers are the most popular and classic among other loafer shoes. The shoes feature a small detail, which is located on the vamp. On the top, an additional stylized piece of leather is attached across the shoes, which has a small cut-out. During the 40s and 50s, American college students used to put pennies in the cut-out. The penny loafers will look good with formal pants, trousers, and chinos. They are best suited for formal, semi-formal, and casual occasions.
Tassel Loafer Shoes
Tassel Loafer Shoes are defined by the decorative leather tassel hanging from the vamp. It is too casual for any business event. An elegant pair of tassel loafers will look great with good-fitted jeans and chinos.
Horsebit Loafer Shoes
The horsebit loafers are an iconic style, which features a metal strap across the top of the shoes. The metal strap creates a distinct design that makes it unique from others. This style is best suited for a business casual look or a smart-casual look.
Slip-on Loafer Shoes
Slip-on loafers are in vogue right now, and they are ideal for a stylish casual look. It is also known as a slipper loafer, which can be styled in an end number of ways.
Best & Trendy Loafers That You Should Consider Buying
Now you know the different types of loafers. Therefore, let's take a look at the various buying options.
Penny - Brown Handmade Loafer Shoes
This elegant pair of shoes is crafted with vegetable-tanned genuine leather with a soft inner lining. The sophisticated design makes it perfect for a formal look and business casual look.
Tassel - Handmade Black Loafer Shoes
Effortlessly create a classic style statement by wearing this black pair of leather shoes. The tassel attached to the vamp creates an attractive appearance, which is sure to fetch compliments. It is crafted with vegetable-tanned genuine leather. The soft inner lining will make you feel comfortable, and the attractive appeal of the shoes will boost your confidence.
Dual Tone - Handcrafted Loafer Leather Shoes
This beautiful pair of shoes features a metal strap on the vamp that creates a charming appeal and makes it stand apart. The uniqueness of this pair of leather shoes lies in the dual-tone pattern.
Summing-Up
Loafer shoes are not only about style but also provide the utmost comfort and support to their wearer. They are one of those types of men's footwear that have stood the test of time. If you want to upgrade your style and want to look stylish yet elegant? Then explore the wide range of Loafer shoes at Leatheriza.
Sponsor Ads
Report this Page
Created on Aug 11th 2021 12:38. Viewed 330 times.
Comments
No comment, be the first to comment.